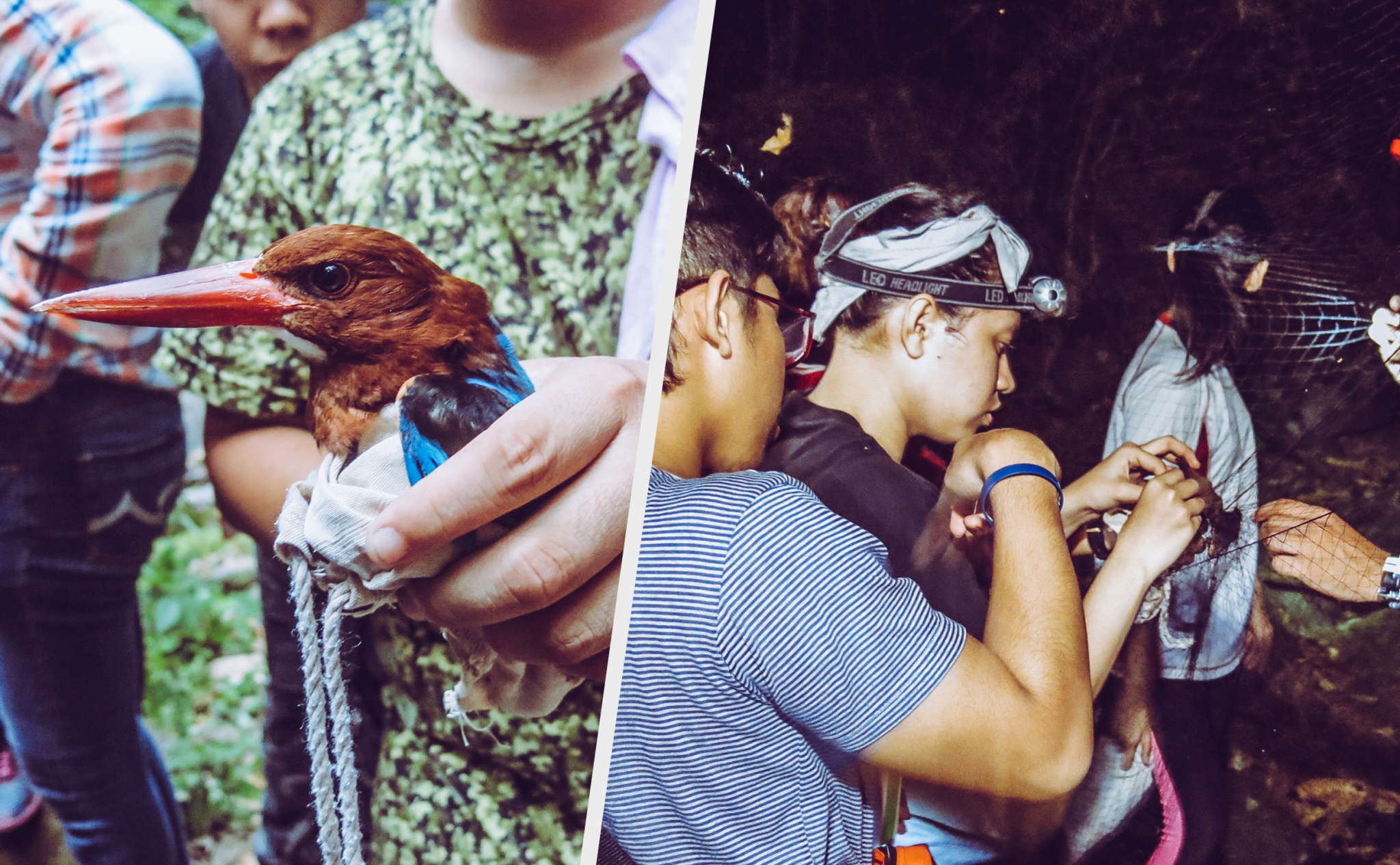 Training the next generation of environmentalists comes as part of the challenge to achieve continuous and long term solutions in biodiversity conservation.
Among those rising up to this task are two scientific institutions in UPLB, the Museum of Natural History (MNH) and the Makiling Center for Mountain Ecosystems (MCME). Both established institutions in the discipline of biodiversity conservation, MNH and MCME have developed strong programs designed to educate the youth and encourage them to be active advocates of biodiversity conservation and protection.
Youth Summer Program (YSP)
The YSP started out as a simple program for the children of CFNR faculty. Today, it has become a means to develop the next stewards of the environment.
The YSP was organized by the Social Forestry Division of MCME in 2005. Since then, it has been conducted every summer for elementary and high school students. Each year, MCME collaborates with a school from a city or town near Mt. Makiling where it conducts the YSP.
These knowledge sharing activities do not only inform them about forest conservation but also develop their talents. The YSP empowers them to help conserve the environment even at a young age. MCME has worked with schools in Los Baños, Bay and Calamba City, and even as far as Tanauan, Batangas and Quezon province.
According to Forester Nicasio M. Balahadia, head of the Social Forestry Division, the objective of the program is to promote forest conservation, public awareness, and appreciation of the importance of forest plants and animals of Mt. Makiling and the environment in general.
In 2 to 4 days, the students undergo lectures, group activities and workshops that train them for leadership, intrapersonal growth, and environment conservation. Lecturers from MCME teach the students about the importance of the Mt. Makiling Forest Reserve (MMFR) as a source of life and livelihood and as a learning laboratory for forestry in Asia.
The students are taught about MMFR's various flora and fauna, problems and issues in conservation, as well as the policies and regulations for their protection. They learn about the realities of forest degradation, climate change, and global warming, and the urgency of restoring the forests through means such as building forest nurseries and agroforestry farms. They also undergo basic first aid and survival training. All of these are complemented with a visit to the Makiling Botanic Gardens and treks within the MMFR.
Activities such as writing and art workshops encourage the students to express themselves in creative ways and to use these talents to share the beauty of nature and to spread awareness about its conservation. Role-playing and other group activities hone their social and communication skills.
In the early years of the YSP, students were housed at the MCME hostel, but recently, the program innovated to provide camping tents for the participants to fully experience nature.
For. Balahadia said that some of the students have taken the initiative to implement environmental programs in their own schools after being taught how to implement projects. "We teach them how to write proposals (for their school or barangay), how to prepare a development plan, how they can get funds and the activities they can propose, together with the objectives, rationale, and methodology."
In the past years, YSP has prompted students to initiate activities such as building "mini forests" and forest nurseries in vacant campus lots, holding environmental lectures and showing educational films. MCME also continues to support the students by acting as resource persons in these activities.
Biodiversity Short Course
For those steeped in the sciences looking for a great learning experience, look no further than the MNH. Over the years, the Museum has trained students through the "Summer Short Course on Biodiversity for Beginners: Methods and Analysis for Biodiversity Field Surveys" or simply the Biodiversity Short Course.
The Biodiversity Short Course is a seven-day intensive training program that is meant to provide an introduction to biological diversity and conservation and its underlying concepts and principles. The program caters to undergraduate students taking up biology or education and is also open to educators and researchers.
The program features lectures by MNH curators, who are also professors at UPLB. These are supplemented by fieldwork facilated by MNH researchers and technicians. Students are challenged as they apply their lessons be it in the laboratory or the field. They are put up to the task of catching specimens, such as rats, birds, bats, snakes, and frogs, for their taxa exercise.
At the end of the program, the participants are expected to have an understanding of the fundamental ideas of species richness, evolution, systematics, ecosystems, biotic interactions, endangered species, and the impacts of introduced species. They are also expected to learn the basics of proper biodiversity field survey techniques. In the words of an MNH researcher, Florante Cruz, "It's not just training. It's an academic exercise."
Testimonials
Alden Sinuhin, a BS Education student majoring in Biology took the short course in April 2016. "Taking the short course proved to me that there's much to know in the world around us," said Alden. "More importantly, it made me realize that we all have a part in conservation efforts."
For Alden, the short course has enhanced his skills in biodiversity field surveying and laboratory processing. Alden dreams of becoming a teacher and expressed confidence that the knowledge and skills that he learned in the course will come in handy when the time comes for him to teach.
Jake Binaday, also a former trainee and a BS Biology graduate from Bicol, said that taking the short course in April 2015 led him to pursue herpetology. "Even before I took the short course, I was already a nature lover," he explained. "I've already had several experiences in biodiversity field surveys, but the short course offered me a chance to work with experts in different fields." Jake also said that the hands-on training has helped him in doing field work.
Overall, the Biodiversity Short Course provided learners an experience relevant to their future endeavors in the field. In fact, even schools located as far as Manila, Pampanga, Quezon, and Bicol send their students to MNH to take the short course as it is already an intensive program that provides relevant training. The techniques and concepts taught in the short course can also be applied once the students work on their theses.
The program makes for an engaging educational experience, one that prepares future scientists. By getting out there and getting dirty, the participants have a better appreciation of nature and a better attitude in pursuit of its study.
The Youth Summer Program and Biodiversity Short Course are training grounds for the youth. Both engage the future agents of biodiversity and environment conservation, ushering in change for the environment through education. (Jessa Jael S. Arana)
(This was originally posted at the University of the Philippines Los Baños website on March 11, 2019.)