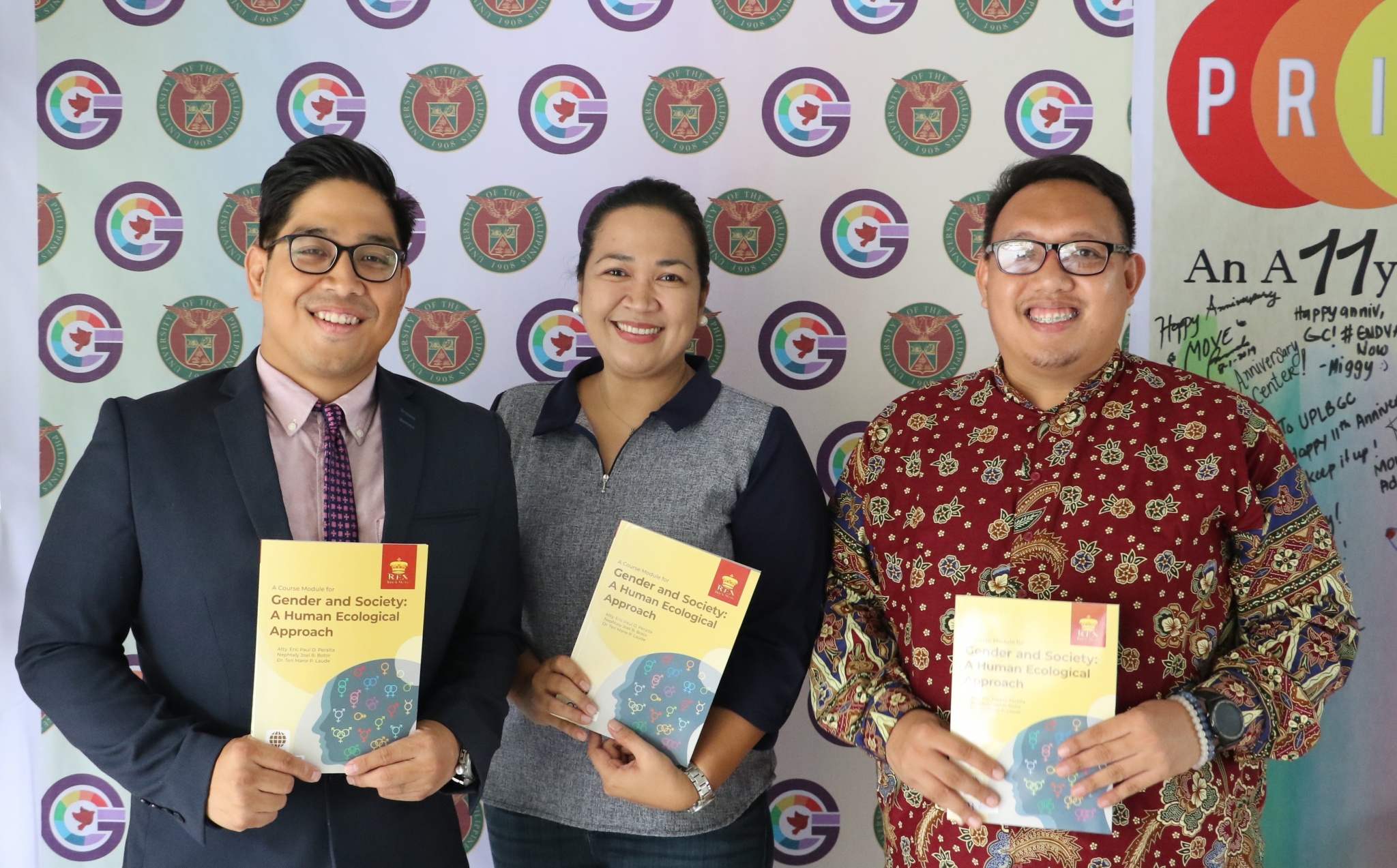 The book entitled "A Course Module for Gender and Society: A Human Ecological Approach" was launched on Aug. 1 at the ICOPED Auditorium, UPLB.
Its authors, Dr. Teri-Marie P. Laude, a medical doctor; Nephtaly Joel B. Botor, a psychometrician; and Atty. Eric Paul D. Peralta, a lawyer, are faculty members at the Department of Human and Family Development Studies of the College of Human Ecology (CHE-DHFDS).
Their collaboration underscores the book's inter-, multi-, and transdisciplinary approach to studying gender. Each of the book's three dimensions – biomedical, psychological, and legal – represents the fields of expertise of its authors.
Dr. Laude expressed hopes that the book will teach the youth to make empowered choices when it comes to their reproductive health.
"Hopefully, this will enable them to become well-informed about what they are capable of doing in terms of reproduction; and how ready they are emotionally, physically, and psychologically before they get tempted in any high risk-taking behavior," she said.
Dr. Laude is also the coordinator of the Reproductive Health Office of the UPLB Gender Center.
For his part, Botor said that the book also aims to promote a sense of well-being among the readers.
"When we talk about well-being, it has these dimensions: physical, emotional, mental, material, social, spiritual, and sexual well-being," he said.
Atty. Peralta, who also serves as the director of the UPLB Gender Center, stressed the importance of awareness and education campaign against sexual harassment.
"I believe that [anti-sexual harassment] advocacy should be spread out, the whole Philippines should know about it," he said. "[Through] this book, I believe that I am contributing my part to this country."
Serving as a reactor for the book was Melissa P. Ferido, an assistant professor at DHFDS.
"As I see it, the human ecological approach would be the most suitable lens to analyze the dynamics of gender. It acknowledges a holistic perspective in the analysis of man-environment interaction," she said.
The book launch and book signing were held in time for the 11th anniversary of the UPLB Gender Center.
Present during the event were Dr. Raden G. Piadozo, dean of CHE, and Dr. Greg T. Pawilen, associate professor at DHFDS and project development associate at the Office of the Vice Chancellor for Academic Affairs.
Dr. Pawilen said that the book, the first of its kind in the Philippines, could be used in gender and society general education courses in higher education institutions in the country.
"A Course Module for Gender and Society: A Human Ecological Approach" is published by Rex Publishing. It is now available at the National Bookstore, Rex Bookstore, and soon among university bookstores in the country, at PhP 387.00.
(This was originally posted in the University of the Philippines Los Baños website on August 2, 2019.)