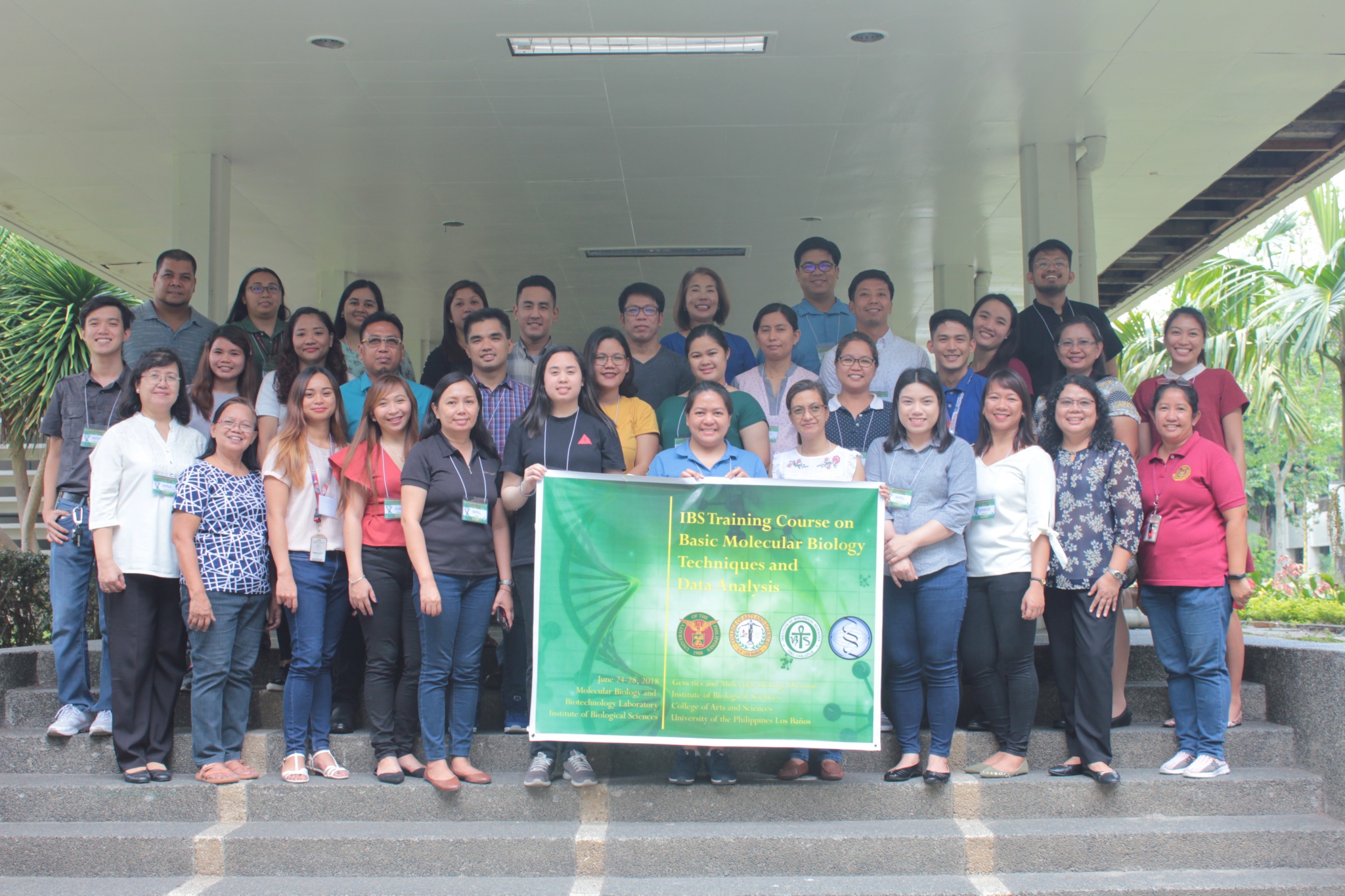 The Institute of Biological Sciences (IBS), the Molecular Biology and Biotechnology (MBB) Laboratories and the Genetics and Molecular Biology Division (GMBD) held a basic molecular biology and data analysis training workshop on June 24-28, 2019 at the Molecular Genetics Laboratory, IBS.
Fifteen (15) participants from higher education institutions, government agencies, and private companies attended the training course that included lectures in introductory molecular biology, basic concepts in DNA isolation, use of molecular markers, online databases, sequence analysis, and molecular phylogeny.
It also included wet lab hands-on activities in genomic DNA isolation, agarose gel electrophoresis, quantitation, normalization, and amplification using gene specific primers (GSPs) and simple sequence repeat (SSR) markers. Dry lab activities were on introduction to R, scoring of SSR data, primer design, sequence editing and analysis, and phylogenetic analysis using MEGA.
On the last day, participants presented by groups their compiled, integrated data, and the analysis generated from wet and dry lab experiments. A tour of the Genotyping Services Laboratory (GSL) of the International Rice Research Institute (IRRI) and the campus capped off the training.
When asked why they participated in the training course, participant Ryan Agajona replied, "[I was tasked] to establish a Molecular Biology laboratory at the College of Medical Laboratory Science (CMLS) of the De La Salle Medical and Health Sciences Institute (DLSMHSI)."
Other participants were from the Philippine Center for Postharvest Development and Mechanization (PhilMech), Ospital ng Maynila Medical Center, SGS Philippines, Inc., East-West Seed Company, Inc., including internationally affiliated trainees from Ulink College of Shanghai and Department of Molecular Biology and Biotechnology, University of Sheffield.
The MBB Laboratories Supervising Committee Chair, Dr. Maria Cecilia S. Reamillo and GMBD Head, Dr. Ma. Carmina C. Manuel spearheaded the training course. She was assisted by the over-all training coordinator Sheila Mae Q. Mercado, University Resercher (UR) and assisted by research staff, Ms. Cecille Ann L. Osio and Mr. Mishael C. Suelto.
Mr. Agajona further remarked, "The whole workshop was enjoyable and edifying. The instructors were very competent, patient, and open to the queries of newbie-molecular biology trainees. The facilitators were equally brilliant, very approachable and helpful in assisting us in the laboratory."
The training course was organized in partnership with the UPLB Foundation, Inc. and co-sponsored by Diamed Enterprise, Lifeline Diagnostics Supplies, Inc., Asiagel Corporation, Medical Test Systems, Inc., Noveaulab, and Altech Vialab Inc.
The basic molecular biology training is every last week of June. For details, contact Ms. Mercado at [email protected] or at (+63) (049) 536-2893.
(This was originally posted in the University of the Philippines Los Baños website on August 2, 2019.)