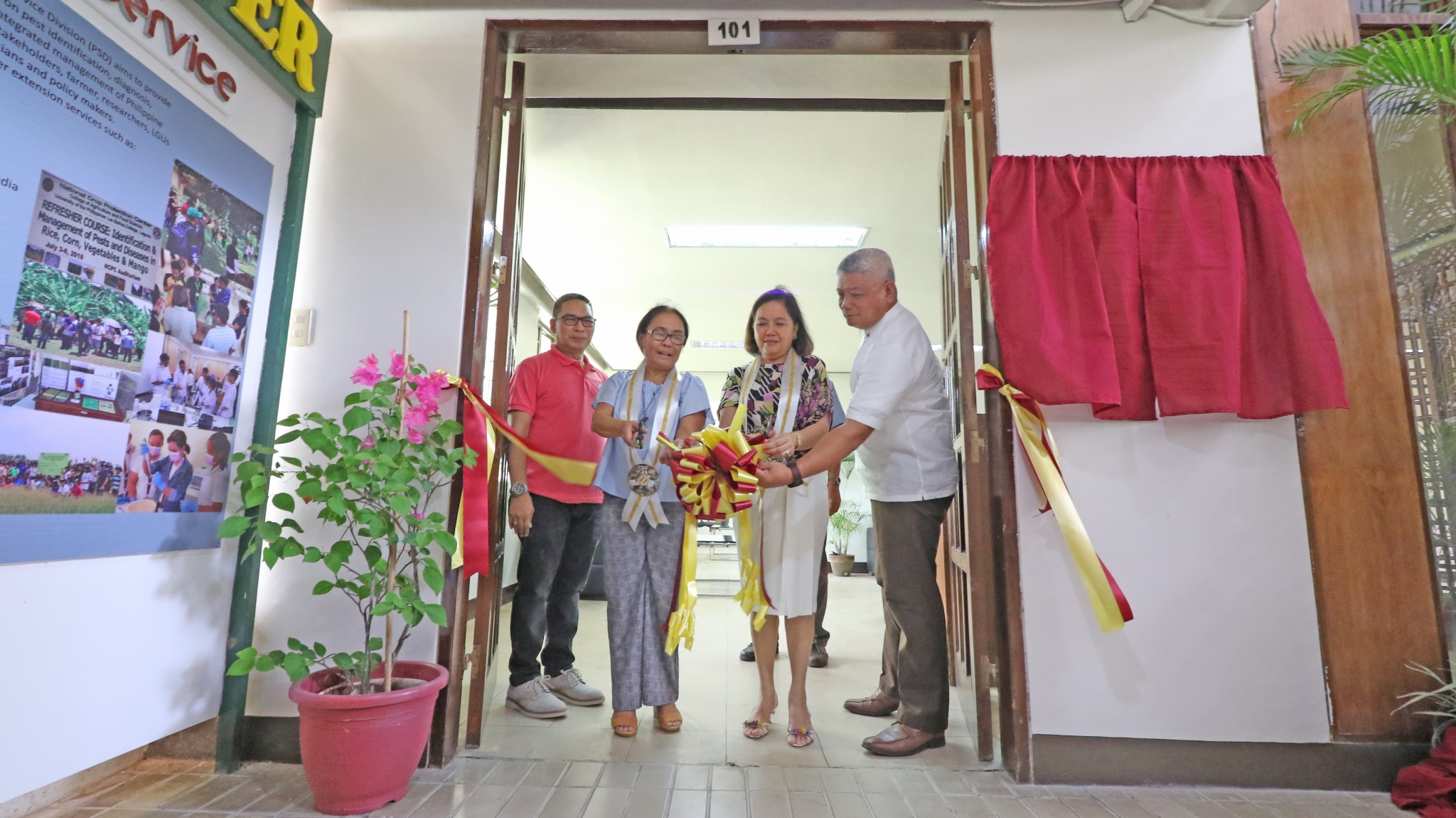 More than 20 "plant doctors" at the National Crop Protection Center (NCPC) are now preparing themselves to attend to "emergency cases" once a new clinic at UPLB becomes fully operational.
The new facility, called the Plant Health Clinic, will diagnose plant pests and diseases and provide prescriptions and management options to solve plant health problems.
The clinic was inaugurated on May 21 during the 43rd anniversary of NCPC, one of the research centers of the College of Agriculture and Food Science (CAFS).
According to Scientist Mario Navasero, the plant doctors, including him, will not only pay attention to the specimens that the clients will bring to the clinic. They will also look at the field and farm situation where the plant came from and the history of pesticide and fertilizer use to best diagnose and treat plant diseases.
The Plant Health Clinic was constructed and furnished under a PhP 3.5-million institutional development grant from the Department of Agriculture-Bureau of Agricultural Research (DA-BAR).
UPLB has also allotted around PhP 3.1 million to finish the clinic.
Digna Sandoval, assistant director of DA-BAR, identified the Plant Health Clinic's other role – as a repository of information and knowledge about crop pests and diseases management.
Gracing the occasion were Dr. Gil Magsino, director of NCPC; Dr. Elpidio Agbisit, Jr., dean of CAFS; and Dr. Portia Lapitan, vice chancellor for academic affairs, who represented Chancellor Fernando C. Sanchez, Jr.
Joining them were the representatives of different organizations that make up NCPC's Advisory Board.
"I would like to express my happiness and excitement that another clinic is being established in UPLB that will actually strengthen and make strategic our claim among UP constituent universities (CUs) to One Health," Dr. Lapitan said.
By "One Health," Dr. Lapitan was referring to the One Health and Resilience Program of UP that is based on a viewpoint that recognizes the interconnectivity of the health and well-being of humans, animals, and the ecosystem. UP constituent universities, including UPLB, has taken part in One Health.
Navasero said that NCPC will also have a Mobile Pest Clinic to bring the Plant Health Clinic's services to other places in the country.
While the Plant Health Clinic is yet to officially open, NCPC has been providing plant diagnosis, pest and disease management, and other technical and extension services to different stakeholders for the past decades. (Mark Jayson E. Gloria)
(This was originally posted at the University of the Philippines Los Baños website on May 22, 2019.)