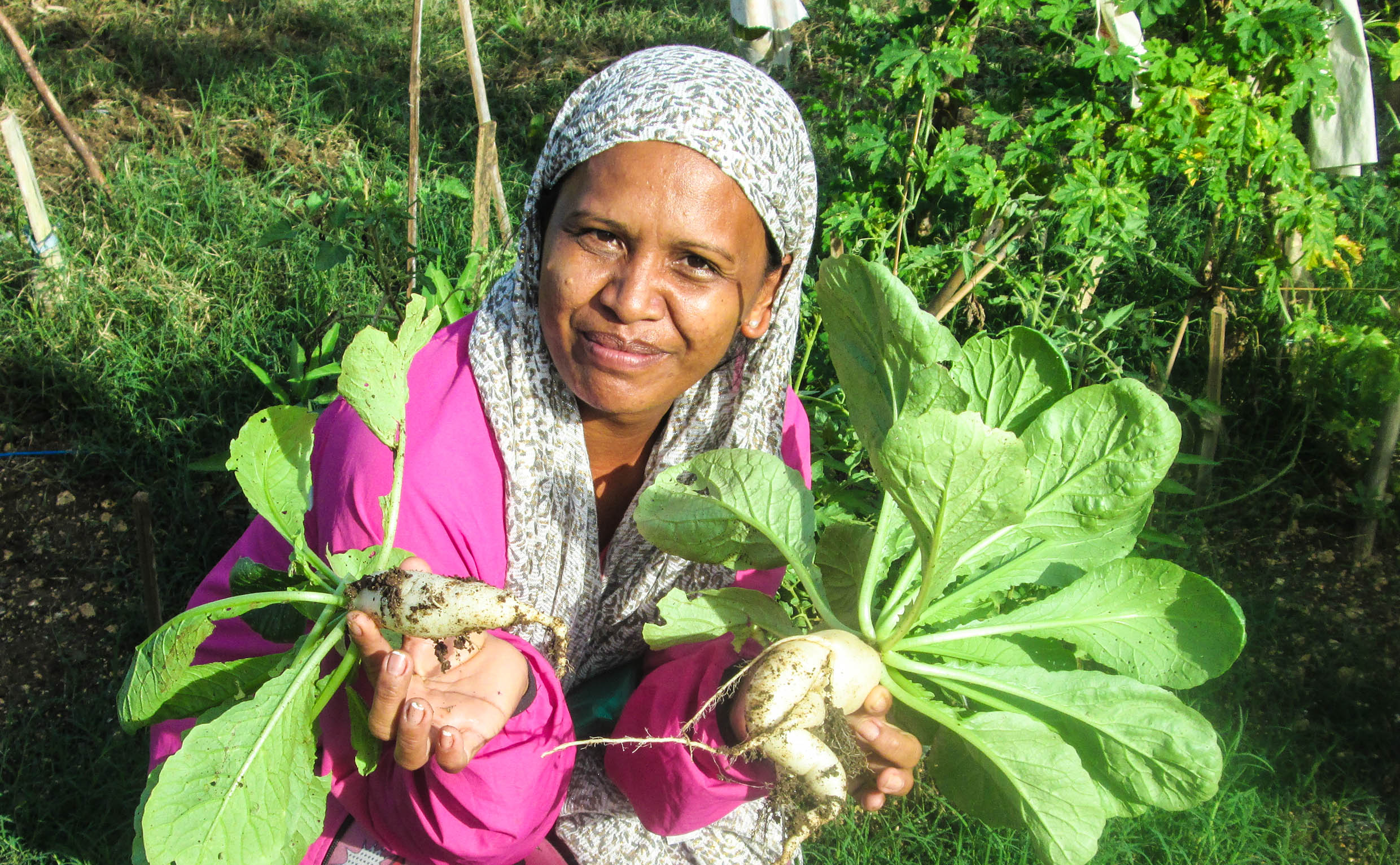 How does one will, or at the very least, coax productivity out of stone? Cebu has infamously been confounded by this question, as farmers dealt with its "unproductive" calcareous soil. But one man proved that it could be done, and with it, people came to experience the transformational effect of empowerment.
This man is Dr. Romulo G. Davide, touted to be the Father of Plant Nematology, a brilliant professor, and the lead implementor of the National Corn-based Farmer-Scientists Research, Development, and Extension Training Program (FSTP).
FSTP was borne out of Dr. Davide's passion for empowering poor farmers. When he won the 1994 Gawad Saka Outstanding Agricultural Scientist and the Jose Rizal Propatria Gold Medal Awards, he allotted his research grant of PhP 500,000 to develop and start implementing the Program.
In July 1994, the FSTP was piloted in Barangay Colawin in Argao, Cebu, Dr. Davide's hometown. Realizing that the Program can potentially elevate the socio-economic conditions of more farmers, the province of Cebu called for the adoption of FSTP. Cebu then wanted to address low corn productivity, corn being a staple of the Cebuanos.
As the Program has proven its effectiveness in increasing agricultural productivity, it expanded to other nearby provinces.
Recognizing that the Program is an effective extension strategy for sustainable agricultural development, then President Gloria Macapagal-Arroyo signed the Executive Order (EO) 710 on February 27, 2008, calling for the nationwide adoption of the National Corn-based FSTP.
Now, FSTP covers almost all provinces from Regions 1 to 13 prioritizing depressed provinces and municipalities. Under EO 710, FSTP has already covered 85 municipalities in 38 provinces as of July 2018. More than 70,000 poor farmers have already been trained by the Program, with Cebu province having the highest number of graduates of more than 40,000 farmer-scientists.
Innovative and empowering program
FSTP's ultimate objective is to develop farmers' technical and scientific capabilities in growing valuable crops through appropriate farming technologies. In its fullest sense, FSTP is designed to liberate the poor farmers from the bondage of poverty and hunger. The Program harnesses the farmers' entrepreneurial and agribusiness mindset; develops their leadership and sense of community; and nurtures their love for God, country, and people to uplift their socio-economic condition.
The farmers engaged in FSTP undergo three season-long phases of training. Phase 1 involves moral values and research empowerment of farmers, while Phase 2 focuses on farmers' trials of different technologies in their own farms. Phase 3 witnesses the transfer of tested technologies from a farmer-scientist to fellow untrained farmer.
Increase in knowledge, productivity, and food security
An internal review on the farm-level impact of the FSTP was published in 2015 by the team of Dr. Fe M. Gabunada of the Visayas State University. The study found that farmer-scientists are more knowledgeable than non-FSTP farmers about scientific and sustainable methods of corn-farming. It also established that farmer-scientists are agribusiness-oriented and more technically efficient than their counterparts. Furthermore, it found that farmer-scientists obtained significantly higher yield of corn (2.9 mt/ha) than non-FSTP farmers (2.4 mt/ ha).
As farmers became more knowledgeable and technically efficient, they also harvested significantly higher yield. They also derived higher income from vegetables, root crops, fruits, and other cash crops, as well as from livestock. FSTP promotes the integration of crop and animal production systems.
Capacitating self and family
One of the many inspiring FSTP success stories is that of Elnard S. Ympal of San Juan, Siquijor. His annual income in 2004 was only Php 15,000, but after participating in FSTP, it increased to Php 142,837 in 2010. Ympal was able to effectively market his high-value crops, poultry, and livestock. His impressive record gained him the Outstanding Young Farmer of the Philippines recognition by the National Gawad Saka Award of DA in 2010. The award came with a grant of Php 600,000 that he used to further expand his agribusiness and agri-learning site ventures.
On the other hand, Morena B. Dalagan of Tampakan, South Cotabatao is among the farmer-scientists who are making waves in Mindanao.
Before FSTP, Morena practiced monocropping. Eventually, she started to strategically plant high-value crops alongside the major crop. As she adopted intercropping, her farm now grows a bountiful combination of market crops. She has enough for home consumption and surplus for market.
FSTP always emphasizes the "farming is a business" principle. For her part, Morena started producing bananas in her upland farm and aggressively sold her harvest in the market, not in kilos but in tons. Her big breakthrough was when she secured a buyer from Manila. From a simple farmer and housekeeper, Morena is now a businesswoman earning at least a million annually.
FSTP also spread the concept to the B'laan tribe of Alabel, Sarangani Province and Mangyan tribe in Mansalay, Oriental Mindoro.  Being receptive to new farming technologies has improved their socio-economic status. Ricardo Tangge of the B'laan farmer-scientists who produced his Tangge Corn Variety and became a corn seed producer sold high-quality corn and corn seeds.
The sales from his corn seeds provided enough income to support the college education of his son Micarey. On June 13, 2018, Micarey finished BS Agricultural Economics at the University of Southern Mindanao.
FSTP also launched a new site in Bamban, Tarlac, the first in the province, in May 2016. Of the 40 farmers who expressed interest in the Program, one-third was from the Aeta community. The local government of Bamban identified FSTP as among the key programs that could further develop agricultural and economic development in the area.
Community progress
FSTP has also become an agent of peace between the National People's Army (NPA) and the military forces. When FSTP was introduced in some depressed areas of Quezon in the Bondoc Peninsula, and in Arakan, North Cotabato, the poor and marginalized farmers became productive and self-sufficient. They are now producing enough food for their daily consumption with extras to sell.
Dr. Davide noted that signs of peace and prosperity are now evident in the aforementioned areas. In Argao, Cebu, their status symbol is no longer the ownership of guns or 'armalites,' but rather, cellphones and motorcycles. Cebu is now one of the most progressive and richest provinces in the country. In Arakan, North Cotabato, the 'armalites' that used to be taller than children had been replaced by corn plants that are even taller than men.  The same is true in areas where FSTP is fully supported by the government.
Awards and recognitions
In March 2006, FSTP bagged two awards, the outstanding extension team and program awards from CAFS and UPLB. In September 2006, it won the Presidential Gawad Lingkod Bayan Award from the Philippine Civil Service Commission (CSC), the coveted award-giving body for government officials, employees, and institutions. CSC hailed the FSTP team for giving farmers "renewed confidence and hope, a sense of self-worth, which cannot be measured by silver or gold," as the award citation read.
FSTP was awarded the first Gawad Pangulo for Excellence in Public Service by UP on January 30, 2017. The award recognized FSTP's exemplary contribution to the fulfilment of UP's mandate to lead as a public service university.
Dr. Davide, on the other hand, received the prestigious Ramon Magsaysay Award in 2012. The award, regarded as Asia's Nobel Prize, recognized him for his "steadfast passion in placing the power and discipline of science in the hands of Filipino farmers, who have consequently multiplied their yields, created productive farming communities, and rediscovered the dignity of their labor."
Dr. Davide, Professor Emeritus of UPLB, still remains the indefatigable program leader of FSTP. His more than two decades of spearheading the Program proves that the best fertilizer for unproductive soil is an empowered mind.
Progress like knowledge is meant to be scattered far and wide. When an empowered mind reaches and influences others, socio-economic progress will spring from the once barren soil.
Indeed, one can coax productivity out of stone, even peace from dissension. This much FSTP has proven. (Augustus Franco B. Jamias)
(This was originally posted in the University of the Philippines Los Baños website on March 11, 2019.)