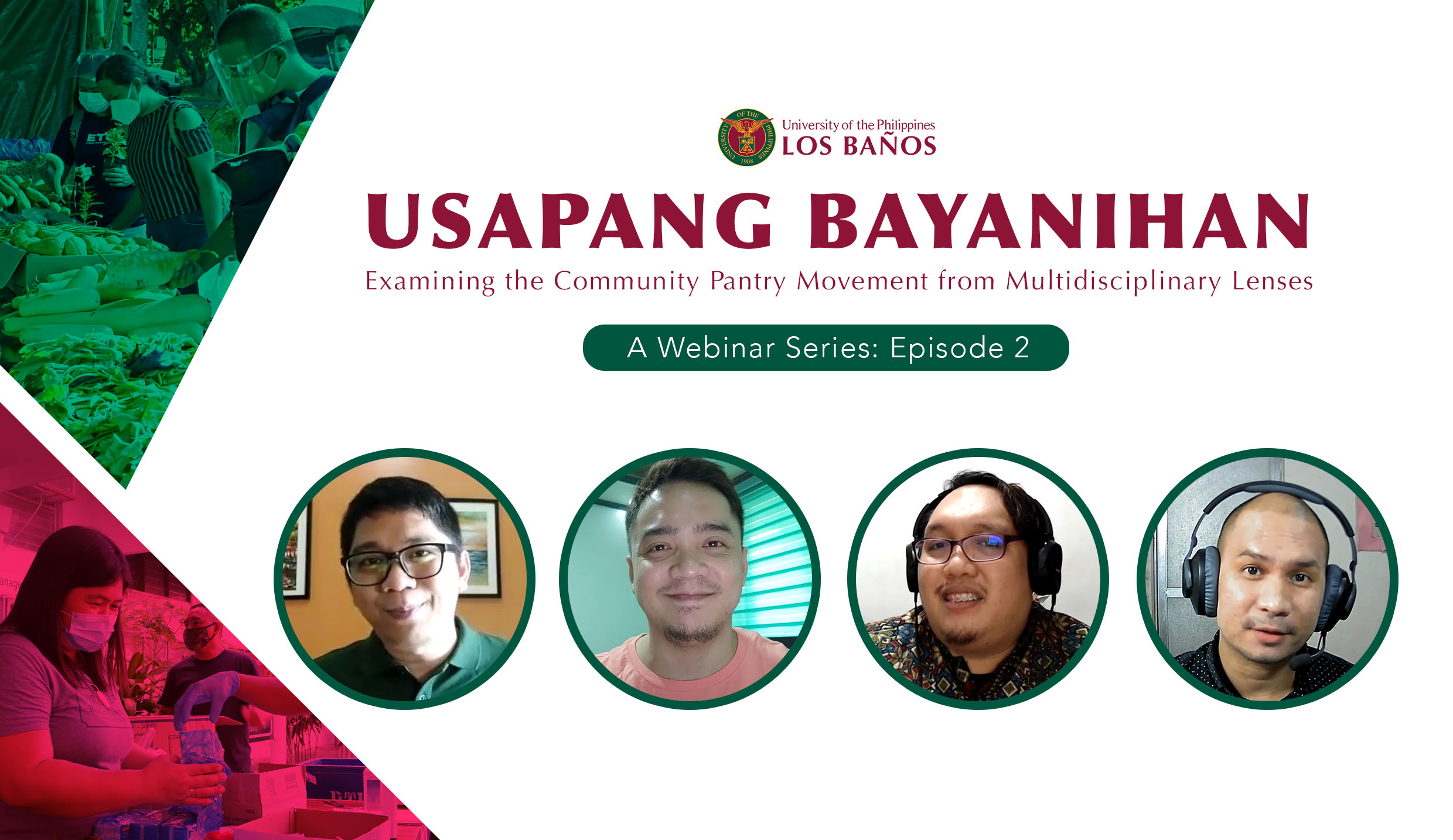 For the second episode of the Usapang Bayanihan webinar series that was broadcast on May 15 via UPLB Facebook and YouTube, UPLB faculty members took a different perspective in viewing community pantries – this time from the lens of psychology.
The first speaker, Jholyan Francis S. Fornillos, a faculty member at the Department of Social Sciences of the College of Arts and Sciences (DSS-CAS), discussed pandemic and community pantries using a culturally relevant psychological frame.
Fornillos referred to the COVID-19 pandemic as a mental health crisis wherein unemployment and food insecurity combined with numerous kinds of losses negatively affected people's mental stability.
He discussed the theory of "kapwa" as the reason behind the continuous emergence of community pantries in different locations.
"Sa isip, sa salita, at sa gawa, importante para sa ating mga Pilipino ang relasyon o ugnayan," Fornillos said.
Dan Paolo R. Yema, also a faculty member at DSS-CAS, reiterated the key points of Fornillos and gave his reaction to Fornillos' presentation.
He said that community pantries give hope and allows the Filipinos to look forward to the betterment of the future.
Nephtaly Joel B. Botor, a faculty member at the Department of Human and Family Development Studies of the College of Human Ecology (DHFDS-CHE), also highlighted community pantries as a psychosocial phenomenon.
He discussed how a community pantry is a form of collective healing and a biophilic response to collective suffering.
"Let us all be part of creating caring and compassionate ecologies for all," he pointed out.
The reactor, Raphael M. Ferrer, also from the DHFDS-CHE, agreed with Botor's view.
He added that women's and children's needs are usually not addressed, which is why his group organized a Bulilit Pantry. This pantry includes nutritious food and educational materials.
The second episode followed the first Usapang Bayanihan held on May 8 wherein the community pantry was tackled through the lens of economics.
(This article, written by Kyle Ramiel F. Dalangin, was first published in the UPLB Website on May 26, 2021)