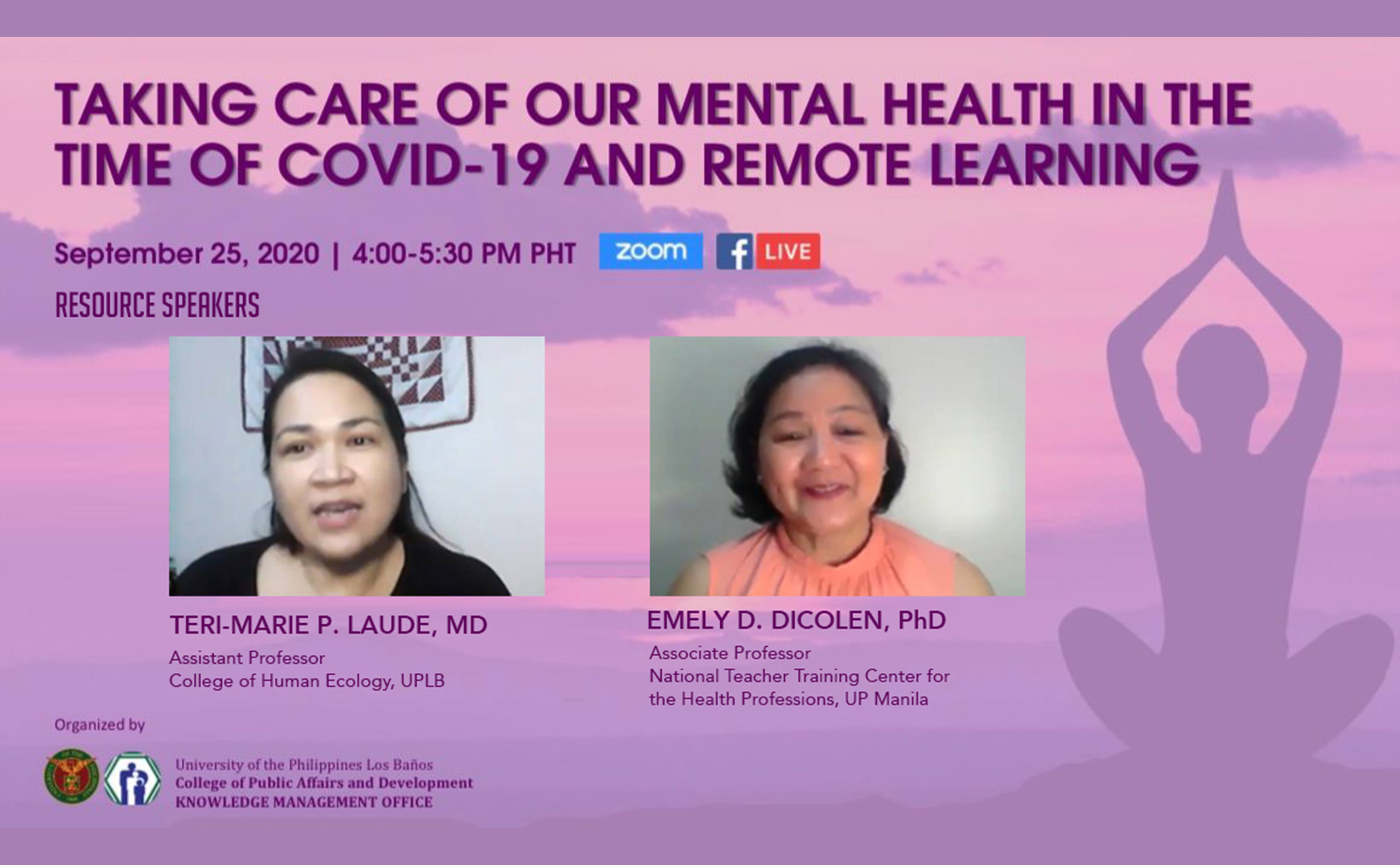 The recorded increase of stressed and anxious Filipinos amidst the COVID-19 pandemic motivated the Knowledge Management Office of the College of Public Affairs and Development (CPAf-KMO) to tackle mental health in a webinar on Sept. 25.
Entitled "Taking care of our mental health in the time of COVID-19 and remote learning," the Zoom webinar that was initially intended for the Educational Psychology class of Dr. Evelie Serrano, head of KMO, was eventually opened to the general public to help more people during these difficult times.
Two resource speakers headlined the virtual learning event to help the participants understand and come up with ways to develop mental resilience.
Dr. Teri-Marie P. Laude, associate professor at the College of Human Ecology and a medical doctor, talked about the bio-psycho-social wellness of human beings.
In her presentation, she defined mental health, differentiated stress and anxiety, and explained what happens to the human body and how it reacts in a fight or flight mode, especially in situations like that of a pandemic.
Dr. Laude offered ways to fight stress, such as practicing mindfulness, having physical activities, maintaining a balanced diet and quality sleep, practicing mental health care, and keeping supportive relationships.
Her fellow speaker, Dr. Emely D. Dicolen, associate professor at the National Teacher Training Center for Health Professions at UP Manila, talked about well-being in general and her personal experience in dealing with the COVID-19 crisis.
Dr. Dicolen talked about how they dealt with their family members, living in the country and abroad, who were infected with the virus and had to observe monitoring of their conditions and self-quarantine.
She stressed the value of capacitating oneself to be able to look after the welfare of others.
Dr. Dicolen also shared to the participants her story of taking care of her own well-being by balancing work and personal time. She gave tips on how to create a routine, establish a workspace at home, take breaks, practice mindfulness, and reframe one's mind.
She encouraged the practice of positive thinking as a way of coping despite the threats of the pandemic.
The two-hour webinar was attended by over a hundred students and professionals based in the Philippines and abroad. The video conference was also shared on CPAf's official Facebook page and YouTube channel.
In his opening remarks, Rolando T. Bello, dean of CPAf, expressed his support for the webinar. He recognized that everyone has various degrees of stress and anxieties due to the feeling of isolation, uncertainty, and adapting to abrupt changes, and that these should be addressed. (KEAraguas)
(This was originally posted on the UP Los Baños website on September 29, 2020)