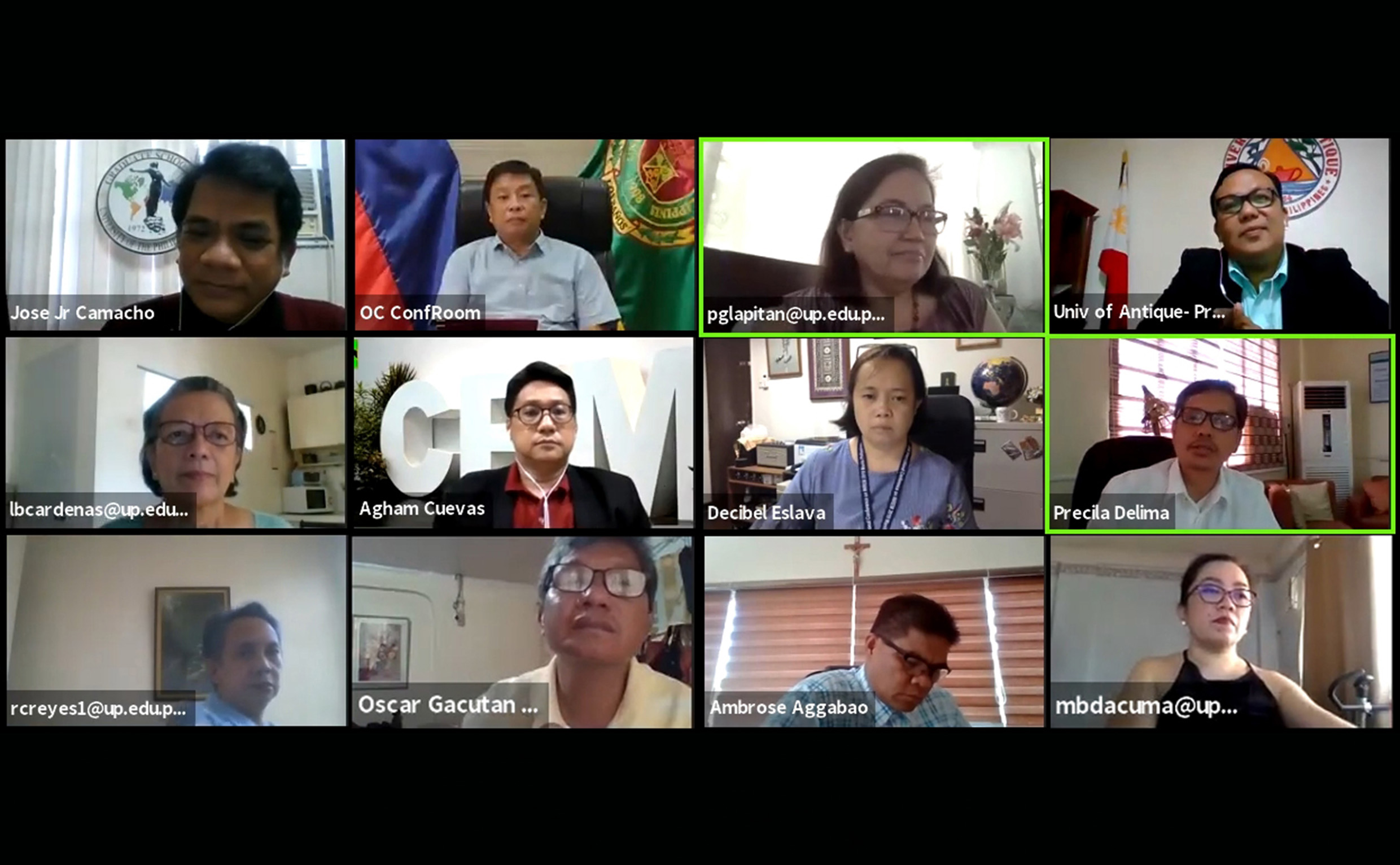 More leaders of higher education institutions (HEIs) in the country are sharing their respective ideas and experiences in this time of COVID-19 pandemic using a platform that UPLB has initiated.
On the third leg of the UPLB Graduate School's (GS) Zoom webinar series entitled "Reimagining higher and graduate education: business as usual or new normal?" on June 18, it was the turn of the presidents of Isabela State University (ISU) and University of Antique (UA) to talk about how their universities are coping with the pandemic.
ISU's Dr. Ricmar Aquino admitted their lack of readiness for flexible learning, both in terms of infrastructure and training.
Likewise, UA's Dr. Pablo Crespo, Jr. recognized that there are some faculty members who experience technophobia and that the lack of Internet access remains a problem. He added that translating highly technical and laboratory-based courses into online medium is challenging.
Dr. Crespo also talked about the lessons learned from installing and implementing UA's Learning Management System (LMS).
The two, however, acknowledged that flexible learning could become a part of teaching and learning modalities in post-pandemic education system.
For his part, UPLB Chancellor Fernando C. Sanchez Jr. said that flexible learning must not be treated as a temporary response, but rather a permanent necessity in higher education and the way of the future.
Chancellor Sanchez said that flexible learning could be empowering as it allows teachers to explore new ways of instruction and lets students learn what they want, how, and when they want it.
Present during the webinar were deans of three UPLB colleges who shared their insights on the topics discussed.
Panelist Dr. Ma. Stella Tirol of the College of Development Communication (CDC) outlined the ways by which the college is adapting the course requirements, outcomes, guides, and lesson plans in preparation for distance and flexible learning next semester.
CDC faculty members, she said, have been training to use online platforms such as Moodle, Edmodo, and Google Classroom.
Dr. Tirol, together with webinar reactors and fellow deans, Dr. Agham Cuevas of the College of Economics and Management and Dr. Felino Lansigan of the College of Arts and Sciences, agreed that Internet access is a critical challenge in the current education landscape.
Dr. Cuevas identified the need for Internet providers to massively step up their capacity to avoid congestion as the entire education sector in the country shifts online.
Dr. Lansigan, for his part, acknowledged that not all teachers and students have access to gadgets for online classes, and brought up the need for authentic and solid assessment systems that will assess new standards, comprehensive exams, and status of students.
Present in the webinar was Dr. Portia Lapitan, vice chancellor for academic affairs of UPLB, who provided updates about instruction in UPLB.
Dr. Lapitan said that the new modalities of teaching and learning that are currently being deliberated on will be implemented in the whole UP System.
She noted that at present, UP focuses on the preparations for the incoming first semester, with distance learning as the definite approach to be taken.
Chancellor Sanchez added that as long there is no vaccine available, no face-to-face learning shall be conducted. He also said that UPLB's exchange programs, both inbound and outbound, are suspended.
Serving as webinar moderator was Dr. Jose Camacho, Jr., dean of GS, who also facilitated the discussions of the first and second editions of the knowledge sharing series. (Albert Geoffred B. Peralta)
(This was originally posted on the UP Los Baños website on June 26, 2020)