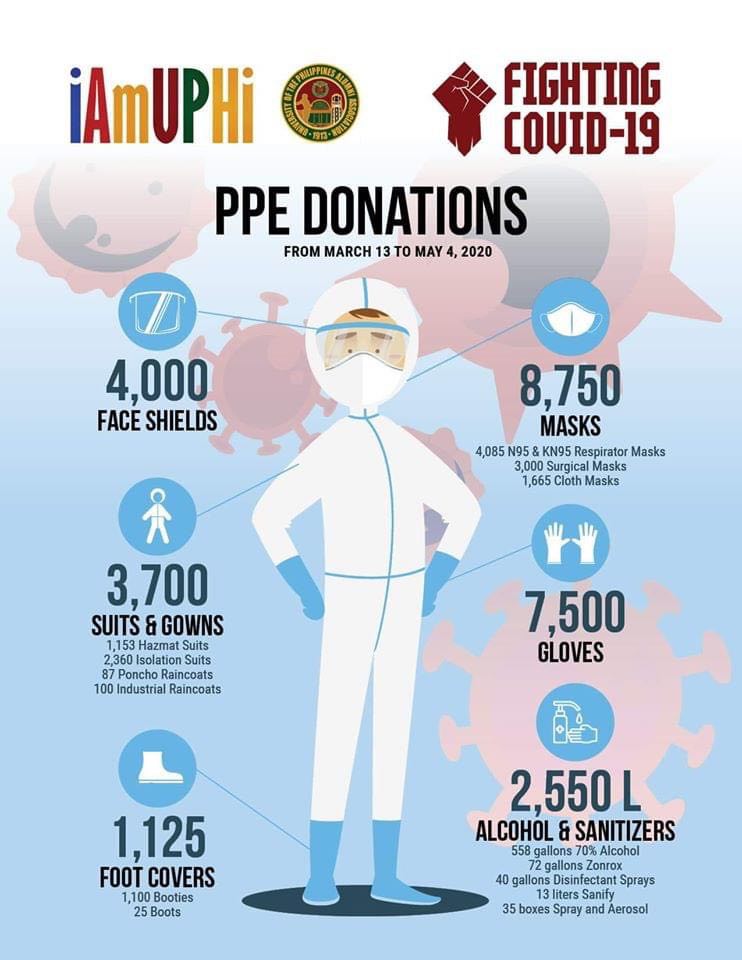 The UP Men's Basketball Team and the San Beda Red Lions were supposed to play exhibition games on March 14 to 15 2020 in Passi City and Iloilo City. On February 5, 2020, iAmUPHi, in partnership with the UPAA Iloilo Chapter and a local sports organizer were finalizing plans for the games including a dinner for the teams at the Casa Real that was to be hosted by Iloilo Provincial Governor Arthur Defensor, Jr. Everybody was busy preparing for the big event. But fate had a bigger plan.
A week earlier, the World Health Organization (WHO) sounded a Public Health Emergency of International Concern because the Novel Corona Virus was already spreading across the globe. By then, everyone had a gnawing concern of how the virus spreads. Its presence was already felt worldwide and people intuitively knew something sinister was coming; it was a threat that cannot be dismissed.
On March 11, 2020, the World Health Organization (WHO) declared the Novel Corona virus (SARS COV 2) outbreak a Global Pandemic. The following day, President Rodrigo R. Duterte announced a partial lockdown of Metro Manila beginning at midnight of March 15. Unlike other pandemics of recent memory, this was something health experts feared. The virus had airborne traits that can pass on from one seemingly healthy person to another.
Having worked so hard to stage the event, the members of iAmUPHi and UPAA had to make the disappointing but right decision to cancel the basketball tournament, leaving them with unsold tickets, posters and large prints that had to be recalled; and an empty venue. But there was one significant outcome that blossomed from this cancellation. The organizers had melded into a TEAM. They had the resources, and their anticipation for the games gave them the energy to meet a greater challenge. Then, three seemingly divergent incidents overlapped and galvanized the true purpose of the group.
On March 11, 2020 a message from the Iloilo City Health Office was posted in the iAmUPHi chat group requesting for information on how to acquire COVID-19 testing kits developed by Dr. Raul Destura, the UP National Institute of Health and the Philippine Genome Center.
On March 13, 2020, iAmUPHi was asked to help a group of UP Visayas biology students who had just returned from a conference in Manila. They had to be quarantined in a dormitory in the Miagao campus because one of them exhibited flu like symptoms. They needed food and other provisions.
On March 15, 2020, a senior ER resident and triage officer made a frantic online appeal for masks and other personnel protective equipment for medical workers of the West Visayas State University medical Center (WVSUMC). This was reposted in the iAmUPHi chat group by Zsa Delormino.
It was the conjunction of those three incidents that spurred the group to re-channel their collective energy and parlay their resources into the fight against the Corona virus infection. Even if it was still a seemingly distant threat, its presence was already being sensed and its onslaught was inevitable. Rather than wait for it to come, iAmUPHi and UPAA felt that they were presented with an opportunity to serve and to fight. The decision was easy to make and the response was quick. If the members can organize a basketball game, it can respond to calls for help. They transformed into "Team UPFight!". Committees for the basketball games like Finance, Venue, Marketing, and Transportation evolved into Task Force COVID-19 Testing, Team Dormers, Team Sourcing, Team Funding, Tribu Taming (Face Shields), Tribu Alcohol, Team Masks, Team PPE (Hazmat), Team Shoutout, Team Inventory.
Of Stranded Dormers, Face Shields, and Masks
Responding to the call, iAmUPHi, and the Biological Sciences alumni, (Clovers), raised funds from member contributions. After an online discussion of the situation, the iAmUPHi Board of Trustees, under its Chairman, Noel Litan, and President Artemio, "Junie Boy" Pama approved the initial funding of the food drive. Starting May 15, 2020, dedicated volunteers like Martin Mabunay, Chikok Presion, Rex Aguado, among others, drove across checkpoints for more than 40 kilometers to the Miagao campus of UPV to deliver food to the quarantined biology students and other stranded dormers. Every day until the end of the quarantine period, they saw to it that the students did not go hungry. Ronald Geralino "Dodong" Lim, who owned a chain of bakeries regularly sent bread. Kyle Munoz an alumnus and local caterer was hired to deliver meals since the travel restrictions imposed by the LGUs made the deliveries difficult. The task was taken over by a caterer, "Manang Betch," when Kyle had to stop deliveries because a neighbor was found positive for the virus. Fraternities and Sororities like the Silak and Silab, Validus Amicetia and Scintilla Juris and Stella Juris collaborated in the food drive that included boarders outside the UP campus. The UP Visayas Administration UPDanay project under the Magbubunga Tayo disaster response eventually consolidated the support system for all UPV constituents.
Dr. Suzette Labrador, a parent of one of the dormers, Hanah, sent over materials needed to make face shields. Taking after this idea, a committee was formed to support the manufacture of face shield by the dormers. Materials were procured initially from Jane Javellana who donated acetates from her print shop. Michael Villa sourced more acetate that were distributed to production centers in the UP Visayas dormitories in the Miagao and Iloilo City campuses and in places of volunteers including fraternities and sororities like the Hamili and Hamilia. Face masks were sewn as well from materials purchased by Nellie Regalado and Gemma Agudo from local cloth suppliers. At the same time Virna Ascalon Tan, Desa Soliva, Jarold Mediodia and Jayvee Falcis started to have cloth masks sewn from materials first donated by Irma Diaz Lim. Jayvee Falcis retained The Clothes Station that offered its services for free. Designs were reviewed by Bio Safety Officers Jayson Jolito and Jarold Mediodia who recommended that cloth masks must have slots for filter inserts. The Assumption Convent Grade School Class '79 gave water resistant materials which were sewn into gowns and hazmat suits in collaboration with designer PJ Aranador and Clothes Station. Because the availability of raw materials posed a challenge, an alumna, Tina Marie Hautea Sison, opened the storeroom of her business to donate cloth, garters, and other materials. Team UP fight! was up in arms against the contagion and its members were conscripting every resource available to fight the virus.
PPEs
iAmUPHi and UPAA fanned out into another team to procure PPEs under Dr. Marovi Ascalon Celis who took charge of procuring and distributing PPEs. iAmUPHi and UPAA were two of the first organized responders from the private sector to address the lack of respirator masks such as N95 in hospitals. On March 15, 2020, using the P25,000.00 contributions from members, N95 and PPEs were purchased and distributed to medical front liners. The Apex 45 Club and United Architects of the Philippines (Marikudo chapter), donated additional funds which emboldened the PPE team to order more respirator masks. Sped ISEC gave significant contributions as well. These gestures of support widened the scope and coverage of the donation drive. Soon, the group was sourcing from Manila though a member and the Board of Trustees there. These were transported for free by LIBCAP, a private courier partly owned by alumnus Francis Michael Villa. Up to the present medical workers are still receiving respirators masks from Team UPFight!
Alcohol
The first commodity that ran out of stock was alcohol. The shortage was so acute that hospitals had hardly enough to last the week. At first, members of Team UP Fight! supplied hospitals with whatever amount of alcohol they can get. But such sporadic and individual efforts proved inadequate. As a result, a concerted campaign took root and a team was organized to procure alcohol; Tribu Alcohol was formed. Members transacted with wholesalers, a sugar mill in Negros and other dealers for this now priceless commodity. Meanwhile, chemists from UP Visayas who were alumni of Pisay WVSC, processed available ethanol into ethyl alcohol.
When ethanol ran out, the UPV School of Technology under Dean Ramer Bautista devised a Low-Cost Ethanol Plant to produce alcohol from molasses. Collaborating with the IBAH Running Club, Team UPFight! obtained 6 tons of molasses which were delivered to UPV Miagao by Capiz Sugar Central of the Uygongco group of companies. 30 plastic drums and trolleys were also donated by members for use in the production which is now in full swing.
Call to Arms
Sensing the intractable nature of the COVID-19 infection, and the dire lack of PPEs for the medical workers, on March 18, 2020 the group issued a call to arms to its members, the UP Visayas Alumni with the following appeal: The health workers need our support. There is a shortage of Personal Protective Equipment (PPEs) in the hospitals and in the laboratories. The lack of tests has resulted in the infection of nurses, doctors, orderlies, and hospital staff. For our part, together with UPAA, UPV and the UPV student volunteers, we are producing masks and other protective equipment for our health workers. We are distributing food and beverages. We are providing administrative support to the COVID-19 Testing task force.
Please help us with your donations to keep this effort going. Let us do our share and "fill the unforgiving minute with sixty seconds worth of distance run. (Kipling)"
In the end, "when we are pushed out from all these surroundings, with nothing but God to look to, then faith grows suddenly into a cable, a monarch oak, a master-principle of the life. As long as the bird lingers by the nest, it will not know the luxury of flight. As long as the trembling boy holds to the bank, or toes the bottom, he will not learn the ecstasy of battling with the ocean wave. (Meyer)" Godspeed.
Help began to pour in from UP High School batches and alumni. A group of artists, the Himbon Foundation, sold art works and donated the proceeds for the acquisition of PPEs.
Because they started their efforts relatively early, and due to deliberate planning, and the foresight of Dr. Marovi Ascalon Celis, N95 masks and KN95 masks and other PPEs were acquired before the supplies were totally depleted. Soon medical front liners were reaching out to the group for PPE donations. As a result, iAmUPHi and UPAA were able to donate N95, KN95 masks and hazmat suits to doctors, nurses, x ray technicians, med techs, ambulance drivers and other health workers in all the public and private hospitals and Regional Health Units in the City and Province of Iloilo. Their donations reached neighboring provinces of Antique, Aklan and Capiz. The logistics involved were daunting, but everyone was there to help. Tina Marie Hautea was always on call to provide materials or deliver PPEs.
A team of intrepid alumni who variably called themselves Team Transporters, Team Kitchen Patrollers, Caldero girls or such other moniker that would catch their fancy, depending on the task at hand ran errands, procurements and deliveries. Richelle Bustamante, Desa Soliva, Gemma Agudo, Mary Vi Solinap, Ghea Orleans, Sheila Olid, Luanne Lei Ramos, Marge Tamayo and Katherine Cordero, were always there to answer the call, whether to buy materials, to deliver PPEs, to deliver food or make lively the chat room. UPAA officers, President Dennis Guevara, Past President Ray Alindong, Directors Michael Francis Villa, Jayvee Falcis also helped deliver PPEs or materials. The team sustained its operations because someone was always there to pick up the slack.
Behind the Scenes with Multitaskers
Everyday was full of activity. There were ceaseless calls for help and crowd sourcing of needed materials. Resources had to be allocated and delivered. The entire operation was supported by volunteers who received and recorded donations, inventoried and listed PPEs that were distributed to beneficiaries and acknowledged those who helped in the groups' page, #BuligIloilo. The Team Funds and Donations and Team Shout Out, with Virna Ascalon, Nellie Regalado and Jennifer Ladrido, Luanne Lei Ramos with Ruby Baldevarona and George Balmaceda regularly saw to it that resources and materials were sent out to production stations and were properly acknowledged.
Seasoned accountant and auditor Irma Diaz Lim organized the recording in a cohesive data bank. They were multitaskers since they were also members of other committees. Nellie supervised Tribu Taming. Virna coordinated the manufacture of masks and suits. But then again everybody took varied roles. Prof. Alfred Diaz, who was recently appointed UP High School Principal, had his own mask factory at home. Karen Marino and Desa Soliva had the same set up. Bio Safety Officer, Jarold Mediodia, together with his fellow Philippine Science High School teachers 3D-printed shields and ventilator adopters. They also drove around the province to distribute PPEs to Rural Health Units.
The efforts seemed chaotic at times but there was order in the hectic activities because each member knew how to identify what was deficient and supply the necessity or fill the void. The Board of Trustees in online meetings tried to systematize the operations with a management plan.
Evening Prayer
And there was the evening prayer. The focus and the drive to carry out formidable tasks can be sustained not through determination but also from spiritual vigor. Every 6:30 p.m., everybody paused in prayer; in thanksgiving, for healing, for protection, and for strength in anticipation of the next day's tasks and missions.
Taking Stock
As of May 4, 2020, iAmUPHi and UPAA have donated 4000 pcs. face shields, 4085 pcs. N95 and KN95 respirator masks, 3000 pcs. surgical masks, 1665 pcs. Cloth Masks, 1153 pcs. Hazmat Suits, 2360 pcs. Isolation Suits, 1396 Gowns and Coats, 2,500 Liters of alcohol and sanitizers, 7,500 gloves, 1,100 pairs of booties, 25 boots, and 200 hair cups to all the city hospitals, provincial district hospitals, rural health units, hospitals in neighboring provinces, the military, PNP, ICER, Bureau of Quarantine, NBI, Barangay Tanods, LTO, NIA, SSS, BJMP, UPV Frontliners, Hall of Justice, PhilHealth, Bureau of Plant Quarantine and Immigration, security guards, and garbage collectors, among others.
COVID Testing Centers in Western Visayas
On May 11, 2020, Dr. Roland Jay Fortuna, a member of iAmUPHi and focal person of the Iloilo City Anti COVID Task Force, joined the Chat Room of iAmUPHi to ask for information on how to purchase test kits developed by UP-NIH.
On March 12, iAmUPHi reached out to one of their members, Dr. Cynthia Palmes Saloma, Exec. Director of the Philippine Genome Center (PGC) of the University of the Philippines (UP) , who said that even if there are test kits available, there is a need for a "DOH certified Biosafety Level 2+ laboratory to run the tests using qRT PCR machines." Unfortunately, there was no DOH accredited testing laboratory in Western Visayas. iAmUPHi immediately made inquiries to its members, among whom where medical specialists, epidemiologists, and scientists who had post graduate degrees abroad. This led to the discovery that there are RT-PCR machines in Seafdec, USA C2B2 Laboratory, UPV-PGC, WVMC, and WVSUMC. Dr. Saloma then suggested that efforts should be exerted to have a local laboratory accredited as a testing center and to "anticipate" the accreditation by bringing together key people and institutions like the LGU, DOH, doctors and scientists.
On March 13, 2020, Dr. Saloma emailed Dr. Doralyn Dalisay, PhD., Dr. Jonel Saludes, PhD., and Dr. Christopher Marlowe Caipang, PhD., balik scientists of the University of San Agustin, Dr. Noel Ferriols, PhD., of the UP Visayas Philippine Genome Center, Dr. Philip Ian Padilla PhD. of UP Visayas, Dr. Aretha Gacutan Liwag, M.D. of the West Visayas State University Medical Center and Judge Cyril Regalado of iAmUPHi, to plan for the possibility of doing COVID-19 testing in Iloilo because this will really help provide guidance to and hasten the LGU response against COVID-19. On the same day, the plan was relayed to Mayor Jerry P. Treñas who immediately responded.
A meeting was set for Monday, March 16, at 2:00 p.m. Judge Regalado, Dr. Liwag, and Charmaine Malata, another epidemiologist, identified and invited people whose expertise were needed to capacitate the laboratories. Among them were Dr. Noel Ferriols of PGC, Dr. Doralyn Dalisay, Dr. Jonel Saludes, Dr. Chrostopher Marlowe Caipang of the C2B2 Laboratory of the university of San Agustin, Dr. Philip Ian Padilla of UP Visayas, two certified Bio Safety Officers, Jarold Mediodia and Jayson Jolito of the Philippine Science High School-WVC; a public health expert, Lerma Paris; virologist Dr. Stephen Sabinay, PhD.; WVMC Pathologist Stephanie Abello; Presidential Consultant for Western Visayas Jane Javellana; UPAA President Dennis Guevara, Dr. Ray Alinding, Anna Razel Ramirez of the UPV IPO, and DOH6 Director Dr. Marilyn Convocar, MD. The plan was discussed with the Board of Trustees of iAmUPHi, whose members were mostly based in Manila.
A program of work and an action plan was developed over the weekend in preparation for the meeting. The identified specialists were invited to the meeting and letters were sent to their institutions, for a collaborative effort to have certified COVID-19 Testing Centers.
During the March 16 meeting, the Mayor specified the mission: to put everything in place ready for RITM to certify WVMC and WVSU MC as COVID-19 Testing Centers. The introduction of the participants revealed that Iloilo has some of the most qualified experts in Molecular Biology, Epidemiology, Bio Chemistry, Biological Safety, Virology and related fields. It was agreed that:
1. A bio hazard and capability assessment of the labs and evaluation of RT PCR machines available will be conducted by certified Bio Safety Officers and the UPV Philippine Genome Center;
2. The RT PCR machines from UPV and San Agustin will be loaned and transferred to WVMC and WVSU MC, if necessary, to expand their capacity;
3. Medical technologists from the participating hospitals will be sent to the Research Institute for Tropical Medicine (RITM) for training on COVID-19 testing;
4. The medical technologists will also be trained on the use of the UP test kits by the training team of Dr. Raul Destura, developer of the UP test kits, once these kits receive FDA approval for commercial distribution; and
5. WVMC and WVSU-MC be accredited as subnational laboratories.
The next day, or on March 17, 2020, UPV-PGC, under UPV-PGC made a survey of available PCR machines in Iloilo. At the same time, a bio safety team composed of Dr. Christopher Marlowe Caipang, Jarold Mediodia and Jayson Jolito inspected and assessed the WVMC laboratory. They submitted their findings and recommendations needed to satisfy the biosafety requirements for COVID-19 testing. It then proceeded to inspect and assess the WVSU MC lab.
iAmUPHi drafted letters which Mayor Jerry Trenas approved and signed addressed to Rev. Father President Frederick C. Comendador and Chancellor Ricardo Babaran requesting the RT PCR machines of the University of San Agustin and UP Visayas be loaned and transferred to WVMC. Both universities approved the request. The loan of the San Agustin and UP PCRs was endorsed by DOST.
Anticipating that the med techs would need to travel to Manila to train at the RITM, a businessman was requested to lend his airplane to transport the medical technologist to Manila, to which he graciously obliged.
On March 19, iAmUPHi also drafted two letter requests to RITM for the training of the med techs. One letter each for WVMC and WVSU MC were drafted for and were signed by the respective Hospital Directors. The signed letter of WVMC was returned to iAmUPHi and was promptly sent to to RITM on March 20, 2020, a Friday, with a reservation that the letter request of WVSU-MC will follow. The signed WVSU MC letter was sent the following day, a Saturday. Meanwhile, iAmUPHi was informed that the WVMC and another hospital in Bicol were to be commissioned by DOH as additional sub national laboratories. RITM agreed to train at least two med techs from WVMC. Considering that the WVSU MC letter was sent on a Saturday, it could not be acted upon until Monday. The plane was scheduled to fly on Sunday.
Pressed for time, WVSU-MC requested DOH Region 6 if it could endorse WVSU-MC to travel to Manila as part of the WVMC team because the slot was for at least two med techs. The request was denied by DOH6 and the WVMC Hospital Administrator.
Nevertheless, calls were made to DOH Manila that Saturday. The Governor of Iloilo, Arthur Defensor, Jr. supported the arrangements as well. There was a compelling need to send out the med techs ASAP as there was a long line of technologists from private hospitals undergoing training or waiting to be trained. Unofficial advice was given that if the WVSU-MC med techs can reach Manila, their training may be worked out so that they can reach the necessary proficiency level at the soonest possible time. With this information, WVSU-MC med techs decided to proceed with the travel. Brainstorming on the possible outcomes, the group hatched Plan B to have the WVSU-MC med techs train with Dr. Raul Destura or UP NIH if they cannot be accommodated by RITM.
In Manila, alumni members of a UP Silak Brotherhood and UP Silab Sisterhood were organized to fetch the med techs at the airport, and provide for their transportation and lodging near the training center. It was arranged that personnel of the Philippine Navy will fetch and escort them.
Another committee was scrambling to secure flight clearances from CAAP and the Office of Civil Defense. With the assistance of the Ms. Jane Javellana, Presidential Consultant for Western Visayas, the flight was cleared for Sunday March 22, at 2:00 PM.
Unfortunately, at the appointed hour of departure, the WVSU-MC was denied boarding because in the Memorandum of the Regional Director of DOH6, only two (2) med techs from WVMC will undergo training and they will be provided housing and escorted by the staff of a legislator from Iloilo. Because of this, the Philippine Navy escort team waiting in a special hangar in Manila pulled out. A different plane took off carrying a lady congresswoman and the two med techs from WVMC leaving the WVSU MC counterparts behind. In the morning of the same day, the same congresswoman flew in from Manila bringing with her two RITM personnel who inspected the WVMC lab. UP-PGC transferred its RT PCR machine to WVMC and provided the RITM personnel with a digital dry bath and nuclease-free water to enable the use of a different set of testing kits the hospital received. As a result of all these efforts, WVMC was accredited as Sub National Testing Center. Upon the return of the two WVMC med techs from training, they were provided with N95 masks and other PPEs so that they can be protected in the lab.
On March 26, 2020, the WVSU MC was identified as an additional sub national testing center for Western Visayas. RITM advised that its med techs can train at the WVMC.
On April 16, 2020, a training team from UP NIH and Health Tek, arrived in Iloilo City and brought the UP NIH Test Kits be purchased by local donors for the city. The UP NIH training team, with the assistance of the UP-PGC and the University of San Agustin Center for Chemical Biology and Biotechnology, trained the pathologists and med techs from the WVSU MC and the City Health Office. WVSU MC is already a level 3 testing center and it will soon be the second sub national testing center in Western Visayas. Meanwhile, pathologists from the Corazon Locsin Montelibano Memorial Regional Hospital in Bacolod City also underwent COVID Testing training under the UPV-PGC and the USA C2B2 Laboratory. CLMMRH is geared to become the third testing center in Western Visayas. Other hospitals have signified their intention to be accredited as testing centers as well.
For all their efforts, the members of iAmUPHi and UPAA Iloilo Chapter as Team UPFight! feel that there are still so much to be done. Despite the obstacles and the seemingly endless struggle to overcome this adversity, the team has found solace and motivation from each other's fortitude. For them, the fight continues until the virus has been tamed and a vaccine has been developed. Padayon!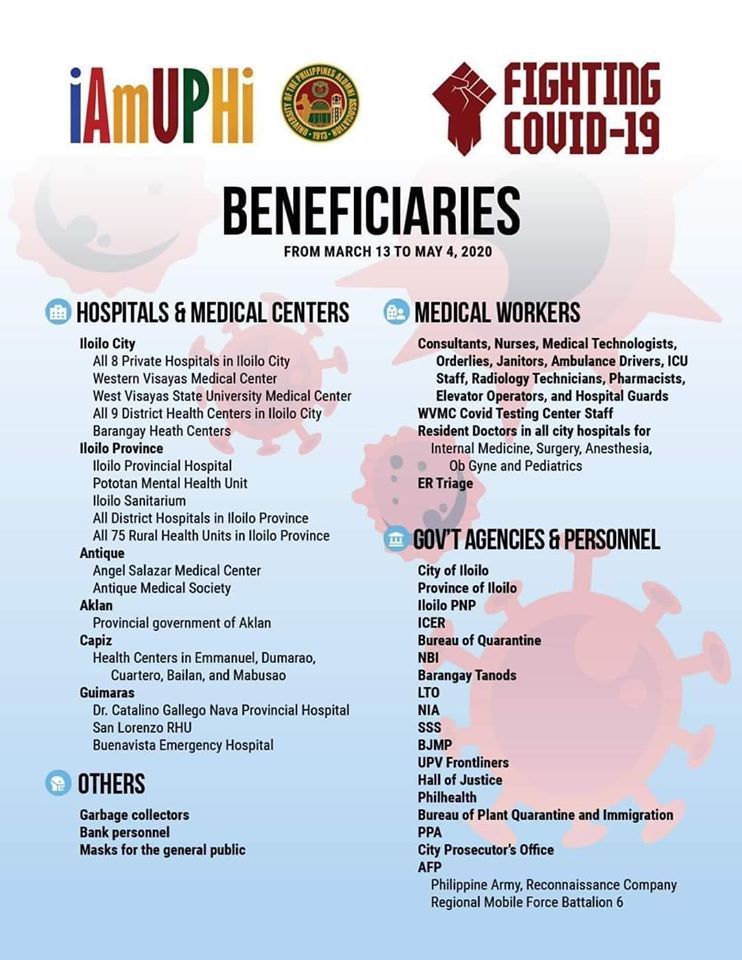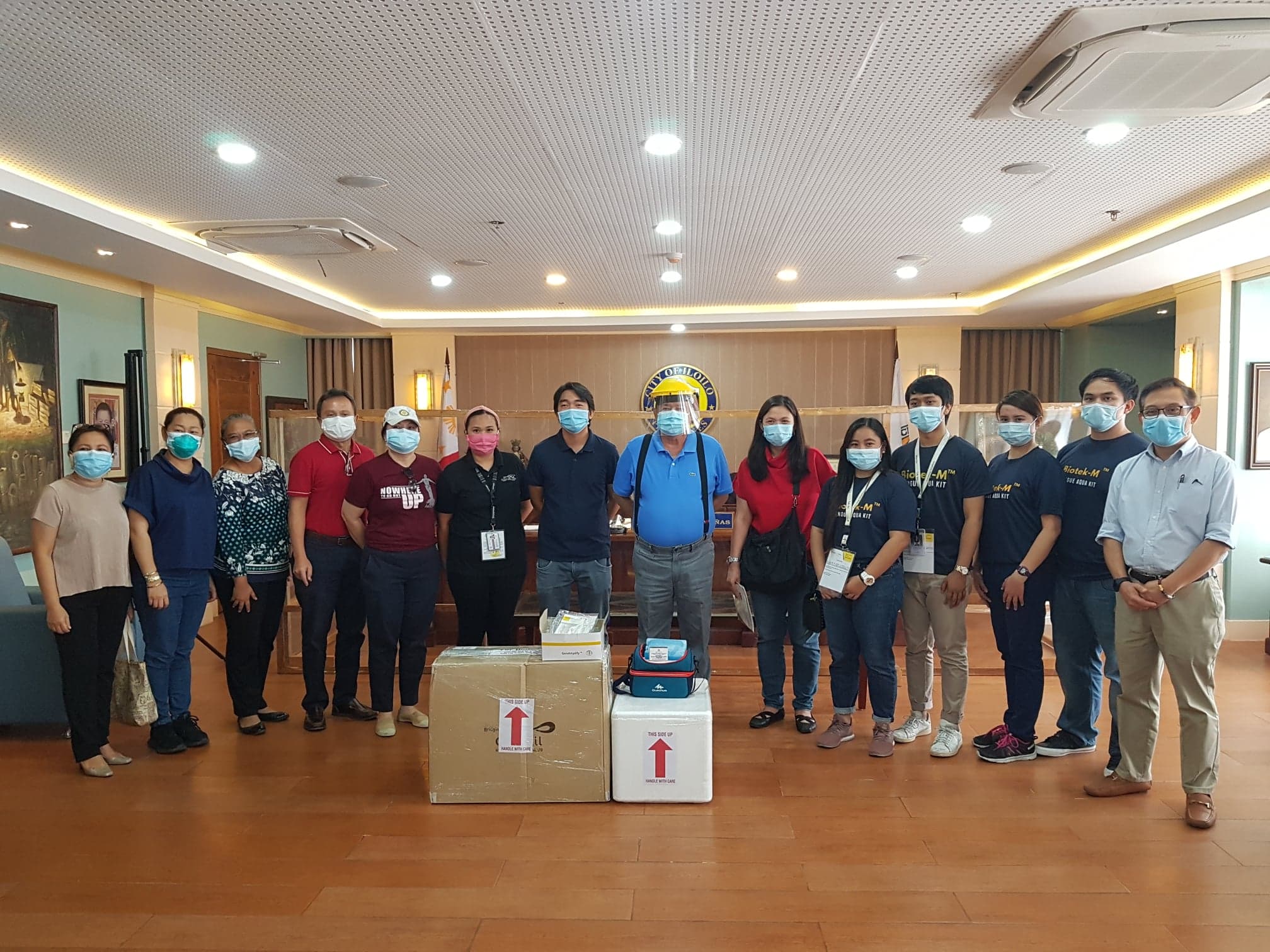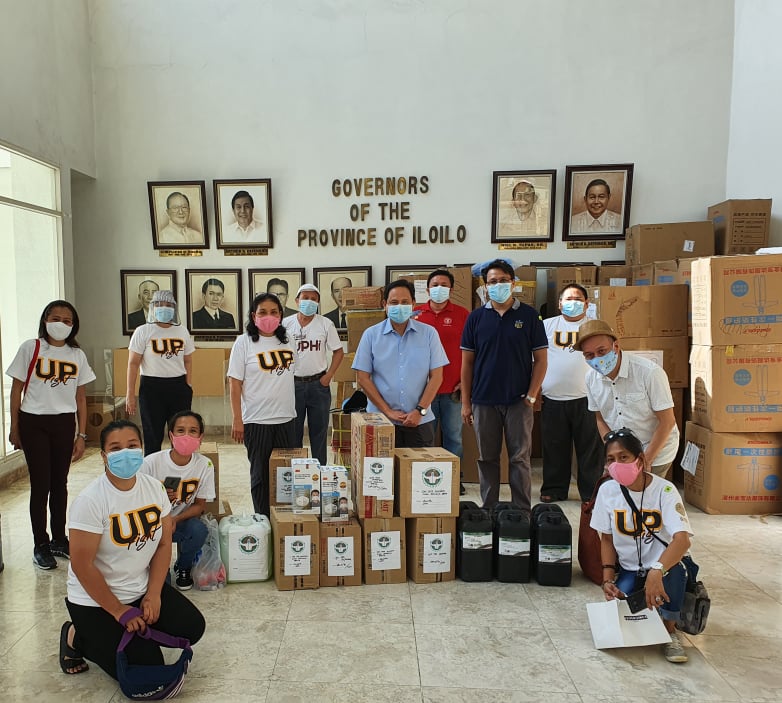 (This was originally posted on the UP Visayas website on May 5, 2020)