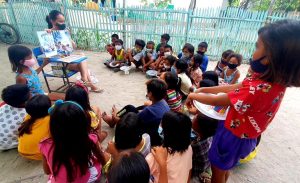 Since the start of community lockdown and the suspension of classes across the country, more and more children are being forced to stay at home, resulting in more students becoming disengaged from or deprived entirely of their education. Undoubtedly, the global COVID-19 pandemic and its effects magnified the existing literacy challenges, exponentially increasing the inequity between children who are supported and those who aren't when it comes to reading.
To continuously promote the reading of storybooks among schoolchildren and mediate their not having much exposure to storytelling activities, the Language Program conducted its reading project dubbed Read Along: An Outreach on Literacy in Sitio Baliguian, Brgy, Malangabang, Concepcion, Iloilo, 17-18 April 2021.
This activity, "Kwentuhan sa Baliguian" seeks to promote reading among schoolchildren in this island barangay as well as to give them a chance to interact with their schoolmates and friends who for more than a year have not attended any classroom engagement and interaction. The students enrolled at Baliguian Elementary School were grouped according to grade level. They listened to stories delivered by volunteer teachers from UP High School in Iloilo and the Division of Professional Education. Together with Asst. Prof. Jessie L. Labiste Jr., faculty-in-charge of the Language Program, and Ms. Marian Janice M. Mediana, Language Program Admin Staff, is Asst. Prof. Jonevee B. Amparo from UP High School Iloilo volunteered to read stories in Filipino.
According to Prof. Amparo, storytelling could be another venue where pupils and students can interact and exchange their thoughts and ideas. "Storytelling is an immersive experience that engages us in conversations that confront us with realities in our society through children's perspectives," she added.
Despite the limited situations brought by the COVID-19 pandemic, the Language Program read stories in English and Filipino to pupils from grade 3 to grade 6, while those in the Kindergarten and grade 1 to grade 2 were given coloring sheets and crayons to join an art activity. Snacks were given after the reading sessions. Proper protocols were followed, and the event was organized with the assistance of school teachers and barangay officials.
"It is the belief of the Language Program that while COVID-19 is impacting students and pupils in both developed and developing communities, it is critical that we are also aware of the needs of our schoolchildren, especially that reading is an essential part of their formative years," said Asst. Prof. Labiste.
The reading program was made possible because of the collaboration between UPV Language Program and TOP Team Visayas, a non-profit organization that promotes socio-civic consciousness through the conduct of adventure activities like hiking and adventure trekking.
(This article, written by Prof. Jessie Labiste, Jr., was first published in the UPV Website on May 5, 2021)