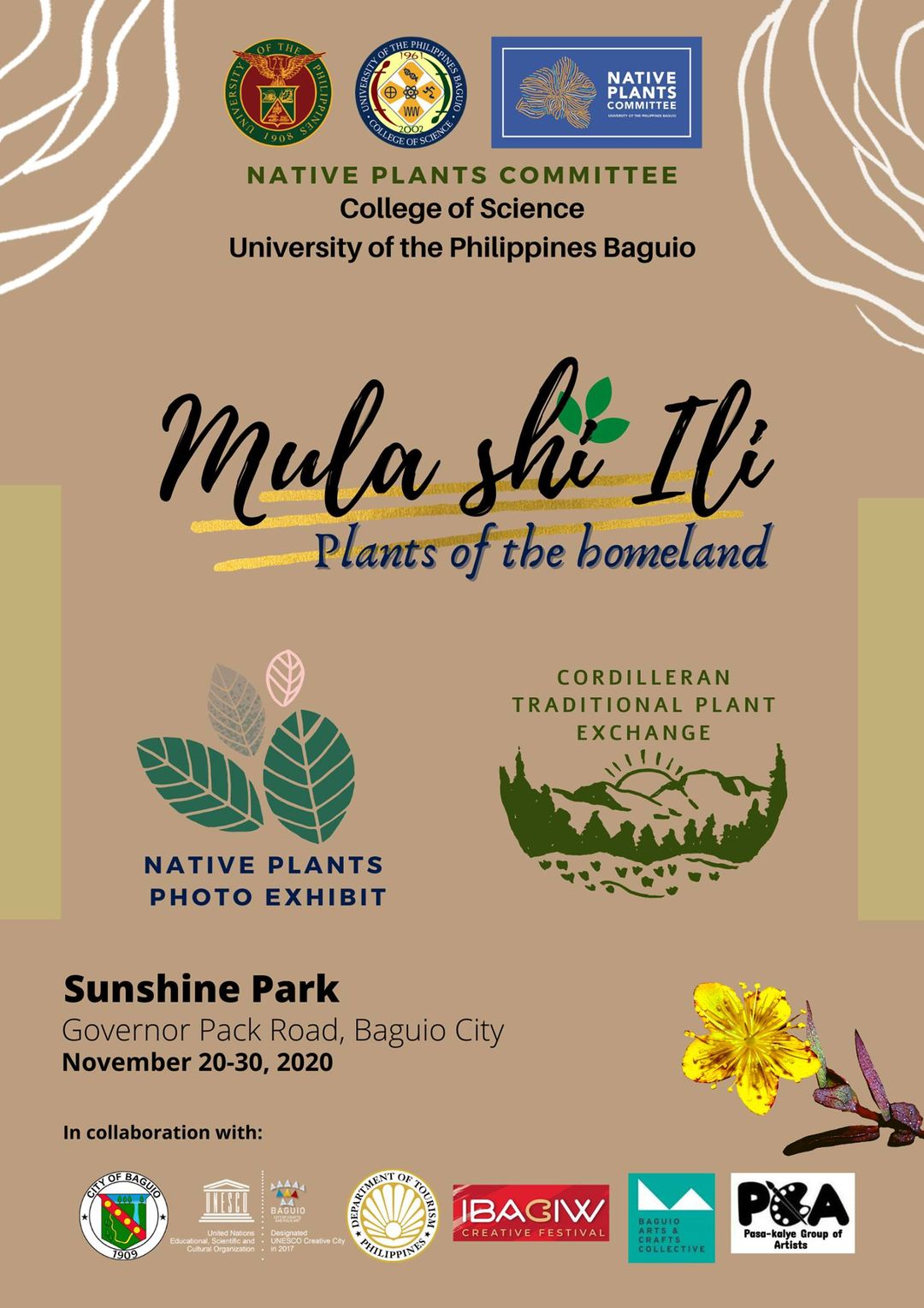 In celebration of the Native Plants Week and the annual Ibagiw Festival, the Native Plants Committee of the College of Science, University of the Philippines Baguio in collaboration with the Ibagiw Festival Organizers bring you a blend of art, culture, and science!
???? ??? ??? (?????? ?? ??? ????????)
Native Plants Photo Exhibit | Cordilleran Traditional Plant Exchange
Venue: Sunshine Park, Baguio City
November 20-30, 2020
?????? ?????? ????? ???????
The Cordilleran mountain range is home to a vast number of native and endemic species of plants adapted to the upland and cool environment. This photo exhibit aims to promote the cause of native plants, create public awareness and increase the appreciation of native plant species as a critical component in attaining the Sustainable Development Goal (SDG) 11: Sustainable Cities and Communities. It will feature 20 selected native plants of the Cordillera mountains carefully selected by the curatorial team. The photos are contributed by young researchers in the botanical field who are also active in promoting the cause of the native plant species.
??????????? ??????????? ????? ????????
Rooted in the tradition of sharing and caring, the Cordilleran Traditional Plant Exchange aims to revive the old tradition of seed and plant exchange system. This event will engage the public in promoting native plant species (e.g. heirloom rice varieties, traditional coffee, tea, and native trees). This platform also aims to persuade the public in patronizing and promoting the cause of native plants whilst taking into consideration habitat protection and conservation approaches especially for culturally and ethnobotanically important plants.
#IBAGIW2020 #breatheinbaguio #AngatTayoBaguio #BaguioCreativeCity #baguiocreativefestival
?? ????????????? ????:
The City of Baguio
Department of Tourism- CAR
Ibagiw Creative Festival Partners and Organizers
Baguio Arts and Crafts Collective, Inc. (BACCI)
Pasa-kalye Group of Artists
??????? ?????? ??:
UP Baguio Chancellor Raymundo D. Rovillos
Ms. Maricar Docyogen
Ms. Sherr Guinid
Prof. Jandy Carvajal
Mr. Julius Lumiqued
Prof. Jocelyn Floresca (Photo exhibit curator)
Mr. Mark Martin
????? ????????????:
Maverick N. Tamayo
John Michael M. Agcaoili
Mc Andrew K. Pranada
Adriane B. Tobias
(This was originally posted on the UP Baguio Facebook Page on November 5, 2020)