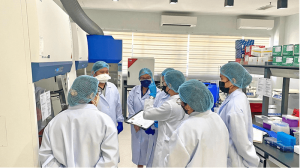 The Philippine Genome Center Visayas (PGC Visayas), in coordination with Western Visayas Medical Center Sub-National Laboratory (WVMC-SNL) and the Regional Epidemiology and Surveillance Unit (RESU) of the Department of Health Western Visayas Center for Health Development, successfully sequences its first samples for SARS-CoV-2 biosurveillance using Next Generation Sequencing technology.
The 93 samples of COVID-19 cases were processed for sequencing and the results have been forwarded to the Department of Health – Epidemiology Bureau (DOH-EB). Currently, a maximum of 90 samples will be processed weekly for the next two (2) weeks due to the limited availability of other peripheral equipment. The maximum capacity of 350 samples per run will be executed upon the arrival of all peripheral equipment for processing.
PGC Visayas was established through the project "Establishment of Genomics Consortium and Core Facility in the Visayas", with funding support from the Department of Science and Technology (DOST) through the Philippine Council for Health Research and Development (PCHRD). Further, the center is also a co-proponent of the program "Enhancing National Pandemic Preparedness and Response in the Philippines through Genomic Biosurveillance: Utilizing the UP-PGC Network in Luzon, Visayas, and Mindanao," which aims to conduct SARS-CoV-2 genomic surveillance and inform responses throughout the Philippines. The said biosurveillance program was supported by funding from the Department of Budget and Management (DBM).
To further capacitate PGC Visayas for genomic sequencing, personnel from WVMC-SNL were also trained for the SARS-CoV-2 biosurveillance for better coordination with PGC Visayas. In addition, Chief Executives of all the provinces in Western Visayas, as well as Iloilo City and Bacolod City, signed a petition in support of the Center. Further support for the sustainable operations of the Center was provided through donations coordinated by the UP Visayas alumni groups iAmUPHi and UPAA-Iloilo Chapter. The PGC Visayas laboratories are located at the Regional Research Center of the University of the Philippines Visayas in Miagao, Iloilo.
(This article was first published in the UPV Website on February 21, 2022)