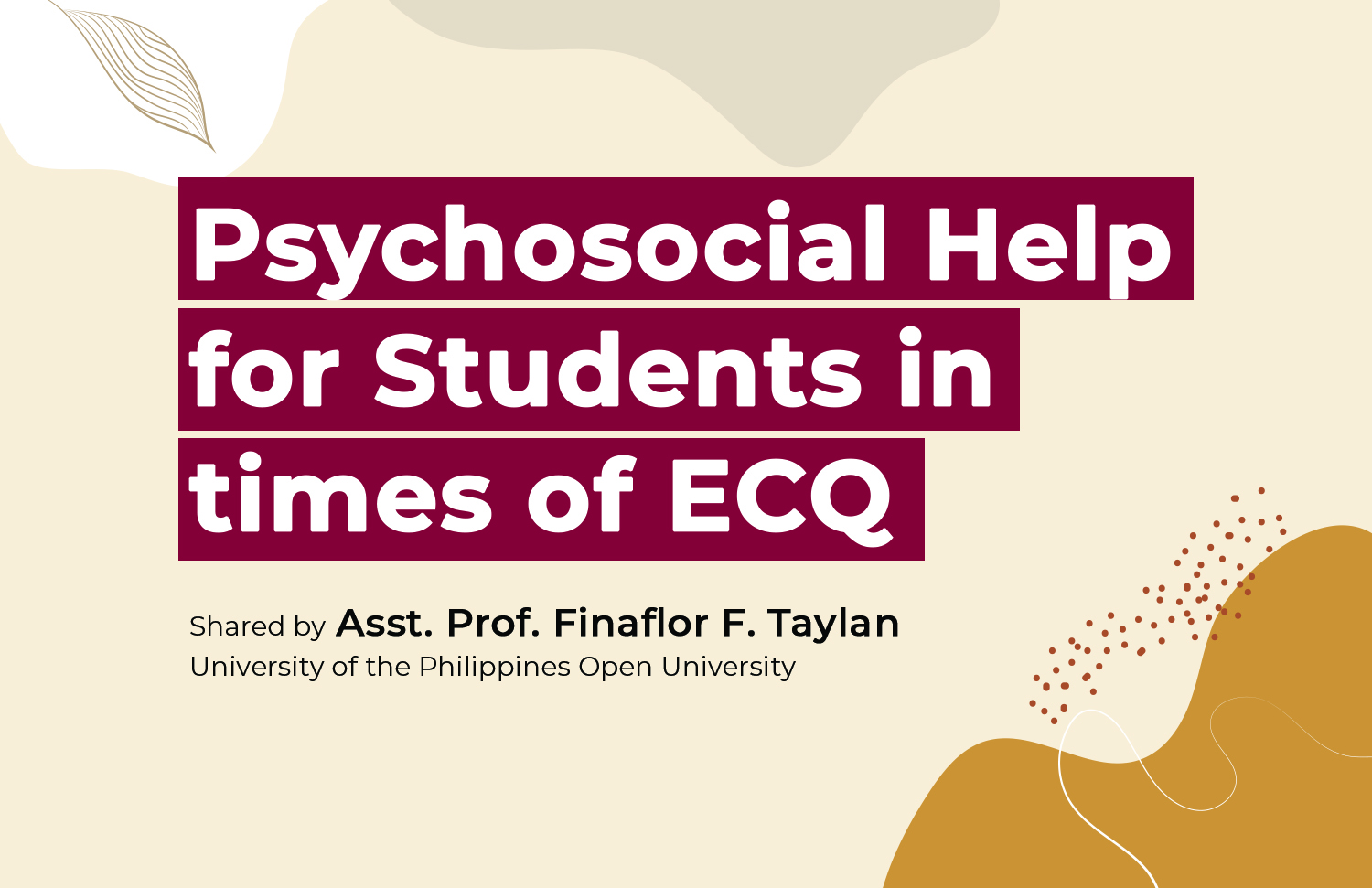 What has kept us busy at home with the Enhanced Community Quarantine (ECQ) in effect? Many students who have had their classes suspended find comfort in their smartphones and all its applications, in home makeovers, in gardening, and in doing whatever hobbies (or chores) that help keep them busy. Since online classes are still ongoing and extended,  UP Open University (UPOU) students try to manage with academic deadlines, along with continuous work and the unique and stressful demands of being on ECQ.
It is not easy being subject to this kind of supression of freedom especially when we are used to doing whatever our whims tell us. We can't travel, can't go malling, can't meet with friends, and can't even buy our needs. Four  weeks into the lockdown, and some of us are beginning to question if our physical, mental, emotional and spiritual health will see us through the end of this crisis.
Assistant Professor Finaflor Taylan, a Registered Social Worker, faculty of UP Open University Faculty of Management and Development Studies,  and a member of the National Association for Social Work Education. Inc. (NASWEI), offered five tips to maintain psychosocial health among students, especially UPOU students. I believe this is helpful for the general public as well.
1. Accomplish what you can, within your capacities and limits. Manage your expectations of yourself. Forgive yourself for your shortcomings.
2. Have constant communication with your support group/s. This can include your family, friends, teachers, co-learners, or even your pet.
3. Take care of yourself. Stay healthy. This includes your mental aspect. Have enough rest. Spend time on people, things, or activities that make you feel calm and at peace. Your favorite film, song, or spot in the house is waiting for you.
4. You are not alone. Reach out to professionals for help if deemed necessary. There are volunteers who are willing to share their time and listening ears. You can also be one of them.
5. Count your blessings. The sun shines for a reason.
Asst. Prof. Taylan is also offering assistance to those who are in need of psycho-social support (PSS), through a Private Message to her Facebook Account (Taylan Fina) or by emailing her at [email protected]. She is part of the Facebook Group United Registered Social Workers who have agreed to post their  personal contact details "to provide free and confidential Psycho-social support (PSS) and Psychological First Aid (PFA) to support MENTAL HEALTH of Filipinos in fighting COVID-19 pandemic."
She also shared the support pouring out online. Organizations, such as the Philippine Mental Health Association, Inc. (PMHA) recommends Mental Hygiene Practices to ensure mental health amidst the COVID-19 pandemic. PMHA also shares helpful resources and online help through their Facebook Page.
The UPOU  is also not oblivious to the needs of its constituents, especially to the needs of its students. Help is available through the O.S.A. Helpdesk.
In this time of crisis, let's not neglect our needs and deny ourselves the help and resources offered freely by so many of our fellowmen. At the same time, let us be the help that others need. A breath of prayer, a short advice, or a small donation will go a long way.
Special Thanks to Asst. Prof. Finaflor F. Taylan
Written by: Ms. Anna Cañas-Llamas
Layout by: Ms. Lovelyn P. Petrasanta
Edited by: Dr. Joane V. Serrano
(This was originally posted on the UP Open University website on April 13, 2020)