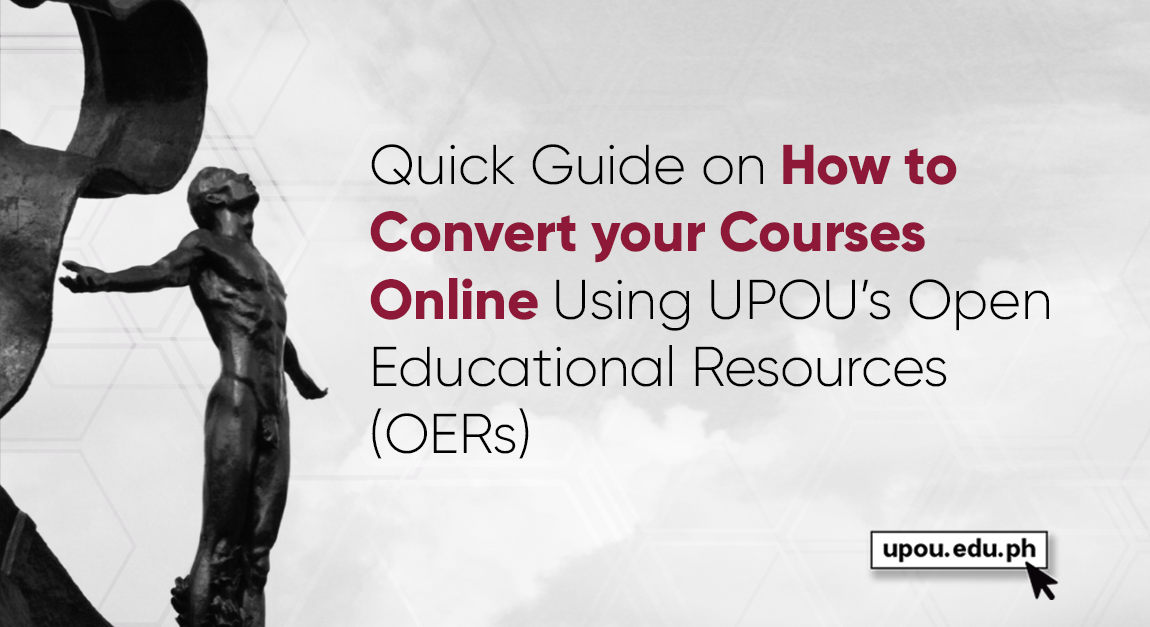 If you were not able to watch the scheduled series of webinars of the UP Open University (UPOU) on How to Convert your Courses Online, fret not!  We've curated some of the best resources produced by UPOU to help you convert your courses online. These resources are Open Educational Resources (OERs) and  are licensed under Creative Commons which means that they are free and can be used by anyone.
Understanding Online Learning
Now that we are forced by circumstances around us to convert our courses online, we need to understand the basic concepts of Open and Distance eLearning (ODeL).  As Tony Bates, an expert in distance learning, said "It is NOT a good idea just to jump into it and hope to wing it. Teaching online is not rocket science but it does need a different approach from classroom teaching. Get advice from a professional first."
To help you have a clear grasp of the basic concepts of ODeL as well as some design principles, you have to keep several things in mind as you convert your courses from residential to online learning. These videos provide you with some definitions and descriptions of basic concepts related to ODeL and flexible learning as well as discussion of the drivers of these technological developments.
You might be asking yourself, how will you be able to do a lecture if you will be holding your classes online. But before you decide whether you will be doing a lecture or not, it is important to first understand the difference between synchronous and asynchronous learning as well as the advantages and disadvantages of these two.
In a synchronous setup, the faculty and the students communicate in real-time and the teacher normally schedules this in advance.
While in an asynchronous teaching, communication is flexible since students are not forced or required to be in the classroom at the same time. This is also the reason why online learning allows you to combine your studies with work, hobbies, projects, and other passions or interests.
To learn more about this, you may watch this video that discusses the difference between these two, and the advantages and disadvantages of synchronous and asynchronous learning that will help you decide which one to use in your classes.
Essential Elements of Online Learning
Now that we got the basics covered, let us now go into some of the essential elements when it comes to online learning.
One important element is the platform and tools that you will use in your online classes. Let us look at some platforms and tools you can use when you convert your courses online. If you decide to do a synchronous lecture, the previous video shares some useful tools as well as tips on how to design an engaging online lecture.
If you wish to explore an asynchronous format, one of the recommended platforms for newbies is the Google classroom. Let me share this video on using Google Classroom. This video demonstrates how to set up your own Google classroom as well as some of the features you can use.
Aside from Google classroom, there are other great Learning Management Systems (LMS) that you can explore and use as platforms for your virtual classes. This video discusses the different LMS, type of licensing, as well as the different features and considerations when choosing LMS for your classes.
Another essential element of online learning is setting up the content online. In a face-to-face setting, the content is delivered through lectures and other face-to-face strategies. But in an online setting, you have to be creative.  Feel free to explore various strategies that can be used to deliver your content online. This video will guide you on how to design technology-supported learning, giving you detailed strategies as well as specific examples.
This video shares strategies for migrating content to online mode such as live streamed/lectures, pre-recorded lectures, online resources or a  combination of these strategies.
The third important element of online learning is the use of learning resources in your online class. This video shares what are OERs and how to use these OERs in promoting active learning and student engagement.
Once you have migrated your courses online, another important element that must be considered is how to engage your learners. This video shares some online practices by a UPOU faculty to give you ideas and inspiration for your online activities.
The final element of online learning that we want to share with you is assessment. This video shares how you can do your assessment from the unit level to the program level down to the course level.
Other Featured Learning Materials
Aside from the recorded webinars, we've also curated some of the best OERs that can help you as you start and explore the exciting world of online teaching and learning. We hope that you will have a fun time watching these OERs.
Alternative Assessment Models: Remedies to eLearning's Dark Side | Dr. Alexander G. Flor
Assessment for Online Learning | Dr. Melinda F. Lumanta
Basics of Learner Support | Dr. Joane Serrano
Coaching and Feedback | Dr. Joane V. Serrano
Collaborating Tools for Teaching in ODeL | Ms. Myra Almodiel
Collaboration Among Open Universities in Southeast Asia: The Experience of the ASEAN Studies Graduate Program | Dr. Jean A. Saludadez
Designing Discussion Forum | Dr. Primo G. Garcia
Developing a Learning Mindset Through Self-Learning Inventory | Dr. Joane Serrano
Managing a Moodle Course- Guide for Teachers | Ms. Myra C. Almodiel
Methodologies for ASEAN Studies Research – Segment 1: Ontological Assumptions of the Two Means of Knowing | Dr. Jean A. Saludadez
Methodologies for ASEAN Studies Research – Segment 2: Epistemological Assumptions of the Two Means of Knowing | Dr. Jean A. Saludadez
Methodologies for ASEAN Studies Research – Segment 3: Teleological Assumptions of the Two Means of Knowing | Dr. Jean A. Saludadez
Methodologies for ASEAN Studies Research- Segment 4: The Characteristics of Qualitative Research | Dr. Jean A. Saludadez
Open Learning, Distance Education, and e-Learning: Some Basic Concepts on Flexible Modes of Teaching and Learning | Dr. Primo G. Garcia
Promoting Interactivity: Designing Scaffolds and Learning Activity | Dr.  Primo G. Garcia
Quality in Open University | Dr. Alexander G. Flor
Study Skills | Dr. Joane Serrano
The Open Learning, Distance Education, and e-Learning System: An Introduction | Dr. Primo G. Garcia
Written by Dr. Joane V. Serrano, Director of UPOU Information Office
(This was originally posted on the UP Open University website on April 1, 2020)