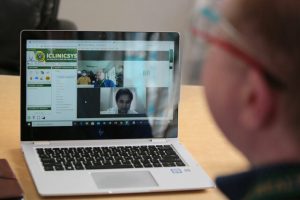 MAY I. ACUÑA, 37, and her family have been consulting a doctor online amid a coronavirus pandemic.
"It really helps," the housewife from Cavite province said by telephone. "We used a telemedicine app for my aunt, whom the doctor confirmed was suffering from another stroke. So, we took her to the hospital."
She also gets prescriptions online for antibiotics through telemedicine, in which patients get diagnosed and treated remotely — a convenience that Ms. Acuña did not enjoy before the global health crisis.
Remote care was originally used to provide medical assistance in rural areas where healthcare access is difficult. Over the years, pandemics forced people to use digital technology for healthcare, such as during the SARS epidemic in 2003 and, later, MERS-CoV in 2013.
"During COVID-19, member states in different stages of digital health transformation are all more engaged in telemedicine implementation," the World Health Organization (WHO) said in a 2020 report.
In May 2021, Juniper Research expected teleconsultations globally to hit 765 million by 2025 from 348 million in 2020, reflecting a compound annual growth rate of 17.1%.
The Philippine Health department engaged with more than 100,000 patients a month in the first quarter of 2021 on Cisco Webex, a video conferencing platform developed by Cisco Philippines, the company said in April.
The agency conducted 17,400 sessions over Webex in 2020, equivalent to more than 2.3 million minutes of meetings and teleconsultations, it added.
"That there was at least a 50% increase in the use of telemedicine services in 2020 from pre-pandemic levels in urban areas, but not so much in rural areas," Raymond Francis R. Sarmiento, director of the National Telehealth Center at the University of the Philippines-Manila, said in a Zoom interview.
The Department of Health (DoH) had urged the public to virtually consult doctors for nonurgent medical needs to avoid overcrowding in hospitals. It has also issued guidelines on the practice of telemedicine as the country shifts to the so-called new normal.
It has partnered with telemedicine providers including CloudPx, HealthNowPH, SeeYouDoc, TelAventusMD, MedCheck E-consult and TrinityCare.
Under the rules, a telemedicine provider must have a stable internet connection and secure videoconferencing or communication software, among other things.
Physicians must issue electronic prescriptions in accordance with the rules of the local Food and Drug Administration.
917Ventures' telemedicine provider KonsultaMD said medical consultations on its app had skyrocketed by 23 times as of January from before the pandemic, while participating doctors rose by more than 18 times. 917Ventures is the corporate venture builder of Globe Telecom, Inc.
"Since the start of this pandemic, KonsultaMD has served as a national triage system, just like what you see when you first enter emergency rooms in hospitals," Chief Executive Officer Cholo A. Tagaysay said in an e-mailed reply to questions.
Videoconferencing is usually used to provide care to patients who are hospitalized or in quarantine, while physicians in quarantine can use these services to take care of their patients remotely.
"With our hotline and mobile app running 24/7, patients can simply call about their symptoms and are given an immediate response regarding the next course of action," Mr. Tagaysay said.
Most of the patients of Caryl Lyca M. Dematawaran, a young doctor at SeriousMD, were either coronavirus-positive or had COVID-19 symptoms and needed medical certificates to return to work.
Doctors like her charge a P300 fee for consultation, which takes as long as 30 minutes for COVID suspects, she said.
"Telemedicine was not really taught as a subject at medical school, but when the pandemic hit, it was introduced to us and we had a separate module for telemedicine," she added.
Her patients mostly come from the middle-class who have access to the internet and online payment systems such as GCash and PayMaya.
BARRIERS
People in the countryside who struggle to buy smartphones and poor internet access are barriers to telemedicine adoption, Mr. Sarmiento said. For these people, SMS telemedicine is an option.
"People in urban areas have strong internet connection, and even 5G, but we need to strike a balance in making this available to everyone," he added.
Enrique A. Tayag, a director at DoH's Knowledge Management and Information Technology Service, said telemedicine services in the country are not optimal because of "infrastructure and cultural challenges."
Some Filipinos are not comfortable with the technology and prefer face-to-face consultations, he said.
"Another cultural thing is the intergenerational gap," Mr. Tayag said. "There are young adults who can actually be more focused on social media conversations rather than telemedicine, so they may make choices outside the telemedicine universe."
Some people also worry about their privacy when using digital tools.
"Getting healthcare now should be as simple as buying prepaid load," Mr. Tagaysay said. "It should be available to everyone, everywhere, all the time."
He said KonsultaMD offers services for as low as P60 a month. "KonsultaMD gives any Filipino a chance to talk to a doctor even without a mobile phone or internet connection. We have a landline that you can call for free as long as you're subscribed to one of our plans."
Renz Anthony R. Sumapal, a licensed psychologist who runs a counseling and psychotherapy clinic in South Cotabato, uses telemedicine for clients who live outside the province such as those in Cotabato and Sultan Kudarat.
"It's convenient because they don't have to travel to avail themselves of mental health services," he said by telephone.
He said some clients prefer face-to-face consultations, where they can better express themselves. "Telecounseling is difficult if the client has no private space and if they can't be left alone."
Connectivity can also be a problem, so he schedules his telecounseling in the evenings when the bandwidth is faster.
The Philippines ranked 89th out of 138 countries in mobile internet speed, and 63rd out of 178 countries in fixed broadband speed in Ookla's Speedtest Global Index in December.
Aside from internet speeds, the shortage of doctors is also a problem, according to Jay Fajardo, chief executive officer and co-founder of telehealth platform provider Medifi.
The capital region has 10 doctors for 10,000 patients, but in the countryside, the ratio is down to fewer than three doctors, he told an online forum last year. "That needs to be addressed."
Telemedicine is here to stay even after the coronavirus pandemic ends, KonsultaMD's Mr. Tagaysay said.
It's unlikely though that it will replace physical consultations, according to GlobalData.
"Telemedicine is not a one-size-fits-all solution," Urte Jakimaviciute, a senior director at the market research firm, said in a statement.
While the use of telemedicine has topped pre-pandemic levels, it is not only about the technology, but also about the user experience and the quality of services they receive, she said.
"Even though telemedicine presents a great potential to transform healthcare delivery, it needs 5G to achieve its full potential."
Ms. Acuña, the housewife from Cavite, said she still hesitates to use telemedicine for her children because they could be misdiagnosed.
"I also hope rates will be charged per minute," she said. "Now, you get charged P300 even if the session lasted less than two minutes."
(This article, written by Arjay L. Balinbin, was first published in the Business World Website on March 3, 2022)