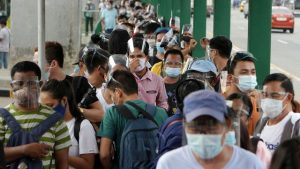 THE Philippine pandemic response should take into account on-the-ground perspectives as well as national aggregate data to avoid making the same mistakes that landed the country dead last in Bloomberg's Covid Resilience Ranking, a position it has held for three of the five previous months.
"To minimize uncertainty, we need to involve many people," said Jomar F. Rabajante, analytics researcher and member of the University of the Philippines (UP) pandemic response team, at a Jan. 25 webinar on the Omicron variant.
Despite their mathematical modeling — which the team has done since the onset of COVID-19 — uncertainties have cropped up due to a lack of capacity-building on the local government level, with executive officials scrambling to respond.  
With the latest surge caused by the highly transmissible Omicron variant appearing to recede, health authorities relaxed restrictions to Alert Level 2 for Metro Manila and the provinces of Cavite, Bulacan, Rizal, Batanes, Biliran, Southern Leyte, and Basilan.  
Meanwhile, all other provinces retained Alert Level 3 due to case count being high.
A better focus on the granular level would mean considering the high case count in other provinces despite the lower number nationally, since the surge happens asynchronously across the Philippines, said Dr. Rabajante.  
He noted that the Department of Health (DoH) includes only RT-PCR tests and not antigen tests in its data, meaning aggregates are not accurate.  
"There are mathematical methods we can use to estimate actual number based on positivity rate. Reports estimating almost 50% positivity rate, that translates to x10 of reported cases," said Dr. Rabajante.   
VACCINATION, SELF-REPORTING
The stealth Omicron or BA.2 subvariant now accounts for most of the cases in the country, according to the Philippine Genome Center's (PGC) latest sequencing.  
Though its relative mildness and high transmissibility don't differ much from the BA.1 subvariant, it is proof that the virus may still continue to mutate, said PGC Executive Director Dr. Cynthia P. Saloma at the same webinar.  
"We know how to reduce [risk] by mitigation measures — medical-grade masks, distancing, ventilation, air filtration … And it's important to strengthen healthcare capacity and vaccination rates, as the current crop of vaccines are still effective in preventing hospitalization and severe cases," said Dr. Saloma.
As part of the DoH strategy to address the surge caused by Omicron, there has been an ongoing rollout of booster shots for all fully vaccinated Filipino adults three months after their second dose. This is supported by studies showing that Moderna, Pfizer, and AstraZeneca booster doses offer better immune response against both Delta and Omicron variants.  
Dr. Teodoro J. Herbosa, advisor of the National Task Force for COVID-19, called on the private sector to help through campaigns such as Resbakuna sa Botika, in which vaccines are administered in pharmacies.  
He added that the DoH is developing a mechanism of self-reporting of tests, given that many Filipinos have been resorting to antigen testing at home. However, this will take some time as there is "lots of complexity in the self-reporting system," mainly the question of test quality and accuracy.
(This article, written by Brontë H. Lacsamana, was first published in the Business World Website on February 2, 2022)