Breakthrough food science innovations being developed by the University of the Philippines Visayas for the chronic or terminally ill and the University of Santo Tomas' vegan sausages are expected to contribute to the growth of Micro-to-Small-Medium Enterprises (MSMEs) in the Philippines.
The UP Visayas and UST healthy food research projects were presented during a symposium by universities, the industry sector, and the Collaborative Research and Development to Leverage Philippine Economy (CRADLE) Program of the Department of Science and Technology (DOST) held on January 18, 2022.
The "DOST-CRADLE's Science Kusina – Innovative breakthroughs in food technology, health and nutrition: Sarap at Sustansya, mula sa agham at teknolohiya ng DOST CRADLE" showcased the breakthrough technologies such as the locally formulated vegan sausages and potential health and nutrition benefits from marine species, along with longer-shelf life for Lechon that can be used for emergency food and deriving additional nutrients from pineapples.
Fish extracts for food and beverages
UP Visayas
The University of the Philippines-Visayas partnership with Pascual Pharma Corporation focuses on generating better foods for better survival and therapy, particularly for those who are afflicted with disease (especially chronic or terminal diseases). The research and development project is expected to create food products that are easy to digest, appropriate for recovery, and will increase immune system responses.
The R&D project will use bioavailable proteins and bioactive peptides extracted from low-cost fish species. These peptides can be used as a component of low-cost adjunct therapies for post-surgery patients and other persons with health dysfunctions.
The research team also sees commercial value in the project as this study explores mixing the extracted fish proteins and peptides in beverages.
Soybean and tofu waste into vegan sausages
UST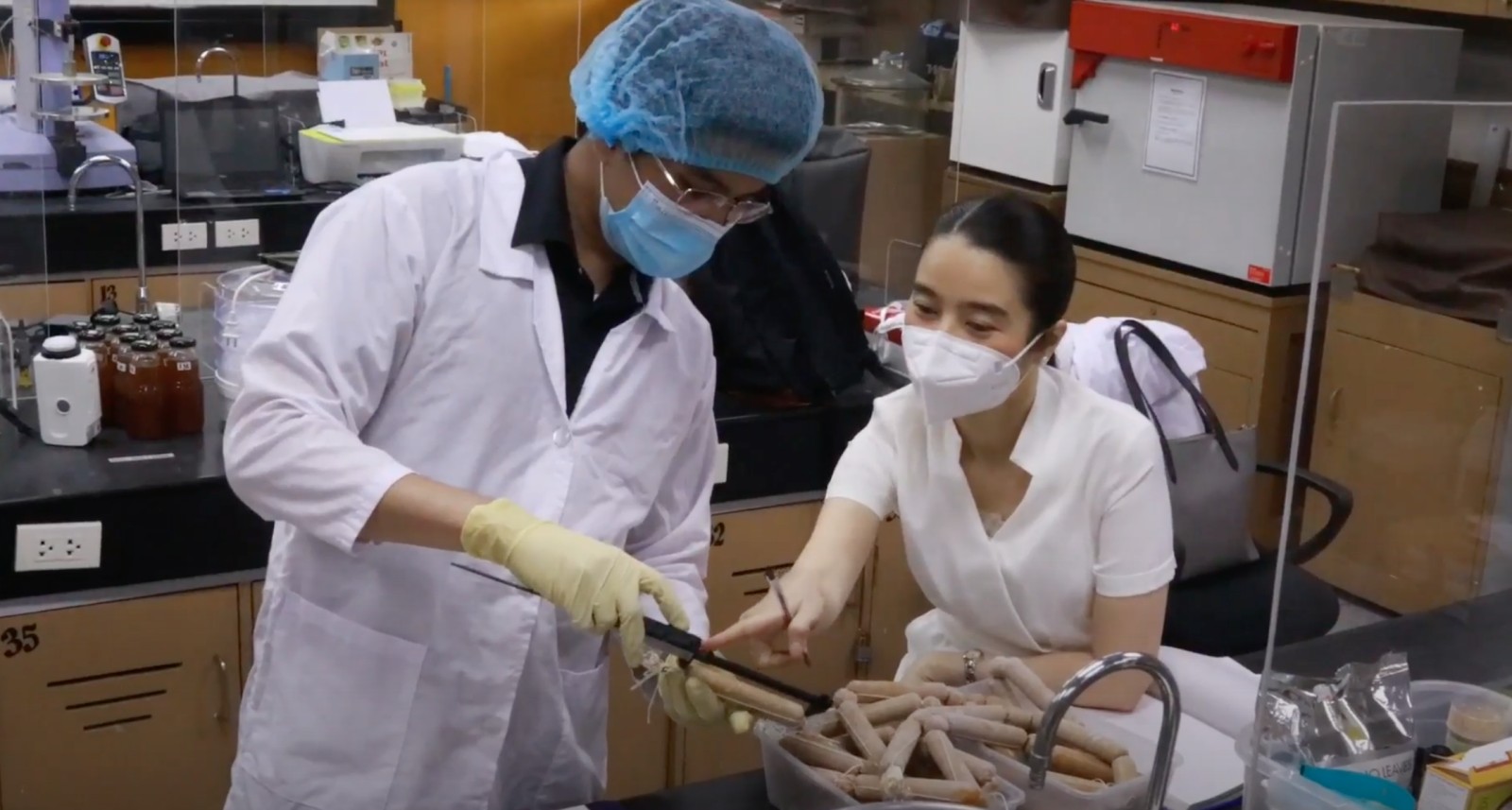 The partnership between the University of Santo Tomas (UST) and the Banawe Soybean Corporation focuses on environmental protection and waste management. The R&D project addresses food waste generated from soymilk and tofu processing called okara.
This product contains high amounts of protein and fiber that can help prevent diseases such as diabetes, hyperlipidemia, and obesity. It is also known to have high antioxidant content and prebiotic benefits. The study will develop gluten-free, vegan sausages from okara.
"DOST-CRADLE enables industry members to pandemic-proof their business by solving the problem through R&D," says DOST Undersecretary Rowena Cristina L. Guevara. "Innovation is the key for our private companies to sustain their business performance, despite the challenges brought about by restrictions in health and travel."
For companies who are also seeking to explore the benefits of the DOST CRADLE Program, you may contact the DOST-Science for Change Project Management Office at 2/F ADMATEL Bldg., DOST Compound, Gen. Santos Ave., Bicutan, Taguig City, with telephone numbers (02) 8837-2943/ 8837-2930. You may also send an email to [email protected]
The Philippines' better normal is being made possible with science & technology in the regions, including DLSU Manila's development of aquafeed technology to ensure regular supply for fish farms.
(This article, written by Aurora Quadra-Balibay, was first published in the Good News Pilipinas Website on January 21, 2022)