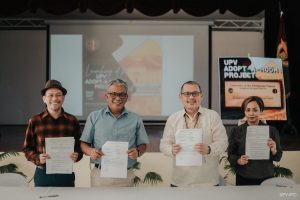 Several alumni batches of the University of the Philippines High School in Iloilo (UPHSI) kickstarted the donations and pledges to the UP Visayas Adopt-A-Room Project of the Office of the Chancellor during its launching on Nov. 29.
Headlined by the class of 1986, the UPHSI alumni donors include the classes of 1970 and 1974, 1986 (separate pledge), iAmUPHi, and retired Court of Appeals Justice Edward Contreras.
The project donors were represented by Mr. Jose Ian Cababasay and Ms. Cosette Canilao (1986), Dr. Marovi Celis (1970/ iAmUPHi), Ms. Irma Lim (1974/iAmUPHi), Jennifer Mae Luison (iAmUPHi), and Ms. Loise Jamolo (1986).
According to Vice Chancellor for Planning and Development (VCPD) Dr. Rhodella Ibabao, the Adopt-A-Room Project aims to provide a more conducive learning and working environment for students, faculty, and staff.
"The donors are encouraged to support existing rooms of UPV that are in need of upgrading, renovation, and refurbishment," she said.
The types of rooms for adoption are lecture rooms, chemistry laboratory, psychology room, computer laboratory, wet laboratory, social science laboratory, and humanities laboratory.
During the project launching, a signing of the Deed of Donation between UPHSI class of 1986, represented by Cababasay, and UPV, represented by Chancellor Clement Camposano and VCPD Ibabao, was signed.
Camposano emphasized collaborations, saying that UPV's alumni are "our natural ally in this new strategic direction."
UPV welcomes donations from generous individuals, UPV alumni, and groups.
Interested individuals may contact the Office of the Vice Chancellor for Planning and Development at (033) 315-8137 or the Office of Alumni Relations at (033) 336-8837 or e-mail [email protected] or [email protected]. (With sources from OVCDP)
(This article, writter by Mr. Carlson Alelis, was first published in the UP Visayas Website on December 1, 2022)