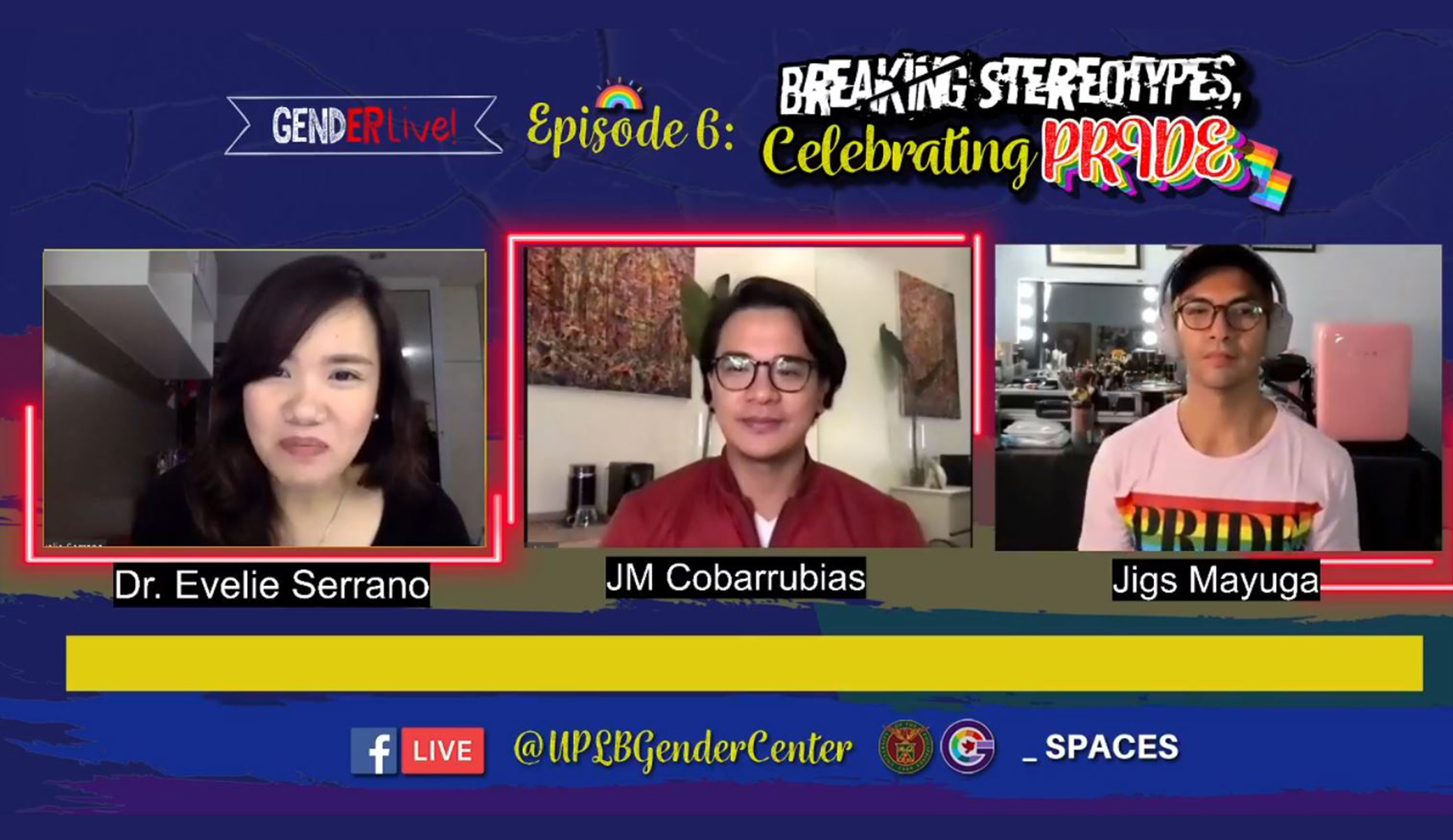 The UPLB Gender Center (UPLB-GC) led the university's participation in this year's Pride Month through "GendER Episode 6: Breaking stereotypes, celebrating pride," a Facebook live webinar held on Oct. 23 that discussed the plight that LGBT+ individuals face when dealing with gender biases.
The webinar's guest speakers had several things in common – both are UP alumni, are members and advocates of the LGBT+ community, and had served as hosts of Out!, a magazine program that aired on GMA-7 in 2004, which tackled the life and issues of the LGBT+ community.
One was JM Cobarrubias, a UPLB BS Development Communication graduate and senior program manager at GMA Network.
He talked about the value of self-acceptance, sharing that the worst gender bias that he had to overcome was his bias on himself.
He shared that in his youth, he would always 'keep himself in check' by consciously trying to behave as a stereotypical man. Eventually, he overcame his dissonance by learning to embrace himself for who he is and to not let conventions get in the way of his goals.
The second speaker was Jigs Mayuga, a UP Diliman graduate and celebrity make-up artist, CrossFit coach, and ANCX host.
He talked about the value of fighting for one's ideals. He shared about his life growing up in a conservative Catholic family, being the only son of a Philippine Navy general, and attending an all-boys school.
These, he said, conflicted with his orientation, thus constraining him from realizing his potentials. But his strong personality and passion for gender equality helped him break free from being boxed in by society.
Both shared their experiences in hosting Out!, where they revealed their sexual orientation on national television and literally 'coming out' as a nod to the show's title. They said that the act inspired many LGBT+ people.
They also said that their coming out journeys shaped their character, allowing them to live fulfilling lives and to succeed in their careers.
In conclusion, both speakers agreed that one's aspirations and capabilities should not be dictated by their sexual orientation.
In a solidarity message given during the webinar, Chancellor Fernando C. Sanchez, Jr. said that UPLB is an ally of the LGBT+ community through his support of UPLB-GC's programs during his six-year term as chancellor.
Likewise, in her inspirational message, Dr. Serlie Barroga-Jamias, vice chancellor for community affairs, lauded the guest speakers for allowing the challenges they have faced to turn them into champions of gender equality, thus inspiring others.
Lastly, in his closing remarks, Atty. Eric Paul D. Peralta, director of UPLB-GC, called on the UPLB community to 'let love win' by condemning gender discrimination and respecting the rights of LGBT+ individuals.
The webinar was hosted by Dr. Evelie P. Serrano, coordinator of UPLB-GC's Gender for Rural Development Office (GRDO). (Miguel Victor T. Durian)
(This was originally posted on the UP Los Baños website on October 28, 2020)