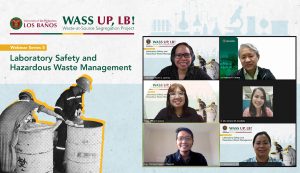 True to its commitment to promoting waste-at-source segregation (WASS) on campus, the UPLB Environmental Stewardship Committee (ESC) led the fifth installment of the "WASS UP, LB!" webinar series on Aug. 18.
Two hundred sixty staff from the academe and other related institutions across the country participated in the webinar, which focused on laboratory safety and hazardous waste management.
In his welcome message, ESC Chair Roberto P. Cereno thanked the participants for attending the webinar. According to him, "WASS UP, LB!" aims to bring more information, knowledge, and practical tips on waste management to various stakeholders. Cereno is also the vice chancellor for community affairs.
"This is part of our overall goal of providing an enabling environment for our academic functions on teaching, research, and public service—a safe, secure, and future-proof environment that is responsive to the current and future needs of our constituents and immediate community," Cereno said.
Dr. Anna Karen C. Laserna, UPLB alumna and academic service faculty and equipment specialist at De La Salle University, served as the resource speaker in this learning activity.
Laserna's lecture was divided into two parts. The first focused on the basic rules of general laboratory safety and covered the different types of hazards and practical steps for assessing and minimizing risks in the laboratory.
In the second part of the lecture, Laserna discussed hazardous waste management practices, including proper labelling, handling, and storage. She also outlined the steps in minimizing hazardous wastes, from source reduction to scaling down experiments.
Laserna also emphasized the importance of ensuring that chemical wastes are treated and disposed of by licensed service providers of the Department of Environment and Natural Resources Environmental Management Bureau.
Dr. Benevieve D. Villanueva, assistant to the VCCA, wrapped up the webinar with a message to remind everyone of their environmental responsibility. She said that she hoped that the webinar could help various personnel in managing laboratory wastes, especially with the return of students for laboratory classes and experiments.
The webinar episode can be viewed through the UPLB Community Affairs Facebook page.
(This article was first published in the UP Los Banos Website on September 6, 2022)