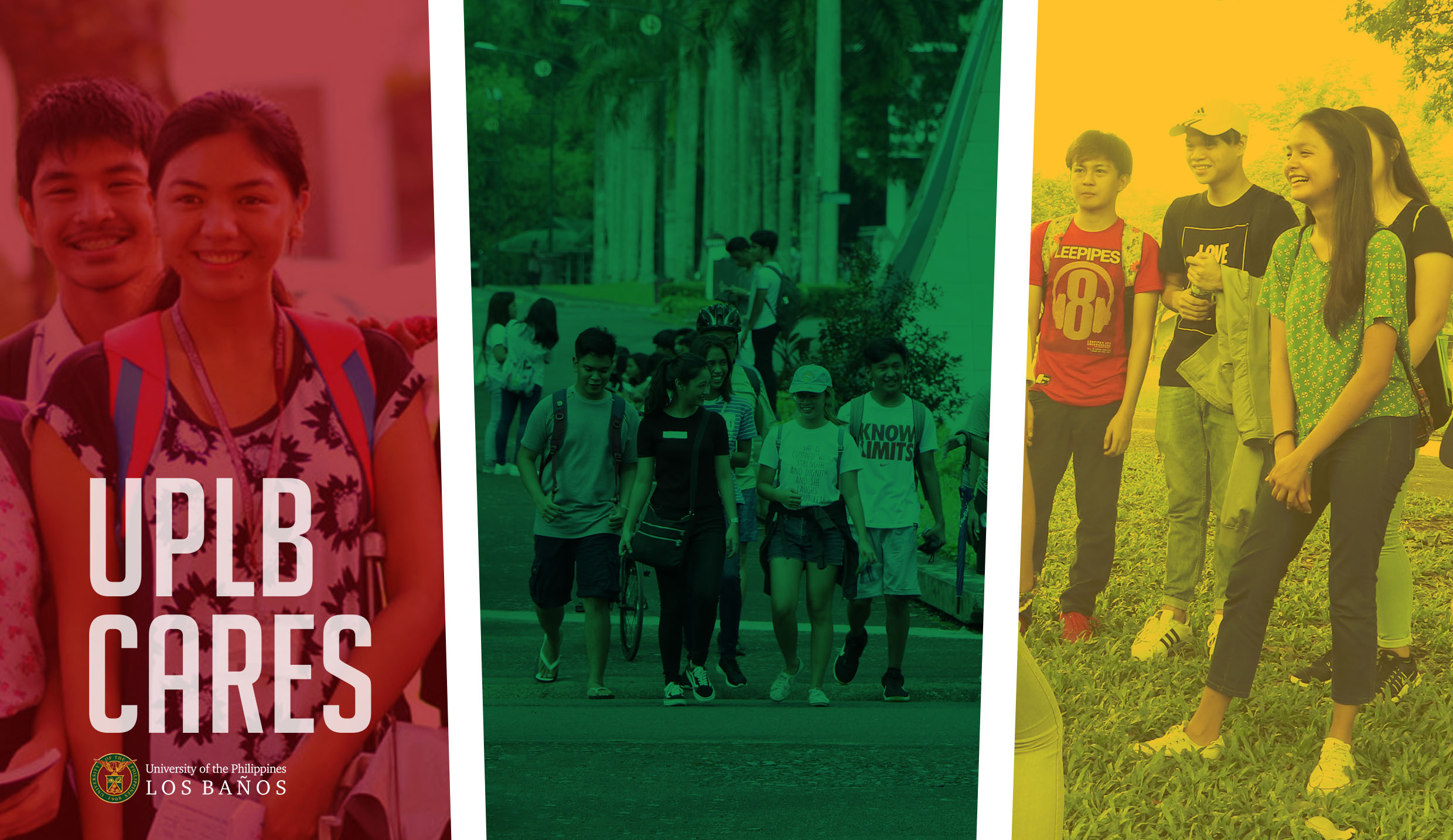 Recognizing the difficulty of the sudden shift from face-to-face classes to remote learning due to COVID-19, Chancellor Jose V. Camacho, Jr. initiates a program called the UPLB Connectivity Assistance for Remote Students (UPLB CARES). UPLB CARES hopes to provide learning support systems and assistance to UPLB students transitioning to remote, flexible mode of learning. It also aims to provide information to potential donors about the current needs of UPLB students during this time of pandemic.
Currently, there are 627 UPLB students who need to be assisted during this transition to remote learning. With the limitations of the Learning Assistance Grant of the UP System criteria from Student Learning Assistance System (SLAS), only 55 students have been provided with assistance and UPLB seeks to ensure that the 500 more students will not be left behind. SLAS is part of the University's COVID-19 Crisis Action Plan to address the needs of vulnerable students, particularly those who could be at a considerable disadvantage under the flexible, remote modes of learning.
According to the Office of Scholarships and Grants (OSG) under the Office of the Vice Chancellor for Student Affairs (OVCSA), since limited students would be helped by the existing financial assistance programs of the University, UPLB CARES aims to further support students financially during these challenging times. The program's outcome will also be used in crafting future programs, initiatives, and policies that will be adaptive, agile, responsive, and flexible to the "new normal."
UPLB CARES will determine qualified students who are at a considerable disadvantage during this remote mode of learning and assess the status of the program periodically with consequent recommendation for improvements in the procedures for granting financial assistance to students. The following students may qualify for the program: (1) not covered by Learning Assistance Grant 1 or 2 of SLAS; (2) college-identified offline learners; (3) with scholarship programs who need a learning support system not covered by their scholarships; or (4) wish to be a Student Assistant (SA) but may lack the gadget and connectivity.
UPLB CARES hopes to encourage individuals, alumni, groups, or organizations to support UPLB students in their remote learning needs by becoming a donor. Interested donors have five donation packages to choose from: Package A covers Internet subsidy only which can be paid monthly or in lump sum. This amounts to Php 2,000 per month load and a pocket Wi-Fi. Package B covers one-time gadget only donation ranging from Php 20,000 to Php 30,000 for laptop purchase with specifications good for Office applications and web conferencing or a tablet with the same specifications or with peripherals like bluetooth keyboard. Package C covers a combination of Packages A and B, internet and gadget, Package D covers financial assistance of any amount, and Package E covers donation of actual gadgets or laptops.
For monetary or financial assistance, donors shall deposit their donations to any of the bank accounts of the UPLB Alumni Association: Philippine National Bank (PNB) for dollar donations (account number 246460028491) or Landbank of the Philippines LBP) for peso donations (account number 1891011446). Cash donations via electronic mobile wallet phone application is also in the works and will be announced soon.
UPLB CARES is implemented by OSG as the university's response based on the Kaagapay sa Pag-aaral ng Iskolar ng Bayan Program or #KaagapayUP Fundraising and Resource Generation Campaign (Kaagapay UP) . Kaagapay UP, a university system-wide program, aims to generate resources to help UP students with remote learning, especially those who have limited access to computers, gadgets, and/or internet connectivity for synchronous and asynchronous learning activities. Kaagapay UP hopes to invite networks of students, alumni, and benefactors to donate resources to support equitable student access for remote learning in UP.
Interested donors can communicate with OSG for more information by sending an email to [email protected], or calling the numbers: + 63 49 536 3209 and + 63 49 536 3212. OSG can also be reached at their physical office at Room 6, 2/F of the Student Union Building. Donors who wish to donate gadgets or laptops shall accomplish an online form for proper documentation and shall coordinate with OSG. (KEAraguas with information from OSG-OVCSA) 
(This was originally posted on the UP Los Baños website on November 11, 2020)