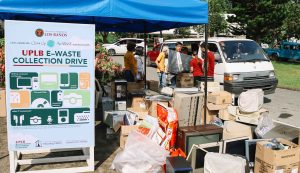 In celebration of Clean-Up the World Weekend 2022, the Office of the Vice Chancellor for Community Affairs (OVCCA) organized an electronic waste (e-waste) collection drive at the UPLB Freedom Park on Sept. 17.
The UPLB Environmental Stewardship Committee and UPLB Housing Office of OVCCA collaborated on this effort as part of UPLB's campaign for proper waste management among university housing beneficiaries, personnel, and nearby communities.
Almost a ton of e-wastes included computers, television monitors, mobile phones, compact disks, ink cartridges, wired items, household batteries, and other electronic accessories.
According to Vice Chancellor for Community Affairs Roberto P. Cereno, e-wastes could contain hazardous components such as lead, cadmium, mercury, chromium, and other substances. If not managed properly, these can present unreasonable risk and injury to people and the environment.
To ensure proper treatment and disposal, the e-wastes collected will be turned over to a licensed service provider of the Department of Environment and Natural Resources.
(This article, written by Roi Mojado with reports from Christian Paulo Altoveros, was first published in the UP Los Baños Website on September 27, 2022)