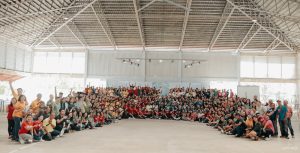 The staff of the University of the Philippines Visayas (UPV) converged for the Symposium and Fellowship for Non-teaching Personnel held at the UPV Covered Court, Miagao campus, on Dec. 13.
The attendees participated in wellness talks, a series of games, and raffle draws.
They were composed of administrative staff; research, extension, and professional staff (REPS); contract of service employees; and job hire employees from the various offices and colleges of the University.
The activity aimed to promote camaraderie and develop teamwork; improve the morale and leadership skills of personnel; and enhance creativity.
Chancellor Clement Camposano and Vice Chancellor for Administration John Lorenz Belanio gave messages, which focused on the theme for this year's Paskua, "Pagsaulog sang Kabuhi kag Kadalag-an" (Celebrating Life and Victories).
Asst. Prof. Catherine Anecita and Ms. Kristelle Kythe A. Almoguerra from the UPV College of Arts and Sciences – Department of Physical Education gave talks about wellness and simple exercises at the workplace, respectively.
Five teams, composed of staff from various offices and colleges, competed in a series of games.
The winners of the games are as follows:
Role-playing – Yellow Team
Balloon Caterpillar – Blue Team
Spelling Game – Pink Team
Emotional Script – Pink Team
One of the main highlights of the event was the raffle draws where winners took home cash prizes and home appliances.
Mr. Michael Gerald Jalandoni and Dr. Chona Parreño, both of whom from the Health Services Unit (HSU), won the major prizes – a washing machine and P5,000, respectively – during the raffle draws.
Some of the University's key officials and academic personnel sponsored the prizes.
The participants of the program also brought home spaghetti packs for the holiday season.
Meanwhile, All UP Workers Union – Iloilo Chapter President Ulysses Alama gave updates on concerns of non-teaching personnel, including the year-end benefits that they are entitled to.
The Symposium and Fellowship for Non-teaching Personnel is part of the series of activities for UPV Paskua 2022.
(This article, written by Mr. Carlson Alelis, was first published in the UP Visayas Website on December 15, 2022)