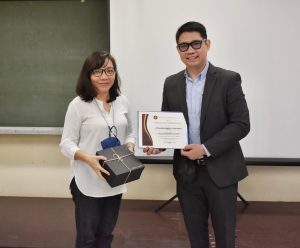 On November 9, 2022, Wednesday, the UPV OCEP conducted its second installment of the "Remedies & Reducing Business Risks" lecture series. The activity's resource person was Atty. Aloysius Pacelli Dela Cruz II. Atty. Dela Cruz is a College of Management alumnus and currently a partner at the Treñas, Rubias, De La Cruz and Layson Law Offices.
The half-day event was held at the GCEB training rooms with various licensed professionals and graduating BSA students in attendance. The key topics for the afternoon's talk focused on 2 relevant areas in the industry: financial rehabilitation and data privacy.
This is the second (Continuing Professional Development) CPD training and first face-to-face session conducted by the office as an accredited CPD provider for Accountancy.
This initiative is in support of the office's mandate of serving as a center for regional development dedicated to promoting public service and lifelong learning by developing and providing quality continuing education programs to its clients.
(This article, written by Prof. Maria Theresa Albaña, was first published in the UP Visayas Website on November 11, 2022)