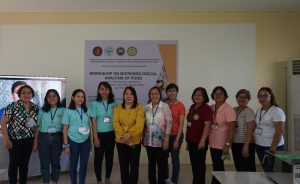 The project "Safety Assessment of Food Establishments towards an Oysterrific Tourist Experience in Iloilo City" under the CHED funded program Tourism Studies on Island-Based Opportunities for Growth (TSIBOG), conducted a 2-day workshop on "Microbiological Analysis of Food" with the faculty members of the Department of Home Technology, College of Agriculture, Forestry, and Environmental Science (CAFES), Aklan State University (ASU).  The workshop was held at the SAS Microbiology Laboratory, Aklan State University, Banga, Aklan last July 6-7, 2022.
The TSIBOG Project 3 Team is led by Dr. Jihan Santanina S. Alumbro, faculty member of the School of Technology (SOTECH) with its team members: Mr. Alan Dino E. Moscoso, Ms. Riza P. Flores, Ms. Kyzyl Gaea T. Infante, and Ms. Ma. Krista Faye A. Paguntalan.
A hands-on laboratory training on the preparation, processing, and microbiological analyses of oyster samples was conducted on the first day of the workshop. On the second day, Dr. Alumbro gave a lecture on Knowledge, Attitude, and Practice (KAP) survey on food safety, while Mr. Moscoso presented an introduction to the Geographic Information System (GIS) and on data analysis and interpretation. Mr. Jochris M. Masongsong, ASU-faculty member also presented an output of their findings on the sources of oysters in Aklan.
Dr. Eva R. Orlina, CAFES Dean, and Dr. Ramer P. Bautista, SOTECH Dean and TSIBOG Program Leader delivered warm greetings and opened the program. Dr. Michael T. Ibisate, ASU- Banga Campus Director, also paid a visit and gave a message during the workshop. The program ended with a message from Dr. Melba L. Raga-as, ASU-Director for Research and Development Services.
The co-mentoring activity aims to develop a collaborative opportunity between faculty members of the two universities and promote the enrichment of their teaching and research missions. This event is also highly relevant to the faculty members of the newly offered Bachelor of Science in Food Technology academic program at ASU.
(This article, written by Riza Flores, was first published in the UP Visayas Website on July 14, 2022)