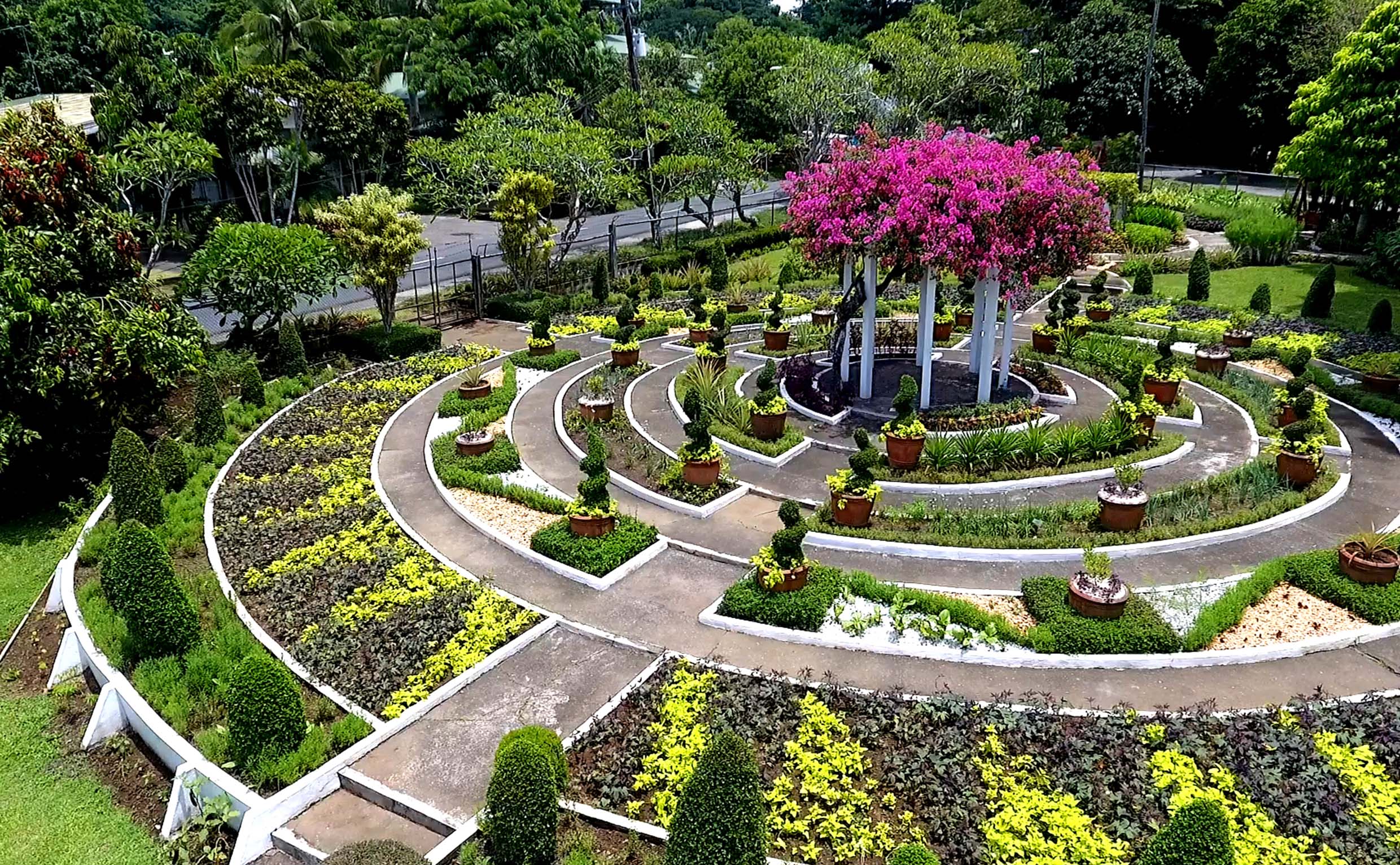 Is it possible to make your yard both beautiful and edible?
Researchers of the UPLB Edible Landscaping team certainly think so. Touting the slogan "No Filipino should be hungry," the team also thinks that edible landscaping is going to help Filipinos go green and eat healthy.
Edible landscaping is the growing of organic vegetables, fruits, herbs, and medicinal plants in landscaping. The practice was pioneered by the late Dr. Leonido R. Naranja from the then Crop Science Cluster of the College of Agriculture (CA-CSC) in 1999. The CA-CSC is now the Institute of Crop Science, College of Agriculture and Food Science (CAFS-ICropS).
Dr. Naranja's initial efforts in edible landscaping led to UPLB's partnership with the Department of Agriculture-Bureau of Agricultural Research (DA-BAR) and the High Value Commercial Crops Program (HVCCP), and the establishment of two demo-gardens at the DA-BAR grounds in Diliman, Quezon City.
After Dr. Naranja passed away in 2010, Chancellor Fernando C. Sanchez, Jr., faculty member in landscape horticulture and then assistant to the vice chancellor for planning and development and now chancellor of UPLB, continued the project with the help of Bryan V. Apacionado, Maria Charito E. Balladares, Ryan Rodrigo P. Tayobong, and Norma G. Medina, of CAFS-ICropS.
Since then, the edible landscaping team has promoted it through trainings, exhibits and project presentations, and partnerships with institutions.
Reach and breakthroughs
Efforts to disseminate information about edible landscaping have been bearing fruit, one yard at a time.
According to Medina and Balladares, the demo-garden in UPLB has attracted more visitors over the years, including ambassadors and government representatives.
The edible landscape team has trained people across a wide demographic and designed special modules in order to maximize understanding and appreciation of the technology.
Most of its training courses are held at the University's Ornamental Crops Nursery, but this has not stopped interested adopters from traveling to UPLB, with some coming from very far. The team also traveled outside the University to distant provinces, such as Albay, Sorsogon, Oriental Mindoro and Davao.
The fruits of labor           
Josie Eliseo, president of the Rural Improvement Club (RIC) at Brgy. Timugan, Los Baños is one of the many adopters of edible landscaping. RIC is an association under the Municipal Agriculture Office of local government units that implements the pre-school curriculum in the community.
"Our school grounds have greatly improved," Eliseo said. "The designs that they taught us are very beautiful. Now, we can get our vegetables from the garden instead of buying them from the market. Even without a plot of land, one can use plastic containers. The produce is a good source of income."
Like RIC-Timugan, other institutions have also integrated edible landscaping into on-going projects. According to Medina, some schools have used edible landscaping to improve their surroundings and use their produce in their feeding program. Others see edible landscaping as a productive means to help parents spend their free time on the school grounds while waiting for their children, while others see it as an opportunity to teach young children where food comes from.
Enya Celoso, Agricultural Center Chief III at the Davao Commercial Agricultural Research Station, said that edible landscaping has aesthetically improved idle and unproductive spaces in their office compound. Walk-in clients, visitors, and neighbors have also said that it has inspired them to plant in their own backyards.
"The edible gardens are a source of readily available, fresh, and nutritious food for the office and guests and showcase a simple way of food production in the fight against malnutrition since teachers and walk-in clients can see the project during their visit," Celoso said.
Meanwhile, Dong Villaluz, a resident of Bay, Laguna, is glad that his household now has an overabundance of vegetables. "You know that what you are eating is clean and organic since you planted it yourself," Villaluz said. "We also consume more vegetables now because we always have so much. Instead of letting them go to waste, we sometimes give them to our neighbors."
Marichu Villaluz, also from Bay, said that edible landscaping helps her to relieve stress. "Planting and taking care of the garden helps me unwind," she said. "Training for edible landscaping has also introduced me to edible plants, which can be used in place of the more expensive ornamental plants.
Medina and Balladares said that edible landscaping is also being adopted by restaurants that want to implement the "farm-to-table" approach as well as those that want to venture into farm tourism.
Edible landscaping is certainly transforming yards into food production hubs, one yard at a time.
(This was originally posted at the University of the Philippines Los Bańos website on March 11, 2019.)