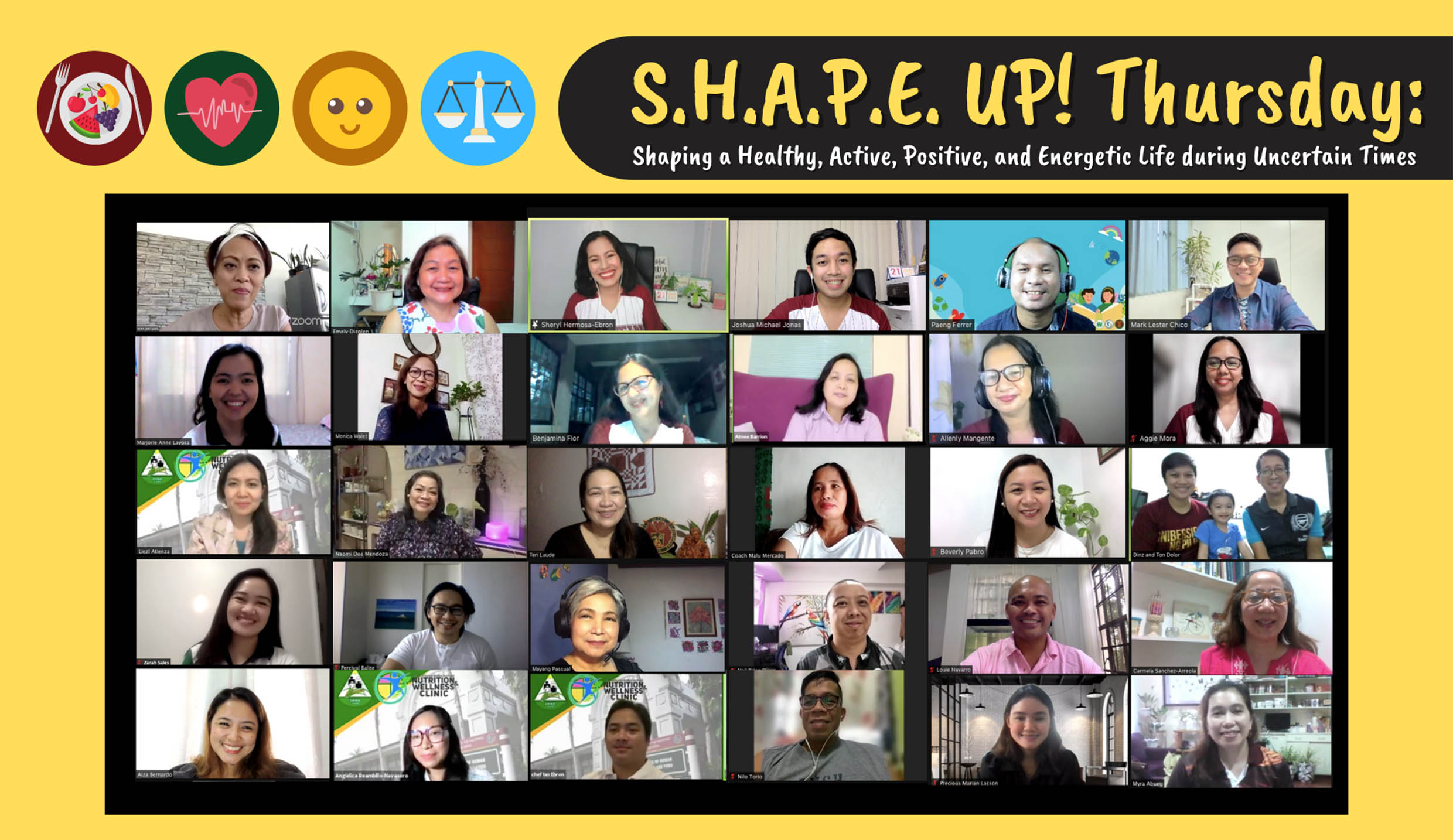 The UPLB Learning Resource Center (LRC) recently wrapped up its 6-month long webinar series entitled, "S.H.A.P.E. UP! Thursday: Shaping a Healthy, Active, Positive, and Energetic Life during Uncertain Times" webinar series. 
The sessions, aimed to promote healthy, energetic, and mindful habits during the COVID-19 pandemic, were streamed via Facebook Live.
Each session had two parts: a health lecture on the four themes with a guest resource speaker and a 15-minute Zumba session dubbed as "Tara Let's Zoom-ba!".
The Zumba sessions were led by Marilou L. Mercado, administrative staff at the Interactive Learning Center (ILC), with staff members of LRC, ILC, University Library, and the Office of the Vice Chancellor for Academic Affairs (OVCAA) participating from different locations of UPLB.
The sessions under the first theme, "EAT RIGHT: Tips on How to Maintain a Healthy Eating Lifestyle" were conducted every Thursday from May 6 to June 10.
Registered nutritionist-dietitians and professors from the Institute of Human Nutrition and Food, College of Human Ecology (IHNF-CHE), namely: Dr. Aimee Sheree A. Barrion, Zarah G. Sales, Dr. Liezl M. Atienza, Marjorie Anne A. Layosa, Angielica Reambillo-Navasero and Von Ryan M. Ebron provided tips on how to maintain a healthy eating lifestyle during the pandemic.
The second theme, "WORK IT!: Simple Routines to Stay Active at Home and in the Workplace" sessions were held every Thursday from June 17 to July 22.
This theme focused on physical activities and home work-out routines that can be easily executed without the use of equipment.
The resource persons, Myra Luzviminda Abueg, Naomi Dee Mendoza, and Percival Henry Balite, all faculty members at the Department of Human Kinetics of the College of Arts and Sciences, demonstrated a series of exercises to help keep the body fit.
The third theme dubbed as, "STRESS LESS!: Strategies on How to Improve your Emotional Wellness," was held from July 29 to Sept. 9, 2021.
Dr. Emely Dicolen from the National Teacher Training Center for the Health Professions of UP Manila together with Dr. Monica Walet, a registered psychologist, shared to the audience important reminders and exercises in reducing stress and strengthening social connections. They emphasized the importance of mindfulness especially during this pandemic.
The last theme entitled, "WORK-LIFE HARMONY: Steps on How to achieve Balance and Harmony between Life and Work" was held from Sept. 16 to Oct. 21.
Dr. Teri-Marie Laude and Raphael Ferrer, faculty members at the Department of Human Family and Development Studies of the College of Human Ecology, discussed the biophysical aspects of wellness in achieving harmony as well as resilience at work and daily life.
They also demonstrated practices of holistic care for our wellbeing to overcome pandemic fatigue.
Dr. Normita Carmela Sanchez-Arreola, a registered guidance counselor and mental health consultant from Miriam College, together with financial advisor Mayang Sison Pascual, provided financial wellness tips amidst the pandemic such as practicing mindfulness in spending.
Dr. Sanchez-Arreola also discussed the benefits of plant and pet therapy with Louie Navarro, an organic farmer from Pangasinan and Neil Brian Dizon, a teacher/trainer for parrots.
She also explained the importance of socio-emotional learning for both parents and children.
Mr. Felicisimo Dolor, Jr. and Ms. Deanna Margarett Cabungcal-Dolor, parents of three kids, shared their family bonding experiences during these trying times.
The SHAPE UP webinar series is part of LRC's welfare program entitled, LRC C.A.R.E.S. or Creative Activities and Recreational & Educational Services.
More than 2,100 registered participants took part in the weekly live webinar sessions.
The 25-week webinar series received positive feedback from attendees from all walks of life. Here are some of the feedback
"Thank you UPLB-LRC and team for always giving us timely and relevant webinars! Congrats for a successful webinar series. We look forward to your next! I will miss your session in the coming Thursdays. Mabuhay and more power!"
"I cannot help it. If it is Thursday, I always think of Shape-up day!"
I hope we can have more sessions from you guys! Good luck and Keep up the good works. Keep safe LRC group. God bless!
"Very timely presentation and can help everyone to reduce stress and relax their body during this time of pandemic. Thank you so much and more power. Hoping to hear from you soon. Keep safe always. God bless!"
"Thank you so much for making me part of this wonderful Thursday sessions."
"Please have another set of series like this. Filipinos really need these webinars."
"Thank you for the 25 sessions full of knowledge, fun and love. Hoping for many more sessions in the coming days. Congratulations, UPLB LRC!"
"Thank you very much for this kind of webinar. It really helps students and professors in taking care of their mental health during this pandemic season and work from home setup."
During the closing program, Dr. Benjamina Paula G. Flor, LRC director, reminded the attendees to continue to shape up amidst the pandemic.
"We have to continue our fight not only because of the pandemic but because we have to keep ourselves healthy, always, and all the time."
The recorded sessions are available for replay at the official Facebook and Youtube accounts of UPLB LRC.
(This article, written by Sheryl Edd P. Hermosa-Ebron and Joshua Michael G. Jonas, was first published in the UPLB Website on November 2, 2021)