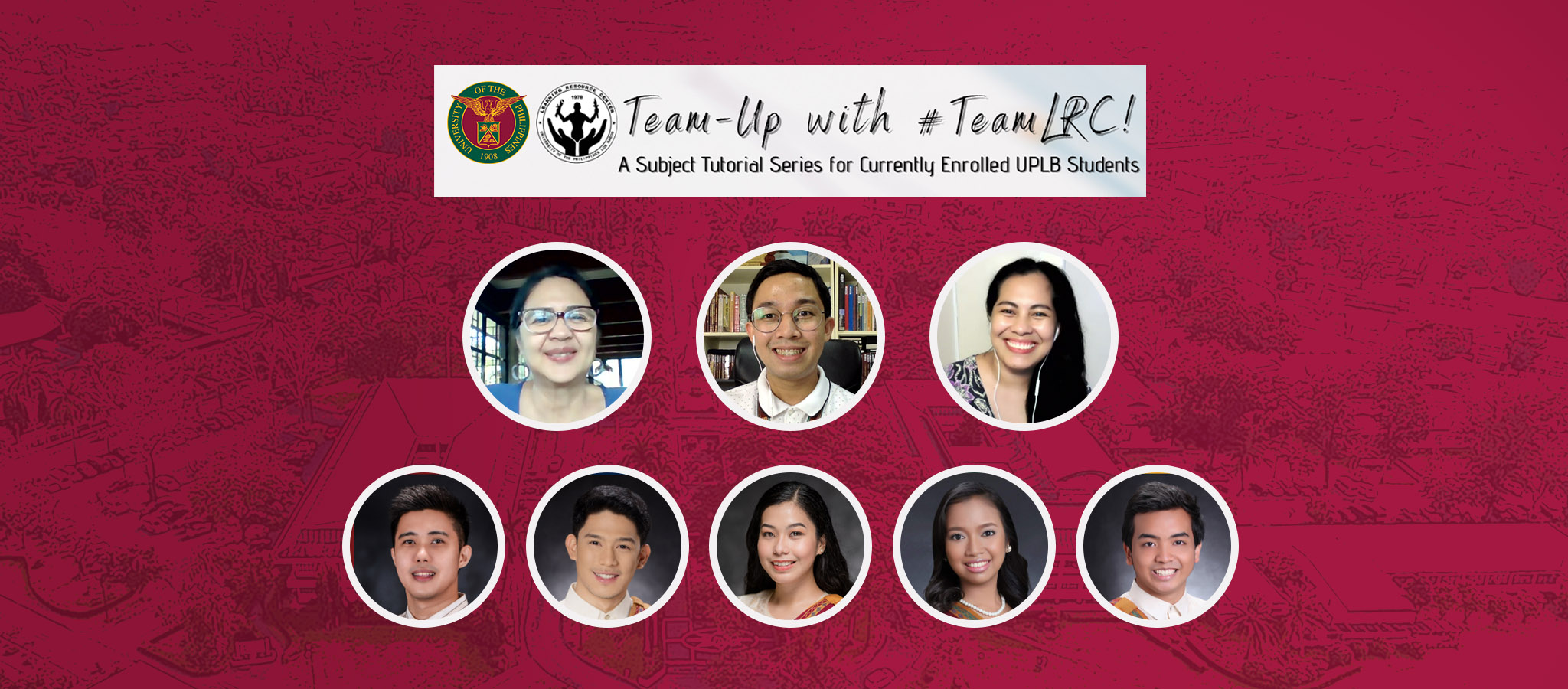 What is incontrovertible proof that 'TEAM' as a slogan-acronym for "Together everyone achieves more," is not mere sloganeering but a coming together of forces sharing a deep-seated desire to see that no one gets left behind?
It is most certainly a project led by the Learning Resource Center or LRC, which they dub as "Team-Up with #TeamLRC: a subject tutorial series for currently enrolled UPLB students."
Team-Up with #TeamLRC is a series of online tutorials that aims to provide students with academic support to help them cope with some of their subjects in the current semester that they find difficult and challenging.
This is the second time that LRC conducted the tutorial sessions, the first one implemented pre-pandemic and thus, carried out in-person. Because students are on a remote learning set-up now, LRC decided that it should also bring the tutorials online.
LRC consulted the students through a survey  to determine what current subjects they need help with. Based on the survey results, LRC organized five tutorial sessions for MATH 27, BIO 30, CHEM 18, STAT 101, and ECON 11.
Faculty members from concerned colleges of UPLB were then invited to serve as faculty-tutors to give a review of the lessons, share tips and strategies, particularly those that require problem solving.
The sessions were convened synchronously through a video conferencing platform and were recorded for the benefit of participants who could not join the live session. Around 300 students were able to register in the tutorial series.
The tutorials and the tutors
The first tutorial session, held at 3PM on May 10 titled "MATH-talinong Iskolar! Learn Best Tips and Strategies in Geometry and Calculus" A Review Session for MATH 27 – Analytic Geometry and Calculus, had Siena Catherine A. Maranan of the Math Division of the Institute of Mathematical Sciences and Physics, College of Arts and Sciences (CAS) as the faculty-tutor.
The second session, titled "You're My GENOTYPE! Appreciating Concepts in Genetics" A Review Session for BIO 30 – Genetics, was held on May 11 with Emmanuel T. Galang of the Genetics and Molecular Biology Division, Institute of Biological Sciences-CAS.
The third session, "CHEM-tastic Minds! Ace Chemistry Like A Pro" A Review Session for CHEM 18 – University Chemistry, was held on May 12 with Ralph Lauren M. Alomia of the Institute of Chemistry-CAS, as tutor.
The fourth session, dubbed "Just Take One STAT! Solve Statistical Methods with Ease" A Review Session for STAT 101 – Statistical Methods, was conducted on May 13 with John Lorenzo A. Yambot of the Institute of Statistics-CAS.
The fifth and last session, titled "ECONO-mazing! Discover Tips and Strategies in Economics" A Review Session for ECON 11 – General Economics, was conducted on May 14 by Deborah B. Gay of the Department of Economics, College of Economics and Management.
LRC conducted these tutorial sessions as part of the Center's flagship program called TEAM or Together Everyone Achieves More Learning Sessions, in collaboration with faculty members and recognized student organizations.
Compassion and gratitude
For faculty-tutors, pitching in time and effort to help LRC in this initiative may have required more than what was expected of them for the semester but they were unflinching in their desire to help. Yambot, for instance, said that he had always been supportive of the LRC in its mission to promote academic excellence, thus he readily accepted the invitation to be the tutor for STAT 101.
Galang, BIO 30 tutor, wholeheartedly took on the job because he wanted to help the students in their personal struggles, especially in learning amidst the pandemic, drawing from a deep-seated commitment to his duty as a teacher. He imbibed this attitude of service from his high school teacher who had said this about helping others: "What are we in this world if not to make this place more bearable for each other?"
Both of them are willing to help in the next LRC tutorial program. Yambot believes it is essential to provide students with more learning opportunities now that teacher-learner interactions have become limited. Without a hint of a doubt, Galang said he will say yes to the next LRC tutorial program. "Thank you, team LRC, for spearheading this event," he said, pointing out that it is only UPLB that has this program in the whole of UP.
More thankful to LRC for the tutorials is "Aeri," who took part in the STAT 101 and CHEM 18 tutorials. "Nakatulong po talaga 'yung mga tutorials. Naintindihan ko 'yung mga concepts at naging clear na po sa akin 'yung mga part na nalilito ako dati," she said. ("The tutorials were very helpful. They clarified the points that were once confusing to me.") For "Emman," participating in the tutorials was both because BIO 30 is challenging and because he was interested in and wanted to learn more about it.
Truly, LRC has made the best use of its platform to bring together the faculty members and students in the tutorial lessons; and by doing so, shined a light on compassion in UPLB.
("Aeri" and "Emman" are aliases for students who were interviewed for this article.)
(This article, written by Joshua Michael G. Jonas, was first published in the UPLB Horizon Website)