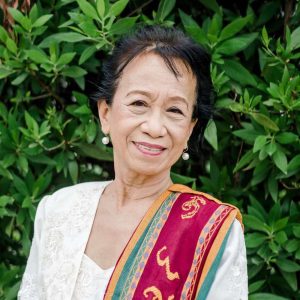 Dr. Alicia P. Magos, UPV Professor Emeritus and anthropologist, leads cultural researchers from UP Visayas in various engagement conferences to deliver lectures and share research results on Panay culture as well as in extension activities during this 1st quarter of 2021.
Magos moderated a seminar on Shared Heritage and its Safeguarding/Transmission held on February 19, 2021, organized by the International Information and Network Center for Intangible Cultural Heritage in the Asia Pacific Region under the auspices of UNESCO (ICHCAP) in coordination with the UNESCO Bangkok Office, and Korea National University of Cultural Heritage (KNUCH).
She was also a Plenary speaker at the Reading the Regions 2 Conference organized by the National Commission for Culture and the Arts as part of the National Arts Month Celebration for 2021. She delivered the topic "Rereading and Sharing the Panay Bukidnon Epics (Suguidanon) to Folk Literature Teachers and Advocates" on March 31, 2021.
Dr. Magos was also the guest speaker for April 10, 2021, for a series of online webinars that engaged writers and intellectuals as they share their thoughts and opinions on the theme "500 Taon ng Pagsulat sa Kalibutang Filipino" as part of the celebration for the 500 years of Christianity in the Philippines. Magos talked on the topic Muling Pagbabalik sa Indio (Folklore) with Mr. Allan Derain while the program was moderated by Prof. John Iremil Teodoro. The Unyon ng mga Manunulat sa Pilipinas (UMPIL), or the Writers Union of the Philippines' organized this event in celebration of National Literature Month 2021 spearheaded by the National Commission for Culture and the Arts.
Dr. Magos, together with Ms. Anna Razel L. Ramirez and Prof. Jose Taton, were also named resource persons of Pagdawat: Virtual Capability Building of Indigenous Peoples (IP) Pre-service Teachers held on April 12-16, 2021 via Online Platforms. The activity, which is organized by the Department of Education Region VI through IPED Focal Person, Dr. Jesus Insilada, was aimed to assist and capacitate the IP Pre-service Teachers as they embark on their journey to teach in the IPEd-implementing schools in the Division of Iloilo.
Dr. Magos's expertise was also tapped in Kasaysayan: Batis ng Panitikan (History: Stream of Literature) conducted through zoom and Facebook live on April 19, 202 by the Komisyon sa Wikang Filipino (KWF). This event is in connection with the celebration of Literature Month 2021 with the theme "Limandaang Taón ng Pagsulat sa Kalibutang Filipino" (500 Years of Writing the Filipino World).
Prof. Jose R. Taton Jr. also presented a paper titled "Kinamaret: Whimsical Playfulness and Cultural Habituation in Contemporary Festival Performances in Panay Island" during the International Conference on Dance Research organized by the NCCA and held last February 19, 2021.
Anna Razel L. Ramirez, on the other hand, was invited speaker of the Regional Heritage and Culture and Arts Council of the Regional Development Council (RDC) to share the highlights of the book "From Seas to the Mountains: Traditional Knowledge Systems of Panay and Guimaras" which UPV produced in collaboration with the Department of Environment and Natural Resources the SUCs in Panay and Guimaras. Dr. Randy Madrid, Mr. Sashah Dioso, and Ms. Darlene Joy Calzado also attended this event.
As a member of the NCCA Gawad Manlilikha ng Bayan or GAMABA Executive Council, CWVS Director, Randy Madrid, participated in the pre-screening of 2021 Nominees on April 19 and April 26, 2021.
Sashah Dioso of CWVS has engaged with the Department of Education, Division of Antique, this 2021 with his public service project "Lokal nga Kasaysayan kag Kultura: Seminar-Workshops on Local History and Culture Documentation and Integration in Curriculum and Instruction for Araling Panlipunan Public School Teachers". The project, which was started in December 2019, aims to increase the understanding of Araling Panlipunan elementary school teachers in Antique on the significance of the integration of local history and culture in learning and also to generate materials on local history and culture.
Dioso also served as Resource Speaker on the topic, "Ang Papel sang Kababainhang Pilipino sa Panahon sang World War II" during the Women's Month Celebration of the Municipality of Sta. Barbara through Zoom on March 29, 2021. (Source: CWVS-IP Resource Hub)
(This article, written by Ms. AL Ramirez, was first published in the UPV Website on April 16, 2021)