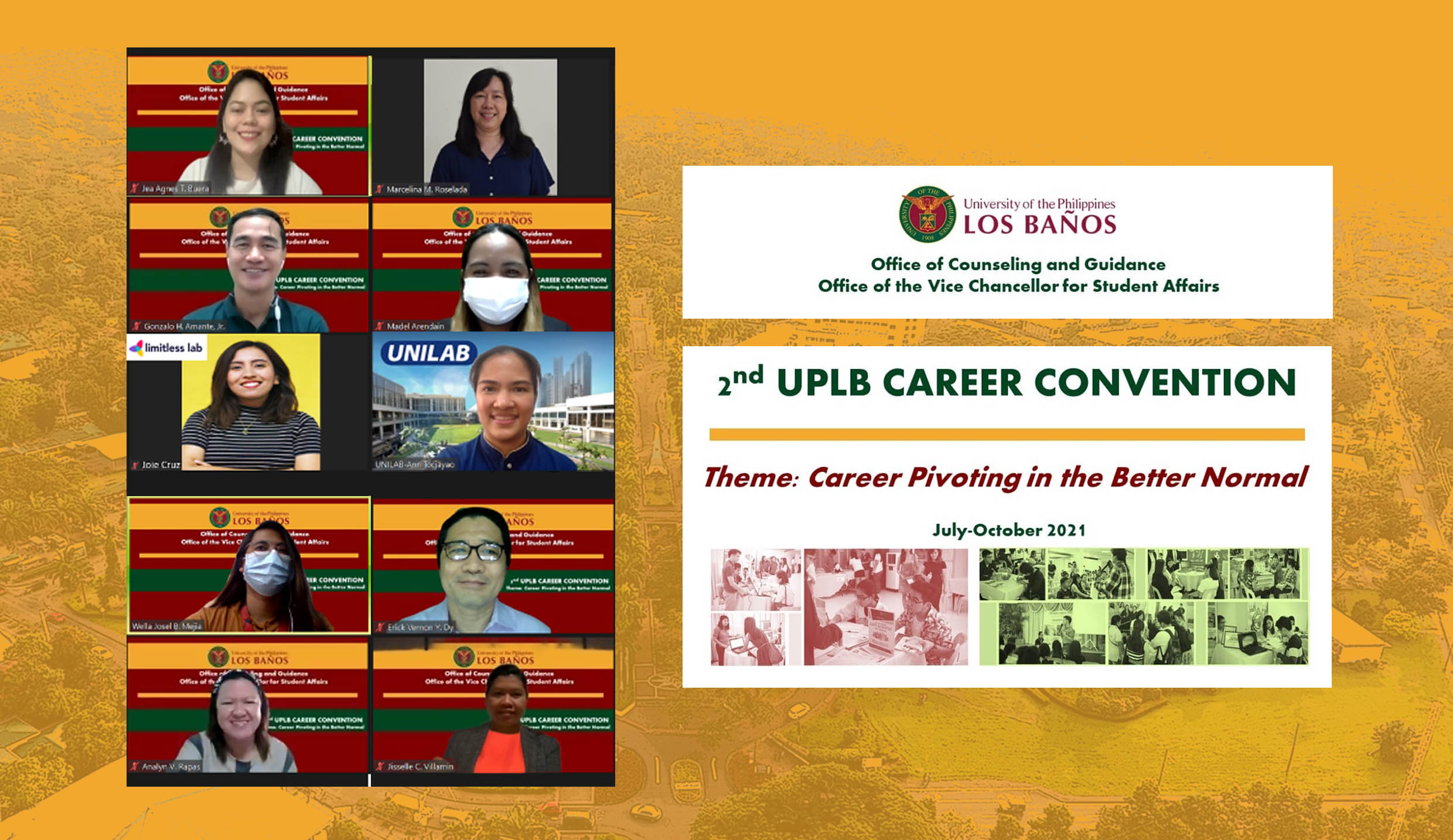 Making the quantum leap from being a student to being a career person can be daunting and traumatizing.
The good news is that the Office of the Vice Chancellor for Student Affairs (OVCSA) has dedicated resources to facilitate this transition for UPLB graduates.
In fact, OVCSA, through the Office of Counseling and Guidance (OCG), is on week 11 of implementing a two-part webinar series to provide career guidance to UPLB graduates.
The webinar series, entitled 2nd UPLB Career Convention and has for its theme, "Career Pivoting in the Better Normal," is part of the career development and placement services that OVCSA provides to students.
Aside from topics regarding preparing for employment and thriving and surviving in one's career, the Career Convention also includes topics on establishing a startup, freelancing, and networking as alternative career paths.
Thriving and surviving in a career
OCG is now preparing to hold the last two webinars, one of which is going to be on Sept. 30, with Engr. Maria Zara Z. Padernal, operations efficiency advisor at Bounty Fresh Food, Inc. as resource person. Her talk on "How to Thrive in Your Corporate Career," will be followed by a career presentation from Bounty Fresh.
On Oct. 7, the last webinar entitled, "Survive and Succeed: Taking Care of Yourself and Career During Tough Times," will be given by Carmela A. Vargas-Labatos, chief executive officer and operations manager of AINA Agricultural Products Trading.
These two webinars are the sixth and seventh of Part II of the Career Convention; and like the others before them, will  be premiered via video conference and streamed on the OCG FB Page.
The first webinar of Part II featured Czarina Tacjayao, HR specialist of the Talent Development and Recruitment Marketing team of UNILAB who gave a talk on "UNILAB Careers: A Legacy of Care and Excellence." Another talk featured in this webinar was on "The Secrets of a Successful Start Up" given by Joie Cruz, chief executive officer of Limitless Lab.
It was followed by the webinar, "How to Succeed in your Chosen Career" on Sept. 2 with Camille Victoria "Ria" Fernandez, communications head of Anti Red Tape Authority discussing the Philchema and Factset company career presentation.
Journalists Oscar Oida and Mav Gonzales each gave a talk on the topic, "Would a career in media suit me" on Sept. 9. Also featured in this webinar was a KLT Fruits company video on careers.
On Sept. 16, "Networking: The Core of your Career Search" was given by Samantha Javier, managing partner of PRAXIS Associate PH Co. The Bounty Fresh company career presentation was also part of this webinar.
Sept. 23 saw Social Media and Freelancing Coach, Darla Mae Hasan, give a presentation on "Untied: Why are there more opportunities in Freelance Work?"
Pre-employment webinar
Part 1 or the Pre-Employment Webinar (PEW) Series, held from July 26 to Aug. 30, on the other hand, aimed to assist students and graduates in career planning and to give them insights on job opportunities and employment trends.
With Ms. Maria Victoria C. Jimenez, Registered Guidance Counselor (RGC) as coordinator, OCG spearheaded six webinars that premiered every Monday at 10 AM on the OCG official FB page. Serving as program anchor and co-anchor were Dr. Erick Vernon Y. Dy and Analyn V. Rapas who are also both RGCs.
Part 1 topics and resource persons were the following: job hunting strategies, job interview, and power dressing by Dr. Vera Tuplano, faculty member at the De La Salle University College of Law and Center for Applied Linguistic; writing a resume that stands out by Brian Hipolito, HR officer-talent acquisition at Asian Infrastructure Investment Bank; and how to be a world-class entrepreneur by Jewel Cabardo, faculty member at the Department of Agribusiness Management and Entrepreneurship, College of Economics and Management of UPLB.   An orientation on SSS, Philhealth, Pag-IBIG, and GSIS membership were also given by representatives of these entities.
Forums were also held featuring exceptional UPLB alumni, namely: Dr. Glenn Gregorio, director of the Southeast Asian Regional Center for Graduate Study and Research in Agriculture (SEARCA); Atty Eleno Peralta, public attorney at Peralta Law Office; Engr. Adrian Sumalde, faculty member at the Philippine Science High School; John Consulta, news reporter and producer at GMA 7; Stephanie Pecaoco, associate producer at Ubisoft Entertainment, and Janrius "Chok" Reyes, project development officer at the Department of Social Welfare and Development.
During the opening of the Career Convention, Chancellor Jose V. Camacho, Jr. gave a message to the webinar participants. Among others, he enjoined them to keep the UPLB Spirit aflame and uphold the ideals of honor, excellence, and public service, no matter the career they choose to pursue.
Dr. Janette Malata-Silva, vice chancellor for student affairs, enjoined the graduates to remain hopeful and to continue to dream, explore, and enhance their potentials for a better future ahead.
The online events on Sept. 30 and Oct.7 will be premiered via video conference and livestreamed on the OCG OVCSA FB Page (https://www.facebook.com/ocgovcsa/). Past webinars may also be viewed on the said FB Page.
The webinars are open to others who may be interested to watch them. Please email  [email protected] for details on how to join.
(This article, written by Erick Vernon Dy and Wella Josel Mejia, was first published in the UPLB Website on September 28, 2021)