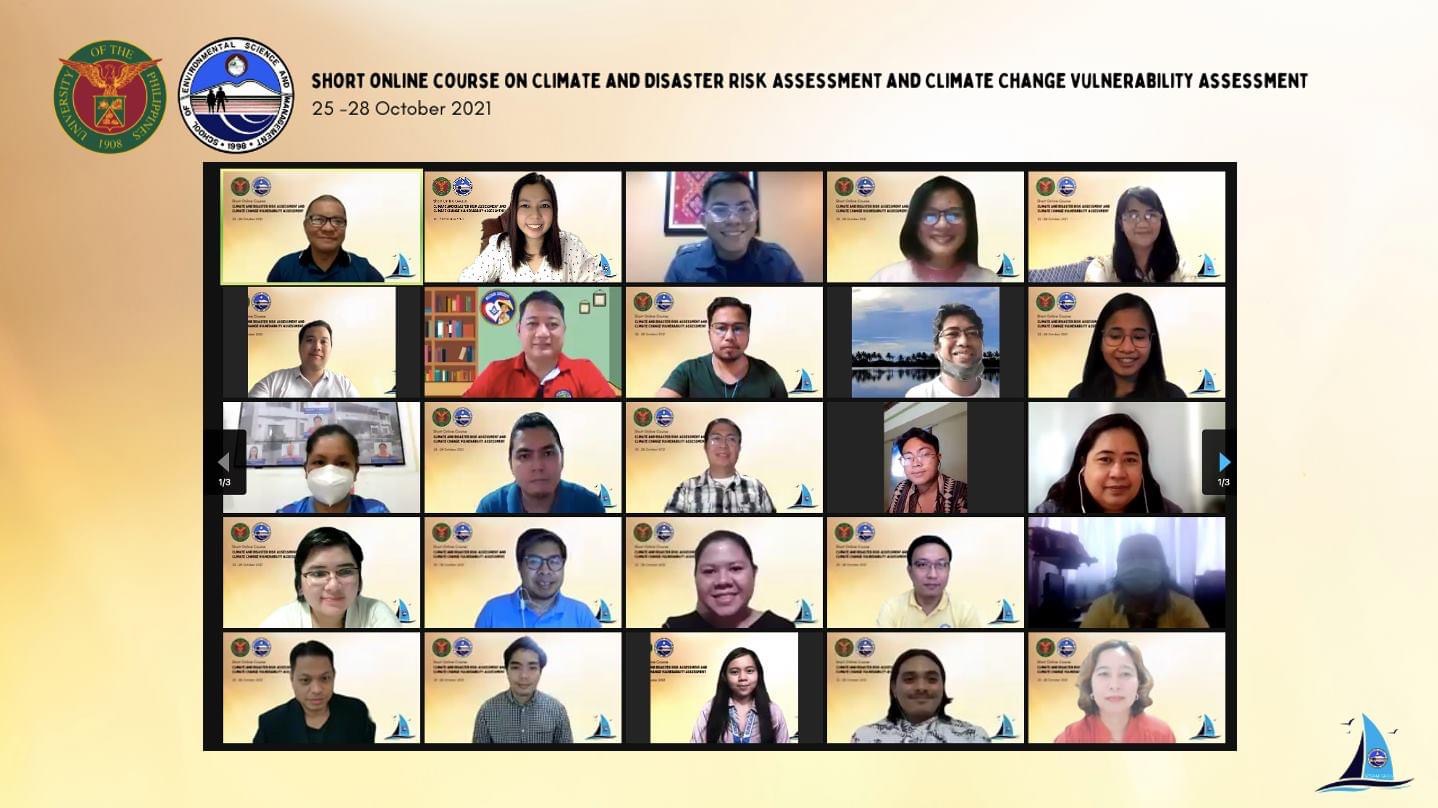 As the extension service arm of the University of the Philippines Los Baños-School of Environmental Science and Management (UPLB-SESAM), the Continuing Education and Training Division (CETD) conducted a short online course on Climate and Disaster Risk Assessment (CDRA) via video conferencing on 25 to 28 October 2021. Sixty-seven trainees from different agencies and organizations, such as the academe (18), national government agencies (15), local government units (11), non-government organizations (6), private organizations (12), and others (3) have successfully completed the short course.
The certificate training is among the non-formal education offerings of the School with an aim to enhance environmental education among concerned stakeholders and to capacitate them in conducting science-based disaster risk and vulnerability assessments. This also served as a venue to assist the agencies involved in local development planning wherein mainstreaming of climate change adaptation (CCA) and disaster risk reduction (DRR) is necessary.
In his opening remarks during the training, Dr. Rico C. Ancog, Dean of SESAM, said that the School values the improvement of the participants and proud that it contributes to the to the generation of a cadre of professionals who champion sustainability and who can help in the formulation of concrete actions in response to different types of risks. This is particularly because "the country is subjected to multiple types of hazards", thus, a "clear analysis of the risks is important and it should be clearly embedded in our development trajectory", Dr. Ancogremarked. He also emphasized the importance of making sure that every planning step in activities, projects, and programs are carefully thought of thereby providing a number of options or solutions through appropriate plans, frameworks, and approaches. He also related this to the new banner that guides SESAM in its implementation of programs and projects, particularly in environmental management and governance- the SESAM SAILS– Sustainable and Accelerated Innovations in Learning and Solutions, which is achieved through 3 Is: Instruction, Infrastructure, and Impact.
The six steps in conducting CDRA were discussed by the trainers who are faculty members and researchers from the University of the Philippines Los Baños and who are experts in the fields of disaster risks and climate change. Prior to the training proper, a leveling off of the expectations and understanding of the trainees about the course through anoverview of the Climate and Disaster Risk Assessment was provided by Dr. Eduardo C. Calzeta, an Assistant Professor from SESAM. The Step 1 of CDRA (Collect and Analyze Climate and Hazard Information) was then discussed by Dr. Juan Miguel R. Guotana, a licensed Geologist who is also an Assistant Professor from the School. The Step 2 (Scope the Potential Impacts of Disasters and Climate Change) was presented by Forester Sofia A. Alaira, a University Researcher from SESAM,with different approaches and with relevant sectors as potentially exposed units as examples in developing a detailed impact chain matrix. The 3rd Step (Develop the Exposure Database) was discussed by Dr. Cristino L. Tiburan, Jr., an Associate Professor from the UPLB College of Forestry and Natural Resources. In this phase, the process and the exposure units or elements necessary in producing an exposure databaseand maps were explained. The Step 4 (Conduct Climate ChangeVulnerability Assessment) was discussed by Dr. Maria Victoria O. Espaldon, a Professor from SESAM wherein she emphasized the summary decision areas and issues in coming up with a matrix and vulnerability maps. Similarly, in the next step of the CDRA Process (Conduct Disaster Risk Assessment), the summary decision areas and issues matrix and maps related to disaster risks were explained by Dr. Decibel V. Faustino-Eslava, another licensed Geologist and Professor from SESAM. The last (6th) step in CDRA (Summarize Findings/Synthesis) was presented by Dr. Yusuf A. Sucol, a University Researcher from the School and also the University Coordinator of the UPLB Climate and Disaster Risks Studies Center.
Towards the end of the training, Dr. Sucol also gave a lecture and discussion on the Identified Major Decision Areas and List of Risk Management and Adaptation/Mitigation Measures; the Action Planning for CDRA and Re-Entry Plan. A detailed explanation on how to mainstream CDRA in the Comprehensive Land Use Plan (CLUP) and Comprehensive Development Plan (CDP) was also delivered by Dr. Evaristo Niño T. Cando III, an Assistant Professor from SESAM formerly affiliated with a local government unit. For the trainees to have a practice on the actual process of CDRA, workshops and presentations of outputs were conducted in the afternoon sessions of the 4-day training coursefacilitated by Dr. Sucol.
CDRA is a tool recognized by the Housing and Land Use Regulatory Board (HLURB; now known as the Department of Human Settlements and Urban Development or DHSUD), the Office of Civil Defense (OCD), and the Department of Interior and Local Government (DILG) for adoption and application by the Local Government Units (LGUs). Pursuant to HLURB's Resolution No. 915 series of 2014 (Supplemental Guidelines on Mainstreaming Climate Change and Disaster Risks Reduction in Comprehensive Land Use Plan), all LGUs are required to update their Comprehensive Land Use Plan (CLUP) and to incorporate therein vulnerability and risk assessments. This was enacted to enhance the compliance of LGUs with the implementation of Republic Act 10121 series of 2010 (Act Strengthening the Philippine Disaster Risk Reduction and Management Providing for the National Disaster Risk Reduction and Management Framework and Institutionalizing and Appropriating Funds). The LGUs (provinces, cities, municipalities, and barangays) are mandated to prepare Local Disaster Risk Reduction Management Plans (LDRRMP). The enhanced CLUP and LDRRMP form part of the indicators in the Seal of Good Local Governance Disaster Preparedness Audit for LGUs. This makesCDRA an important step to complete the preparations of enhanced CLUP and LDRRMP.
"We enrolled in this course to improve our knowledge and capacity to formulate plans… recognizing that coastal management and disaster risk reduction must be built on science and systematic assessments," said Mr. Adrian P. De Jesus, one of the trainees who is currently a Senior Ecosystems Management Specialist at the Philippine Reclamation Authority.
Mr. Ron BJ B. Gatchalian, Safety Officer at the University of Science and Technology of Southern Philippines Cagayan De Oro Campus also related his great experience and the many learnings that he acquired during the training. "One of which nanatutunan ko ay mabigyan talaga ng importance ang disaster risk assessment which is very important kasi part ito sapreparation sa disaster risk prevention and mitigation; at na–emphasize talaga sa training gaano dapat kabigat yungpreparation vs sa recovery and rehabilitation na phase ng isangdisaster," he narrated. He is also hopeful that with the training, they can improve their approach in dealing with probable disasters especially now that they are crafting a proposal for a disaster risk reduction project to address the problem of flooding in the campus.
"We have 12 scientific research na ginagawa at least ngayon, malaki yung naitulong sa akin (ng training) at nalaman ko narin kung paaano ko sila (LGUs) technically matuturuan and makakainput hindi lang sa research na ginagawa namin," said Juvilyn Salazar, Project Coordinator for the International Institute of Rural Reconstruction, a non-government organization. Ms. Princess Shellane B. Garcia, Climate Change Adaptation Specialist in a private organization- the Jacobs Projects Philippines, Inc., commended the speakers who, according to her, were really very informative in their lecturesand were willing to share their knowledge which are very usefuland have helped in expanding their knowledge. Similarly, Ms. Sharmaine T. Maldia, an MS Environmental Science student at SESAM also "gained an in-depth knowledge of the processes of conducting CDRA and CCVA as well as their importance not just for risk prevention and reduction but also for helping the country attain its sustainable development goals."
Inspired by the number of participants who completed the training, Dr. Decibel F. Eslava, in her closing remarks, expressed her appreciation for the participants' interest in the short course. She also thanked the Resource Speakers and the organizing committee for a successful training. Recognizing the challenge related to the lack of data in conducting CDRA, Dr. Eslava, former Dean of SESAM, hopes that through the training, a network has been established with the participants (and their organizations) toward an improved environment of data-sharing. Apart from investing in data generation, the LGUs can also consider empowering or improving their manpower resources through trainings or the academe to provide their LGU partners the needed technical assistance, Dr. Eslava suggested. She alsopointed out that partnership of the private sector with the academe and the government can be further strengthened through such initiatives. She ended her talk with a call to "continue working together to strengthen our networks, and the goal that we should have in each of our hearts and minds should always be towards the building of a more disaster-proof and disaster-resilient country."
Earlier this year, the CETD also offered two other certificate trainings- Short Online Course on Environmental Impact Assessment and Short Online Course on Ecosystems Valuation. The CETD, under the supervision of the Dean of the UPLB School of Environmental Science and Management, is composed of For. Sofia A. Alaira, University Researcher II as the Head of the Division; with the members: Dr. Thaddeus P. Lawas, University Extension Specialist II; Ms. Cherry S. Padilla, University Researcher I; Ms. Jessa O. Aquino,University Research Associate II; and Mr. Robert Patrick M. Cabangbang, University Research Associate II. The Division was established to complement the academic, research, and extension programs of SESAM.
(This article, written by Cherry S. Padilla, was first published in the UPLB SESAM Website on October 29, 2021)