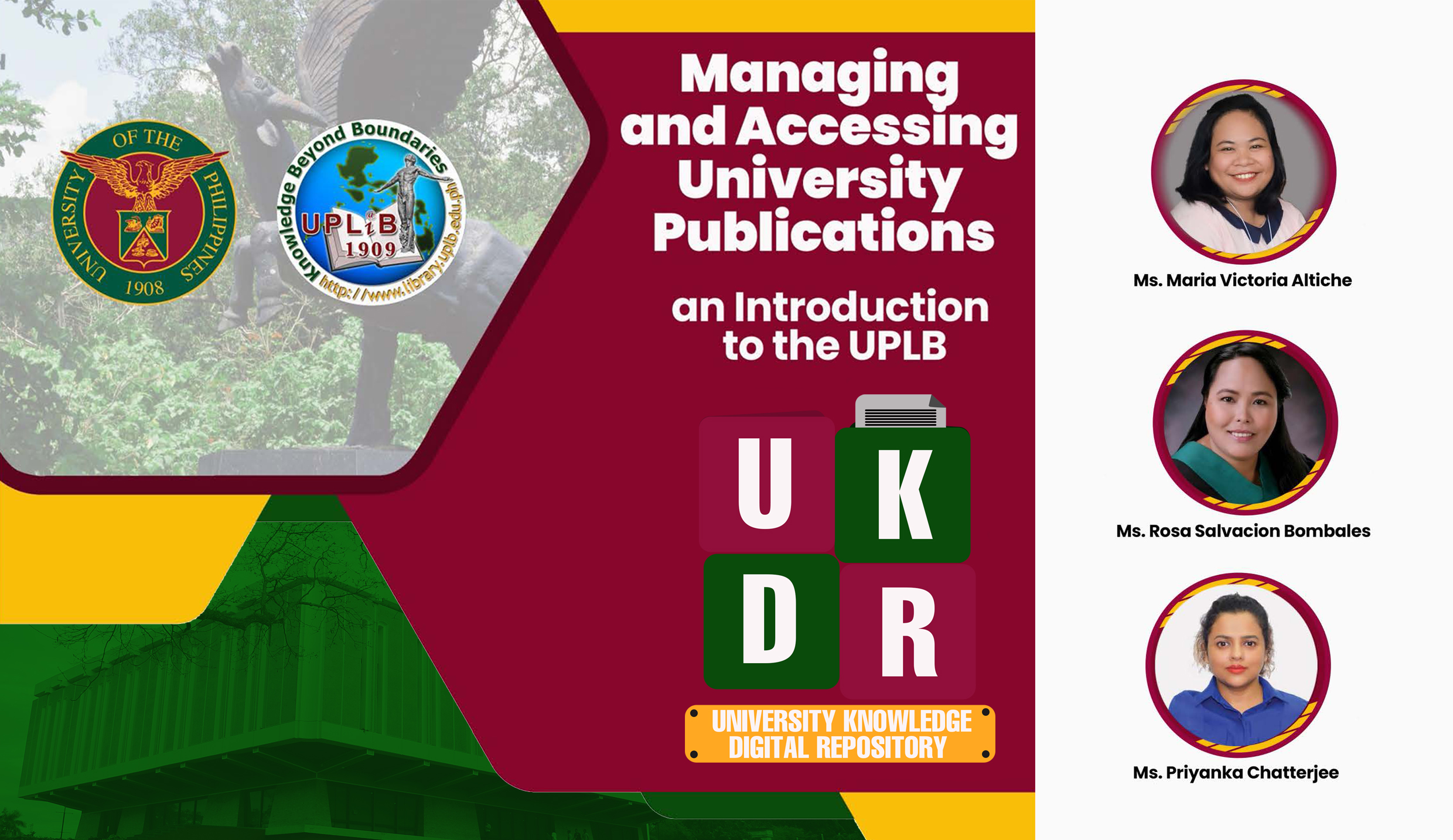 The University Library (UL) officially launched the University Knowledge Digital Repository (UKDR) on July 23.
The UKDR, according to University Librarian Concepcion Saul, is UPLB's new digital platform to store knowledge created by UPLB experts for online access.
Chancellor Jose V. Camacho, Jr. sees this event as a milestone for the UPLB community as it is the first official initiative to comprehensively collect, safeguard, and disseminate the knowledge output and historical materials of UPLB.
With the on-going global pandemic, Camacho said that the UKDR launch is timely as we become more dependent on digital means to do our work in research and education.
Since the university switched to flexible remote learning, the library's digital resources have become a lifeline to students, faculty, and staff.
Chancellor Camacho highlighted the importance of UKDR for everybody who wants to access the work that the UPLB academic community has generated throughout the years and for UPLB in its dedication to continue producing relevant and useful knowledge.
Providing the orientation on the UKDR were Maria Victoria R. Altiche, head librarian and Rosa Salvacion R. Bombales, college librarian, both of the UL's University Special Collections Section.
Altiche provided background information on the conception of the UKDR, discussed its contents, the submission process, copyright, licenses, and service policies, and access and withdrawal of content.
Bombales presented a walk-through on the UKDR website, including its function and content, as well as tips on navigating the repository.
Joining the event was Ms. Priyanka Chatterjee, from Elsevier, a publishing company specializing in scientific, technical, and medical content. Chatterjee, a software solutions manager under the Research Solutions Sales of Elsevier, presented the Digital Commons, a cloud-hosted solution repository.
She also shared to the audience the value and relevance of an institutional repository for academic institutions such as UPLB, how institutional repositories drive research visibility during the on-going COVID-19 pandemic, and the way it was able to bridge the gap between faculty and students, regarding their work and activities.
An open forum was also held for the participants, especially the faculty and researchers, to raise their concerns and questions about using and publishing their works on UKDR.
Hosted by University of the Philippines Rural High School college librarian, Danilyn B. Cao, the event was streamed live on the UPLB Library's Facebook Page. The UKDR can be accessed via www.ukdr.uplb.edu.ph.
(This article, written by KEAraguas, was first published in the UPLB Website on August 3, 2021)