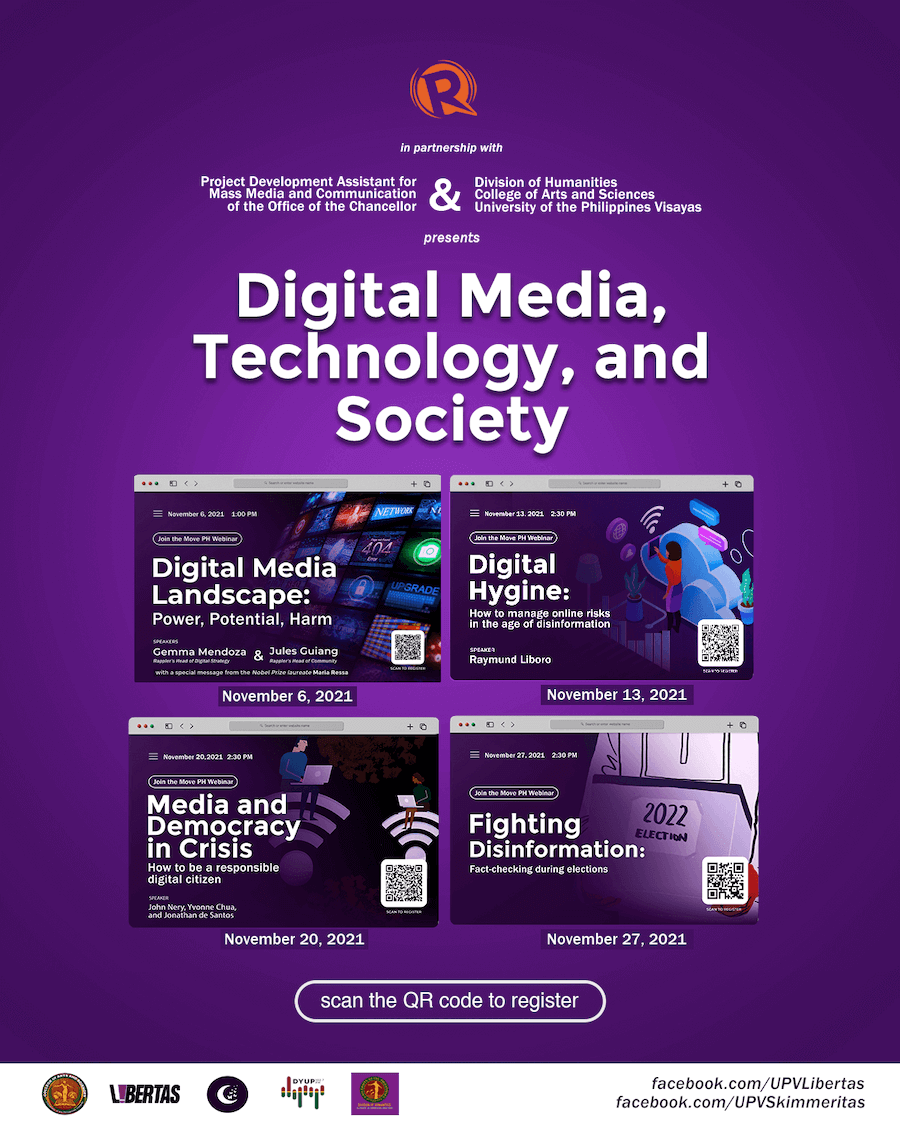 The University of the Philippines Visayas Project Development Assistant for Mass Media and Communication of the Office of the Chancellor, the College of Arts and Sciences, and the Division of Humanities partner with Rappler and MovePH for the Media and Information Literacy (MIL) webinar series entitled "Digital Media, Technology, and Society." This four-part webinar series aims to engage teachers, students, and leaders to be critical and discerning online and intends to engage audience so they can better navigate and deal with the disruptive impact of technological innovation in addressing urgent issues and crises in media and democracy.
UP Visayas sharing the interest with Rappler and MovePH in bringing media and information literacy to the local Filipino communities, continue to express partnership and collaborate with them in their programs and activities. The university through the College of Arts and Sciences and Division of Humanities are co-hosting the second installment of their webinar series for four (4) Saturdays in the month of November.
The webinar speakers consist of notable individuals in the field of media, journalism, and communication like Rappler's Head of Digital Strategy Gemma Mendoza, Rappler's Head of Community Jules Guiang, Privacy Commissioner and Chairman Raymund Liboro, columnist John Nery, journalist/educator Yvonne Chua, and news editor Jonathan de Santos. The 2021 Nobel Peace Prize Awardee Maria Ressa will also be giving her message in the first session. The webinar topics and session dates are as follows:
Digital media landscape: Power, potential, harm (November 6, 2021)
Digital hygiene: How to manage online risks in the age of disinformation (November 13, 2021)
Media and democracy in crisis: How to be a responsible digital citizen (November 20, 2021)
Fighting disinformation: Fact-checking during elections (November 27, 2021)
UP Visayas Project Development Assistant for Mass Media and Communication of the Office of the Chancellor, Dr. Zoilo S. Andrada, Jr. said, "The university supports this activity, and we invite teachers, students, and leaders in the region [Western Visayas] and the rest to attend the sessions and learn from the speakers. This activity is timely and relevant in today's media, technology, and communication situations."
The partners and co-presenters of this webinar series invite everyone to register and attend the sessions. By attending the sessions in the webinar series, the partners and co-presenters believe that this answers the call to becoming responsible media users, outstanding fact-checkers, and catalysts of change.
For more information about the webinar series, you may visit the official UPV Skimmers Facebook page: https://www.facebook.com/UPVskimmeritas/
(This article, written by Mr. Prabhat Ranjan Ubas, was first published in the UPV Website on November 6, 2021)