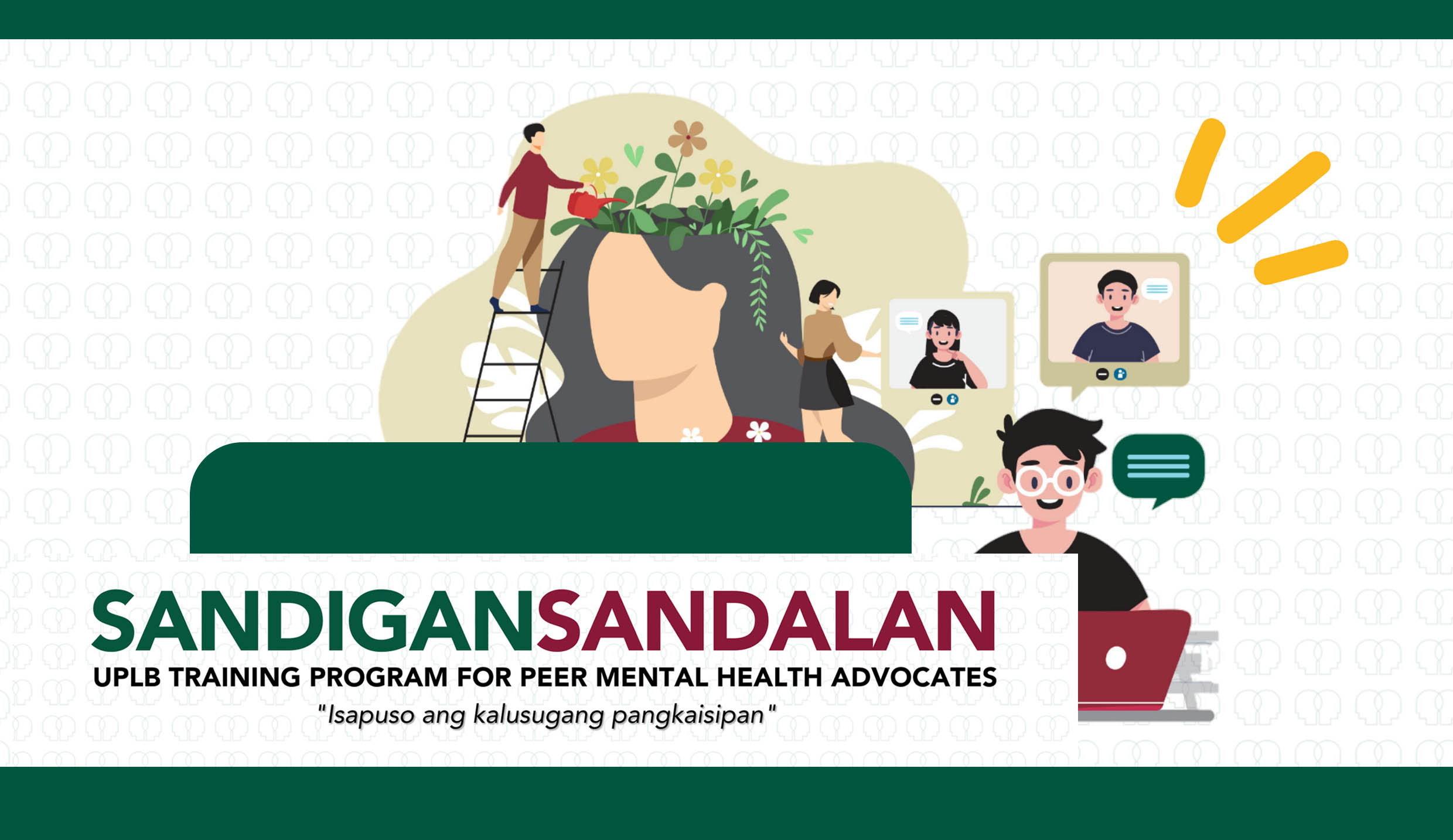 UPLB observed the World Mental Health Day on Oct. 10 and the National Mental Health Week every second week of October by holding "Sandigan, Sandalan: UPLB Training Program for Peer Mental Health Advocates."
Sandigan is something one can lean on while sandalan refers to a stable structure where one can rest one's body.
The training program, spearheaded by the Office of Counseling and Guidance (OCG) and Office of Student Activities (OSA) under the Office of the Vice Chancellor for Student Affairs (OVCSA), kicked off the training program with an orientation session on Oct. 11.
The twin commemoration of mental health is provided for in Proclamation No. 452 issued on Aug. 25, 1994 by then President Fidel V. Ramos.
UPLB's "Sandigan, Sandalan" is an offshoot of "Sandigan, Sandalan: Training and Advocacy Programs for Mental Health" of the UP Office of the Vice President for Academic Affairs and Office of Student Financial Assistance (OVPAA-OSFA).
It aims to equip students with knowledge and skills on peer mental health support and advocacy to contribute and uphold the welfare and well-being of their fellow students.
It also provides a complimentary support to the already existing guidance and counseling and mental health programs in the University.
More than 30 faculty and research and extension professionals who completed the College-Based Mental Health Training signed up as facilitators and 50 student representatives from various student organizations who volunteered to serve as peer mental health advocates have signed up for the training program.
To complete the training program, they must participate in asynchronous and synchronous sessions through a community forum every Monday, from Oct. 18 to Nov. 22.
During the orientation session, Assistant Vice President for Academic Affairs (Student Affairs) Richard Phillip A. Gonzalo welcomed the facilitators and participants, referring to them as "kaSandalan."
AVP Gonzalo who is also the director of UP Office of Student Financial Assistance,  emphasized the importance of mental health and its being one of the priorities of the University.
The Peer Mental Health Training Program was organized to give resources and materials to peer mental health advocates in the different constituent universities who will serve as future partners of mental health service providers.
Vice Chancellor for Student Affairs Janette H. Malata-Silva expressed her gratitude to the facilitators and student participants who are willing to offer their time to promote mental health awareness. VC Silva assured the attendees saying, "we are all together in this battle, sama-sama tayo, tulong-tulong, walang iwanan."
The training program consists of the following modules: 1) General information about mental health; 2) Helping others helping themselves; 3) Promoting safe and resilient school environments; and 4) Enabling participative mental health advocacy.
At the end of the activity, the students will be able to contribute and promote advocacies in creating a healthy and nurturing University.
(This article, written by Wella Josel Mejia, was first published in the UPLB Website on October 14, 2021)