---
Objective:
The Institute of Cooperatives and Bio-Enterprise Development (ICOPED) is a duly-accredited cooperative training provider of the Cooperative Development Authority (CDA). As such, the ICOPED conducts CDA-prescribed training courses for cooperatives.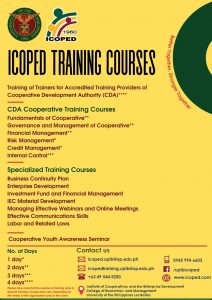 The Basic Cooperative Course covers the fundamental knowledge of cooperatives that all cooperative officers must possess. Participants are expected to be able to explain the fundamentals of cooperative thought and practice, identify the important legal underpinnings of cooperatives,
and explain the plans, programs and policies of the cooperative, upon completing the course.
This course has been conducted seven times from 2011-2016.
---
Duration / Date:
Two days, offered continuously/regularly
---
Target / Beneficiaries:
Cooperative officers, specifically board of directors, secretaries, treasurers, election committees, audit committees, ethics committees, mediation and conciliation committees, and general managers. Please note that only a maximum of 30 participants can be accommodated per CDA-prescribed training.
---
Cost of Participation:
PhP 500 per day per participant, inclusive only of the cost of training kit and honoraria of resource persons and training staff
---
Office in Charge:
Institute of Cooperatives and Bio-Enterprise Development (ICOPED) College of Economics and Management
University of the Philippines Los Baños
---
Contact Details:
Institute of Cooperatives and Bio-Enterprise Development (ICOPED)
Asst. Prof. Liezel S. Cruz, ICOPED Director
ICOPED email address: [email protected]
ICOPED Training email address: [email protected]
ICOPED Office Address : Institute of Cooperatives and Bio-Enterprise Development (ICOPED) Fabian A. Tiongson Avenue, University of the Philippines Los Baños, College, Laguna, 4031 Philippines
ICOPED Website: www.icoped.com
Landline: +63 (49) 544-5200
Globe Mobile No. 0945 994 6603
Facebook Page: https://www.facebook.com/uplbicoped
---
View Complete Form: